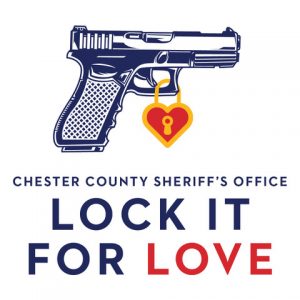 COATESVILLE — On a weekend when love is in the air, the Chester County Sheriff's Office (CCSO) and Coatesville Center for Community Health (CCCH) are launching a campaign about the care and protection of children.
CCSO's and CCCH's Lock it for Love initiative sends the message: lock your guns. Free gun locks (while supplies last) are available for pick up at the CCSO's main desk in the Justice Center and through CCCH at 1001 E. Lincoln Highway by calling 619-344-5370 x114. The CCSO is also offering free online gun lock/safety programs; call 344-6850 to schedule a program for your group. Safety tips include:
Lock your guns.
Ask if there are unlocked guns where your child will visit, play or babysit.
Talk to your children. Tell them if they find a gun, stay away.

From October 2020 to the end of December, the number of background checks for firearm permits in Pennsylvania—which ties closely to the number of gun sales—was the highest on record, according to the Pennsylvania State Police in January. The previous quarter from July 2020 through September had also broken previous records.
"If families consider the purchase of a weapon as a means to protecting their children, that plan needs to include learning how to use a gun properly and how to store it safely so that curious or depressed children don't end up harming themselves or others. Safety precautions can prevent a tragedy," says Chester County Sheriff Fredda Maddox.
Cpl. Christopher Rongaus, who has worked with the CCSO for 14 years, five of which have been in the firearms unit, also emphasizes the importance of training and locks. "When people come in for a License to Carry permit or want to safely store a firearm, gun locks from Project ChildSafe are available free of charge."
Kathryn Spurlock, executive director of Coatesville Center for Community Health explained, "Particularly as children are spending so much time inside the home during the pandemic and cold winter months, and adults' attention is divided between work and parenting, putting a lock on a gun can mean the difference between life and death."
Lock it for love!