By Denny Dyroff, Entertainment Editor, The Times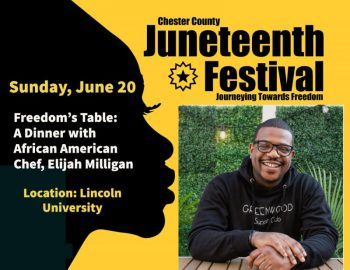 This weekend features a trio of significant "holidays" – Juneteenth, Father's Day and Summer Solstice.
Kennett Square's Juneteenth Celebration (historickennettsquare.com) will be held this weekend along with other Juneteenth events at locations around Chester County.
Juneteenth is an African American tradition that commemorates the June 19, 1865, announcement of the abolition of slavery in Texas but in recent years has come to refer to the freeing of the enslaved.
The Juneteenth celebration in Kennett Borough will focus attention on the important role that this small town and surrounding area played in the quest for freedom with a focus on the underground railroad and the role abolitionists, black and white, played in assisting freedom seekers to escape from slavery.
This celebration is intended to honor our past, present, and future, as a diverse and proud community, and to encourage a dialogue about the quest for human dignity and equality while highlighting Kennett Borough's unique historic character.
The following is the schedule for Juneteenth celebrations around Chester County:
June 18 —
"Lighting the Way Lantern Making Workshop" from 2-5:30 p.m. at the Kennett Square American Legion Hall.
Ken Johnston will lead a lantern making workshop in the afternoon, followed by a lantern parade in the evening. Ken is a Philadelphia-based walking artist, who responds to the call of social change and history by walking to put movement back in the civil rights movement.
"Interactive Exhibit: A Path to Freedom" from 11 a.m.-3 p.m. on June 18, 19 and 20 at Schuylkill River Heritage Center, 2 North Main Street, Phoenixville.
A Path to Freedom features Underground Railroad sites across the county.
"Ice Cream Social and Story Circle" from 6-8 p.m. at the Kennett Square American Legion Hall.
The event features ice cream, popsicles, and story time with Linda Harris. Among her reads will be "Runaway Slave" by Ann McGovern. It is the book that inspired the "We Walk With Harriet" Walk in September, 2020.
"Continuing the Journey: An Evening with Dr. Joshua Bennett" from 6-10 p.m. at Longwood Gardens Open Air Theatre.
Joshua Bennett, acclaimed poet, performer, and professor will give a musical and lyrical performance reflecting on the ongoing journey toward freedom. Ticket holders are invited to stay and stroll the gardens, ending with an Illuminated Fountain Performance entitled "Freedom."
Tickets are $35.
June 19 —
"Flag Raising Ceremony and Planting of the 'Freedom Evergreen'" at 9 a.m. at The Charles Melton Arts and Education Center, 501 East Miner Street, West Chester.
"United States Colored Troops: Agents of Emancipation" at 10 a.m. at the Kennett Square American Legion Hall.
Author-talk by Dr. Cheryl Gooch and book signing of "Hinsonville's Heroes," accompanied by the Massachusetts 54th USCT reenactors.
"Feed Your Soul Box Lunch" from 11 a.m.-4 p.m. by New Garden Memorial UAME Church featuring fried fish or baked chicken, seasoned green beans, macaroni salad, roll & butter, dessert, and a bottle of water.
"Walking Tour: Underground Railroad in West Chester" at 11 a.m. and 1 p.m. at Chester County History Center.
Participants can discover sites connected to the Underground Railroad in West Chester.
"Always Free- A Juneteenth Celebration" at 1 p.m. at the Kennett Square American Legion Hall.
A one-woman performance by Oni Lasana as Mary Ella Grandberry.  Featuring the spoken word poetry of Paul Laurence Dunbar, she relates her experience as an enslaved woman before, and a free woman after the Emancipation Proclamation.
"Journey Toward Freedom Family Walk" from 10 a.m.- 2 p.m. on June 19 and 20.
Participants Start at Kennett Heritage Center sravel from station to station using QR codes to learn myths and facts about Underground Railroad activity.
"Abolitionists, Conductors and Underground Railroad Stations" from 10 a.m.- 2 p.m. on June 19 and 20.
Exhibit, book & map sale, and drop-in story time in the Annex at the Kennett Heritage Center.
"History of African Union Church of New Garden Township & Bucktoe Cemetery" from 10 a.m.-2 p.m. at the Kennett Heritage Center.
Video presentation by New Garden Memorial UAME church member and Bucktoe Cemetery interpreter, Crystal Crampton. This church was one of the earliest churches in the area established by free blacks. Freedom seeker Isaac Mason was sheltered there on his flight from slavery.
"Committed Spirits – Abolitionists, Underground Railroad Operators & Civil War Soldiers" from 9 a.m.-dusk on June 19 and 20 in the Longwood Cemetery.
Self-guided walking tour in Longwood Cemetery. At a time when many cemeteries were considered off limits to African Americans, Longwood Cemetery, with its Quaker roots, welcomed all.
"West Chester Juneteenth Festival" from 3-7 p.m. at The Charles Melton Arts and Education Center, 501 East Miner St. West Chester
A variety of historical activities will be offered throughout the day.
"The Role of the Artist in the Journey Toward Freedom: An evening with Caroline Randall Williams" at 5 p.m. at Cheyney University.
Caroline Randall Williams, acclaimed writer and public intellectual will give a lecture on the role of the artist in the journey towards freedom.
Tickets are $35.
June 20 —
"Kennett Underground Railroad Center Bus Tour" at 1:30 p.m. departing from Brandywine Valley Tourist Information Center.
Riders visit the sites where abolitionists lived, and Underground Railroad activity took place.
"Freedom's Table: A Dinner with African American, Chef Elijah Milligan" at 6 p.m. at Lincoln University.
This event, a three-course meal and programming will celebrate the bounties of freedom and the goal of reconciliation that lies at the heart of our ongoing Journey Toward Freedom.
Tickets are $100.
On June 19, the 2021 Juneteenth Festival in Germantown (www.freedomsbackyard.com) will be held along the 6300 Block of Germantown Avenue.
Midway through June each year, Historic Germantown honors the end of slavery in the U.S. during its annual Juneteenth Festival at The Johnson House.
The community festival begins with the Freedom Walk on Germantown Avenue leading up to a day of performances, family-friendly events and educational activities teaching visitors about the history of anti-slavery and abolitionist movements.
The event begins at 11 a.m. at 5109 Germantown Avenue — at the State Marker commemorating the site of the writing of the First Protest Against Slavery. From there the "Freedom Walk" parade will march up Germantown Avenue to the Johnson House to kickoff festivities.
The list of attractions includes historical re-enactments, food, live music, a cultural marketplace, a Beer Garden, the Oimah Ammi Children's Village and guided tours of the Concord School House and Upper Burying Ground.
Stenton Museum & Keepers of The Culture, Inc. will host a Juneteenth Festival at Stenton Park (4600 North 16th Street, Philadelphia) and Stenton Museum (4601 North 18th Street, Philadelphia).
The event will include storytelling and reenactments with Storytelling Irma and Our Sun Paul from Keepers of Culture, Inc., an interactive musical performance with the Women's Sekere Ensemble at 12:30 p.m., and the Universal African Dance & Drum Ensemble performance at 1:30 p.m.
Stenton Museum will be free and open to the public throughout the event.
This year, Johnson House Historic Site will host its 15th annual celebration of Juneteenth.
A National Historic Landmark, Underground Railroad station and Center for Social Advocacy, the site represents what everyday people have done and can do to make a difference in their community and beyond.
The Johnson House example of historic partnership – between Africans seeking freedom, the abolitionist Johnson family, and other abolitionists – serve as a catalyst to inspire, uplift and empower current and future generations.
For the 2021 Juneteenth Festival, The Johnson House and the Concord School House and Upper Burying Ground of Germantown present "THE SLAVE NARRATIVES: 400 Years of Resilience" at the Grounded Theatre Company on June 19 at 2:30 and 3:30 p.m.
Grounded Theatre Company will present a site-specific performance of The Slave Narratives. Based on interviews of formerly enslaved people gathered during the 1930s, the play provides a window into their lives during and after slavery.
Juneteenth Celebration at Hatfield House (North 33rd Street and West Girard Avenue, Philadelphia is scheduled for June 19 from 2-6 p.m.
The historic Hatfield House in East Fairmount Park, which is located on the border between Philly's Brewerytown and Strawberry Mansion neighborhoods, hosts this Juneteenth celebration featuring a DJ, family-friendly games, giveaways, and bites like pretzels and water ice.
From June 17-21, the Museum of the American Revolution (101 South Third Street, Philadelphia, www.amrevmuseum.org) is hosting a five-day Juneteenth celebration.
Visitors to the Museum can explore replica objects from Harry Washington, who was enslaved by the Washingtons and freed through service in the British army. Virtual visitors can enjoy a virtual walking tour of Mother Bethel AME and performances from historical reenactors portraying Ona Judge and Elizabeth Freeman.
The long list of other Juneteenth celebrations around the area includes events at the National Constitution Center (525 Arch Street, Philadelphia, constitutioncenter.org), the Betsy Ross House (239 Arch Street, Philadelphia, http://historicphiladelphia.org/betsy-ross-house), Please Touch Museum (4231 Avenue of the Republic, Philadelphia, www.pleasetouchmuseum.org), Malcolm X Park (5100 Pine Street, Philadelphia, myphillypark.org), The African American Museum in Philadelphia, 701 Arch Street. Philadelphia, www.aampmuseum.org), Memorial Park (300 E. Main Street, Lansdale, www.facebook.com/The-Lansdale-Black-Business-Association), Woodmere Art Museum (9201 Germantown Avenue, Philadelphia, woodmereartmuseum.org), and Franklin Square, 200 North Sixth Street, Philadelphia, http://historicphiladelphia.org).
On June 18, Fort Mifflin (6400 Hog Island Road, Philadelphia, www.fortmifflin.us) is inaugurating a new series – the Jeffersonian Picnic Series.
"Jeffersonian Picnic: All Men Created Equal?" will be held at Fort Mifflin on June 18 at 5 p.m.
Fort Mifflin is inviting guests are invited to bring a picnic, take in a presentation around one big idea and engage in a discussion as a group. The debut edition touches on the Declaration of Independence and the concept that all men are created equal',
asking hard questions around who qualifies under "all men" and the motivations behind the Founding Fathers' vision for a new nation.
The program portion of the evening (6:30-7:30 p.m.) takes place in the Picnic Area and follows the format Thomas Jefferson established when hosting guests at his own dinner table. It will look at some apparent contradictions.
Jefferson authored the Declaration of Independence declaring "all men are created equal" yet ran his farm with enslaved laborers. The purchase of the Louisiana Territory from France during Jefferson's presidency set the stage for the United States to begin displacing vast Native populations. So, who were all the men in Jefferson's declaration that were created equal?
Not coincidentally, the program falls on the eve of Juneteenth, a holiday commemorating the end of slavery in the United States.
Tickets are $20 for adults, $15 for seniors and veterans and $5 for students.
On June 19, it will be time for "Civil War Saturday" at Fort Mifflin starting at 10 a.m.
Visitors can explore Fort Mifflin's years as a federal prison as the Mifflin Guard becomes the site's Garrison for the weekend.
They'll be able to watch the soldiers drill and prepare their camp meals over an open fire. They also can "Enlist" and learn to drill with wooden muskets, enjoy Civil War Soldier Life and Medicine programs, meet soldiers from 3rd Regiment Infantry United States Colored Troops.
Additionally, they will have the opportunity to discover the untold story of the prisoners of the Fishing Creek Confederacy, imprisoned at the Fort in 1864 and the meet the "Hero of Gettysburg" General George Meade who will review the troops at noon, and present a special program at 1 p.m.
A good way to celebrate Father's Day with dad is to ride the rails.
The West Chester Railroad (Market Street, West Chester, 610-430-2233, www.westchesterrr.net) is running its special "Father's Day Express" on June 20 at noon and 2 p.m.
The ride treats dad to a 90-minute round trip train ride from West Chester to Glen Mills and return on his special day. During the brief layover in Glen Mills, passengers will be able to explore the historic Glen Mills train station as well as the railroad's picnic grove along the Chester Creek.
All dads ride for a special reduced fare. Tickets are $15 for adults, $13 for children (ages 2-12) — and $5 for fathers.
The Wilmington & Western Railroad (2201 Newport Gap Pike, Wilmington, Delaware, 302-998-193, www.wwrr.com) will run its "Father's Day Express" on June 20 at 12:30 and 2:30 p.m.
This event is powered by one of the rail line's historic steam locomotives.
Tickets are $17 for adults, $16 for seniors and $15 for children (ages 2-12). On this special day, dads ride for half-fare.
The Colebrookdale Railroad (South Washington Street, Boyertown, www.colebrookdalerailroad.com) is running its special "Father's Day Beef and Beer" excursions on June 19 and 20.
Dads will be able to chow down on tasty roast beef sandwiches and sip their favorite brews while riding on the tourist rail line's two-hour expedition into the Secret Valley. The trip features a ride on meticulously restored century-old rail cars and visits one of the most scenic and historic regions in the northeast.
Departure times are 1 and 5 p.m. on June 19 and 1 p.m. on June 20.
Tickets are $36 for adults (13-64), $29 for children (2-12), $31 for seniors (65 and older) and $6 for toddlers.
The New Hope Railroad (32 Bridge Street, New Hope, 215-862-2332, www.newhoperailroad.com) is presenting its "Father's Day Barbecue" on June 20.
Passengers will make their selections from the rail line's full-service local barbecue buffet before boarding a one-hour ride on one of its beautifully appointed first-class parlor cars. Once aboard, complimentary non-alcoholic beverage service is included. Beer, wine, and cocktails are available for purchase from our full-service bar onboard, including a selection of local flights.
Food will be served by members of the railroad's uniformed Café staff and packaged picnic-style for passengers to enjoy along the way. The scenic excursion through historic Bucks County will be pulled by one of New Hope's fleet of heritage diesel locomotives.
The excursions will take place aboard one of the railroads lavishly appointed early 1900's first-class parlor cars.
Tickets are $87.99 (Ages 12 and older), $79.99 (ages 3-11) and $9.99 (ages 2 and under).
The Strasburg Railroad (Route 741, Strasburg, 717-687-7522, www.strasburgrailroad.com) is always the most popular spot around when it hosts "Day Out With Thomas."
There is a mutual love affair between kids and Thomas the Tank Engine and it's especially evident when Thomas gets up-close and personal with his fans during his visits to the Strasburg Railroad.
Every year, the steam locomotive named Thomas makes several visits to Lancaster County where he entertains enthusiastic children and their parents. The locomotive, which has its own PBS television series, will return to Strasburg for "Day Out With Thomas" now through June 21.
For more than 50 years, Thomas the Tank Engine and his Island of Sodor friends have been favorites of preschoolers and their parents. Based on "The Railway Series" (classic stories authored by a father who loved trains and wanted a shared experience with his son), "Thomas & Friends" has evolved into a rite of passage that inspires imagination.
Fans will be able to get personal with Thomas the Tank Engine, a full-sized operating steam locomotive who will be talking for the first time ever. And, they will also be able to ride a train pulled by Thomas and meet the locomotive's buddy Percy.
Percy, who is a larger-than-life, full-size locomotive just like his friend Thomas, will be there for all days of the event. A ride behind Percy may be purchased as an add-on to the "Day Out With Thomas" ticket. Percy's ride will last approximately 12 minutes.
In between trips, Percy will talk with families and be available between trips for photos.
Tickets for "Day Out With Thomas," which are $23, include the train ride with Thomas the Tank Engine, as well as a variety of Thomas & Friends themed entertainment such as storytelling, video viewing, temporary tattoos of Island of Sodor friends and an Imagination Station.
If you're looking for a great fun, family event this weekend or a special Father's Day activity, a good place to look is Winterthur Museum, Garden & Library (5105 Kennett Pike, Wilmington, Delaware, 800-448-3883, www.winterthur.org).
On June 19 from 11 a.m. – 3 p.m., the historic site, which is located on Route 52 in northern Delaware just south of the Pennsylvania state line, hosts its annual Enchanted Summer Day — the day when Winterthur's Enchanted Woods celebrates its anniversary.
Enchanted Summer Day features crafts displays, live entertainers and food concessions. There will be an array of family activities, including storytelling, face painting, kids' games and strolling entertainment.
Enchanted Woods is a unique children's garden at Winterthur — a three-acre area where the "fairy folk" have created a magical garden for children of all ages. The site, which is situated under a canopy of majestic oak trees, features attractions such as the Tulip Tree House, Green Man's Lair, the Troll Bridge and the Faerie Cottage.
Enchanted Woods is located within the larger 60-acre garden at Winterthur, the former country estate of Henry Francis du Pont. Winterthur is famous for its world-class collection of over 85,000 American antiques.
Two time spots are available for Enchanted Summer Day — 10 a.m.-noon and 12:30-2:30 p.m.
On June 20, Winterthur will host a "Father's Day Brunch" from 11 a.m.-2 p.m. It will be a classic cookout on the patio of the Visitor Center with seasonal summer bites and Dad's favorite brews.
Regular admission to Winterthur is $20 for adults, $18 for seniors (62 and older) and students and $6 for children (ages 2-11).
Chaddsford Winery (Route 1, Chadds Ford, 610-388-6221, www.chaddsford.com) will also be celebrating Father's Day with "Father's Day Weekend" on June 19 and 20 – noon-7 p.m. on Saturday and noon-6 p.m. on Sunday.
Dads can treat their taste buds with wine tastings, wine cocktails, craft beer and wine slushies.
Visitors can taste Chaddsford's '20 Sparkling Rosé, '18 Presage and '18 The Red Standard in a Backyard BBQ Flight ($15 for a 2-ounce pour of each) and a Backyard BBQ 3-Pack ($55 for all 3 bottles) available for one weekend only.
Patrons can also find savings on the winery's "June Wine of the Month" — Dry Rosé: Redux,  a juicy, floral rosé bursting with notes of strawberries. Glasses will be discounted by $1, bottles by $2, and cases by $24.Additionally, food will be available at The Meat House's food truck.
Sesame Place (100 Sesame Road, Langhorne, www.sesameplace.com), a family-friendly amusement park in Langhorne, hosting "Elmo's Springtacular" now through June 20.
"Elmo's Springtacular" at Sesame Place is filled with furry fun and exciting events. On weekends now through the end of June, guests can join in on the fun with an exciting lineup of meet & greets, music, magic, pirate adventures, and fireworks.
Guests will be able to rock out with Elmo, Abby Cadabby, Cookie Monster and Count von Count.
The festive "Meet & Greets with Elmo" will be held on Saturday and Sunday at the Sesame Place Neighborhood Theater. Space is limited and available on a first come, first served basis.
On June 19 and 20, the park is hosting "Father's Day Weekend Fan Fest."
Families can celebrate dad with a sports fan fest at Sesame Place. "Father's Day Fan Zone" festivities include special meet & greets, photo opportunities, games and more.
Ticket prices for Sesame Place start at $49.99.
This year, summer solstice takes place on June 20. Summer solstice signifies the longest, lightest day of the year.
Dating all the way back to ancient times, the solstice marks the mystical, spiritually heightened day when the sun reaches its highest point in the sky. Celebrated by many cultures and religions at festivals and ceremonies around the world, it honors a deep sense of devotion to nature, Mother Earth, and the energizing power of the sun.
It also marks the start of the summer season in Fairmount Park (myphillypark.org) and the day features three special "Celebrate Solstice" events.
The first is "CELEBRATE SOLSTICE: Sunrise Hike with Brad Maule" which takes place on June 20 from 5:30-8 a.m. at Belmont Plateau (West Fairmount Park, Army Road, Philadelphia.
Veteran hike leader of Brad Maule will lead a hike on the Belmont Plateau in time to watch the sun rise over the city skyline and then head on a morning loop hike through West Park (Meadows and Trolley Trail).
Another early day event will be "CELEBRATE SOLSTICE: Yoga on the Plateau" from 9-11 a.m. on Belmont Plateau.
Visitors are invited to join the toga teachers us on the stunning vista of the Belmont Plateau for a special 90-minute solstice themed class that integrates sun salutations and other poses intended to welcome and honor the longest day of the summer.
The final event will be "CELEBRATE SOLSTICE: Labyrinth Making Workshop" from 6-8:30 p.m. at Mount Pleasant Mansion (3800 Mt Pleasant Drive, Philadelphia).
Participants will be able to learn about healing power of labyrinths. Led by Athena Dugan, the Philadelphia representative of the international Labyrinth Society, this unique workshop will teach the history and techniques of labyrinth making. Attendees will work together to make and walk an actual labyrinth in the grass.
Dating over 5000 years old, the earliest representations of labyrinths have been discovered in pottery shards and carvings in stone. Unlike a maze with many passages and dead ends designed to confuse you, the labyrinth is a unicursal path, a circuitous design that is walked and leads into the center and back out again to the entrance.
In celebration of the longest day and the shortest of night, we'll create a temporary labyrinth in the park in honor to the earth. As the solstice sun sets, the group will walk the completed labyrinth, a transformational experience that can bring stress relief, support your health and healing, and ground you to the earth.
On June 19, the John Heinz National Wildlife Refuge at Tinicum (8601 Lindbergh Boulevard, Philadelphia, www.fws.gov/refuge/John_Heinz) is presenting an event called "Friends of Heinz Refuge Summer Solstice Celebration" from 4:30-8:30 p.m.
Guests can enjoy live music, ribbon cutting for wildlife sculpture, guided hikes, food, and more.
Earlier in the day, visitors to the Refuge can join in the "Bird Walk with Chuck and Emily" from 8-10 a.m.-noon.
Participants will be able to take an educational walk with one of the venue's knowledgeable volunteers.
Visitors to the Refuge can discover the 300-plus species of birds that use the Refuge during their migration routes — with a different species guaranteed each week.
The walk will be at a relaxed paced on flat surfaces. There are restrooms and a water fountain near the trailhead.
Hagley Museum and Library (Buck Road East entrance via Route 100, Wilmington, Delaware, 302-658-2400, www.hagley.org) is hosting a special event geared for the entire family this weekend.
On June Hagley 20, Hagley will present "Sights, Sounds and Smells at Hagley Museum."
Visitors to Hagley will experience an in-depth, hands-on tour focused on gunpowder production in the Hagley Powder Yard and visit production areas rarely seen by guests. This tour ends with an explosive finish.
The tour involves walking on uneven ground and is included in admission and free for Hagley members.
Admission to Hagley Museum is $9 for adults and $5 for children.
Longwood Gardens (Route 1, Kennett Square, 610-388-1000, www.longwoodgardens.org) is always a special place to visit – especially  during the run of its annual "Festival of Fountains."
The 2021 "Festival of Fountains" opened in May and is running through September 26.
Daily performances in the Main Fountain Garden will feature more than 1,700 spinning jets that spin dance to various music programs. These are no little jets as some shoot up as high as 175 feet in the air.
The 30-minute show is slated for Thursdays, Fridays and Saturdays at 9:15 p.m.
The Main Fountain Garden Show's "Fountains Then and Now" show is a 12-minute fountain performance that begins with a touch of narrated history and concludes with dynamic choreography marrying music and the site's newest fountain features.
These displays will be presented daily at 1:15 a.m. and 3:15 p.m. There will also be performances on Thursdays, Fridays and Saturdays at 7:15 p.m.
Another daily show in the Main Garden is "Classical, Jazz, and Hits of Today," another 12-minue show but with a different musical style. These will be presented daily at 1:15 and 5:15 p.m.
The third show on the roster is "Fountain Refresher," which is billed as "a five-minute mix of music genres that teases the theme of that evening's Illuminated Fountain Performance."
These are scheduled for Thursday through Saturday from May 6-August 28 at 6:15 and 8:15 p.m. and September 2 through October 30 at 6:15 p.m.
There will also be daily shows in the Open Air Theatre and the Italian Water Garden.
Featuring 750 jets in changing patterns, the Open Air Theatre comes alive with fountains set to music.
Since its 1914 Garden Party debut, this Italian-style outdoor theatre has expanded from its simple original fountains to the 750 jets that create the rainbowed curtain of water you see today, while playing host to more than 1,500 performances throughout the years.
To limit the spread of COVID-19, Longwood has made the difficult decision to temporarily suspend all ticketed concerts, fireworks shows and in-person continuing education classes. But live music can be heard in the Beer Garden, where live instrumental music from traditional Celtic tunes to Caribbean steel pan grooves sets the tone Thursday through Saturday evenings.
Beer Garden performances are scheduled through August from 6-9 p.m. from Thursday to Saturday evenings. They will also be held in September from 5-8 p.m. on Thursdays, Fridays and Saturdays.
As always, admission by "Timed Ticket" — tickets issued for specific dates and times. Timed ticketing limits the number of people in the Gardens at any given time and allows guests to enjoy minimal lines and a better viewing experience.
You may enter the Gardens up to 30 minutes prior and 30 minutes after your designated time. Make every effort to arrive at your designated reservation time. Earlier or later arrivals may not be accommodated.
Video link for "Festival of Fountains" — https://youtu.be/AHsC2YuFerY.
Admission to Longwood Gardens is $25 for adults, $22 for seniors (ages 62 and older) and college students, $18 for active military and veterans and $13 for youth (ages 5-18).
The Bethel Fire Company (www.bethelfire.com) will be holding its annual Carnival from June 22-26.
The festive event will run from 6-10 p.m. each night on the grounds of the old Francis Harvey Green School at 3220 Foulk Road in Garnet Valley.
The Carnival features rides, food and games and all proceeds benefit Bethel's all-volunteer fire department.
Ride all night wristbands can be purchased each evening for $25 at the ticket booths.
Pre-Order your wristbands for $5 dollars off per wristband. All pre-orders must be purchased before June 21.
A Presale $50 Mega Pass is also available. You may ride all week from open until close with the Mega Pass. The Mega Pass is valid for one person for the entire week and is nontransferable. The Mega Pass is only available via presale by ordering before June 21.
The Elmwood Park Zoo (1661 Harding Boulevard, Norristown, www.elmwoodparkzoo.org) has several upcoming special events.
On June 19 and 20, the Zoo is hosting "Breakfast with the Giraffes."
Guests can enjoy a delicious, socially distanced outdoor breakfast buffet, right next to the zoo's three towering giraffes. After participants have cleared their plates, they will be invited to an exclusive giraffe feeding.
The breakfast will get underway at 8:30 a.m.
The Zoo will have another animal-themed special activity on June 18 and 23 called "Dog Days."
All guests visiting the zoo with a furry friend must complete an online waiver and submit required documents before visiting the zoo. You must upload a copy of your most recent veterinary visit, including proof of vaccine and heartworm test here. All items will be required for you to attend "Dog Days."
The "Dog Days" event is slated to run from 1-5 p.m. It will also be held on selected dates throughout June.
Pricing is $10.95 per dog with each additional dog at $9.95. Regular zoo admission is required for all humans.
The Betsy Ross House (239 Arch Street, Philadelphia, http://historicphiladelphia.org/betsy-ross-house) is celebrating Flag Day with a full week of events and programming now through June 19.
Once Upon A Nation Storytellers will entertain from the courtyard stage, telling short, interactive and little-known stories featuring our nation's flag.
Other highlights of the week will include the ongoing assembly of a larger-than-life American flag made entirely of M&M's.
During the week, visitors will meet figures from history, including famous suffragists and, of course, Betsy Ross, herself.
All week, the first 100 visitors to the House each day will receive free admission.
Hope Lodge (553 South Bethlehem Pike, Fort Washington, 215-343-0965, http://www.ushistory.org/hope/) will be presenting "Guided Mansion Tours" on June 20.
Hope Lodge was built between 1743 and 1748 by Samuel Morris, a prosperous Quaker entrepreneur. Morris acted as a farmer, shipowner, miller, iron master, shop owner, and owner of the mill now known as Mather Mill. Hope Lodge is an excellent example of early Georgian architecture, and it is possible that Edmund Woolley, architect of Independence Hall, offered advice in building. Samuel Morris owned the estate until his death in 1770.
Visitors can participate by watching a short film and then taking a tour. Guided tours of the mansion will depart at 1 and 2:30 p.m. all three days.
Tour admission is $8 for adults, $5 for seniors (age 65+) and for youth age 6-17, and fee for children under 5. Hope Lodge is a Blue Star Museum which means that active-duty military personnel, including National Guard and Reserve and their families, are admitted free for regular tours from Memorial Day through Labor Day.
Peddler's Village (Routes 202 and 263, Lahaska, 215-794-4000, www.peddlersvillage.com) is celebrating summer with its "Peddler's Village Summer Block Party!"
Every weekend through the month of June, visitors can enjoy live entertainment, plenty of delicious food and drink specials, family-friendly activities and more across all five Village neighborhoods.
They can enjoy lunch or dinner in one of the many Village restaurants and eateries, cool off in chic boutiques and specialty shops, and play arcade games or ride the antique carousel at Giggleberry Fair.
Peddler's Village shops will be open until 8 p.m. on Saturday. Admission and parking are free. Event is rain or shine.
Every Sunday, the Village will host string bands — famous Mummers string bands including Jersey, Aqua, Ferko, and Uptown.
Each weekend, Peddler's Village will host talented musicians, entertainers, and fantastic food trucks, plus kids crafts, family-friendly activities, and more. On certain weekends, join us for carnival rides, ponies and a petting zoo, a charity dunk tank, bubble magician, axe throwing, and a cartoonist.
The entertainment schedule for June 19 features Paul Tozz, Trinidelphia, Cheddar Boys and the YoYo Show. On June 20, the live acts will be the Galena Brass Band and the Ferko String Band.
On June 18 and 18, Intercourse Community Park (3730 Old Philadelphia Pike, Gordonville, 717- 768-8585, http://www.intercourseheritagedays.com) will host "Intercourse Heritage Days."
Activities will include "A Taste of Intercourse," a pedal tractor pull, a petting zoo, a spelling bee, a volleyball tournament, a baking contest, music by the Sunny Side Blue Grass Band, a fire truck demonstration, and the "Heritage Display of History of Intercourse."
Also featured will be the "Pancake and Sausage Breakfast in the Park," "Seventh Annual Run, Ride, Walk & Scoot Activities," a volleyball tournament, and juggler Chris Ivey. Saturday's schedule also features balloon twisting and face painting, "A Taste of Intercourse," a "Kids Variety Show," an antique tractor shows and a fireworks display at dusk (Saturday only).
"Heritage Events," which will be presented throughout the day, include demonstrations of horseshoeing, butchering, sling shooting, and wood carving.