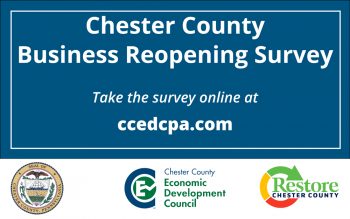 Chester County businesses, from small companies to Fortune 500s, are being urged to participate in the Chester County Business Reopening Survey.
"What are companies' current COVID policies, what are their staffing challenges and their post-pandemic plans? The sooner we receive responses to this survey, the sooner we can share the data with Chester County businesses so they can benchmark what peers and competitors are doing," says Michael Grigalonis, Chief Operating Officer of the Chester County Economic Development Council (CCEDC).
"We have been collecting data on business needs and challenges since the beginning of the pandemic. This latest survey – with an eye toward fully reopening the economy – is especially important. It is critical that we understand the business practices, policies and behaviors that are going on right now, so we can support the ripple effects to our economy."
The confidential survey, found at www.ccedcpa.com, centers around "return to work" practices including telework, vaccination policies, travel policies, facility usage and space planning. CCEDC is administering the survey in partnership with Restore Chester County, a group of business, economic, education and government leaders from across Chester County, brought together by the Chester County Commissioners to focus on the reopening and restoration of Chester County's quality of place brought on by the pandemic.
Chester County Commissioners Marian Moskowitz, Josh Maxwell and Michelle Kichline noted, "It is time to replace 'word of mouth' with hard data when it comes to the plans that Chester County businesses are implementing.
"For example, are most businesses looking to retain their current workspace, downsize or expand? That single piece of data can lead to an understanding of the potential chain reaction on restaurant usage, shopping habits, transportation needs and more. We need to be prepared for these changes and support our business community throughout."
Providing your name, company and contact information is optional on the survey.
"We understand the need for confidentiality," says Grigalonis. "Our highest priority is to collect as much data from as many respondents as possible, and share the overall trends and findings as soon as possible."