By Denny Dyroff, Entertainment Editor, The Times 
The Christmas holiday season has many annual traditions – holiday lights and decorations, mistletoe, manger scenes, caroling, elaborate Christmas tree, visits by Santa Claus, gift exchanges, holiday train excursions…and Christmas parades.
One of the best parades in the area is scheduled for this weekend – the Coatesville Christmas Parade (www.coatesvillechristmasparade.com).
Chester County's largest hometown parade will move down the historic Lincoln Highway on December 4 starting at 10 a.m. at Strode Avenue and Lincoln Highway. It will conclude at the performing and judging area at 11th Avenue and Lincoln Highway.
Originally a community project in the 1950s, the parade was then taken up by the Jaycees back in the 70s. In the early 1990's, missing the spectacle and sense of community spirit the parade inspired, this group of former JAYCEES along with other members of the Coatesville community and with the support of the Stewart Huston Charitable Trust and the City of Coatesville, decided it was time to revise the parade tradition.
This year, more than 150 entries will participate in the parade including dancers, fleets of tow trucks, police cars and fire trucks and a variety of custom-crafted floats.
Featured this year will be Miss Pennsylvania, Duffy and Quaker City String bands, the Eagles Pep Band, Sixers Stixers, the Lukens Band, the Chester County Emerald Society Pipe Band, and the Coatesville High School "Red Raider" Marching Band.
An automotive competition featuring Antique, Classic and Modified autos will be competing for prizes. There will also be a competitions for Best Appearing Fire Apparatus, Best Appearing Police Vehicle and Best Appearing Float.
Bringing up the rear of the parade will be Santa Claus riding on a Coatesville Fire Department truck.
The Claymont Christmas Parade (www.claymontchristmasparade.com) is scheduled for December 4 in nearby Claymont, Delaware starting at 10 a.m.
Visitors can see Santa arrive on a fire truck, hear high school bands, see Mounted Police horses, and look at lots of fire trucks, floats and more. And they are invited to help decorate the infamous "Claymont Christmas Weed."
The parade route is along Philadelphia Pike from Maple Lane to Darley Road in Claymont.
Ascension Church (3717 Philadelphia Pike, Claymont) will host "The Christmas Weed Ceremony" after the parade.
On December 4, the new Visit Philadelphia Holiday Parade will run along Market Street East starting at 5 p.m.
The Visit Philadelphia Holiday Parade is perfect event for all Philadelphians looking for some holiday cheer! This inclusive parade will feature floats representing Hanukkah, Kwanzaa, Chinese New Year, and Christmas, with performances by local marching bands, cold air balloons of your favorite holiday characters, and much more.
The parade kicks off at 5 p.m. and runs along Market Street from Second Street to City Hall. Wawa will be set up on Market Street between Second and Third streets with free hot chocolate and coffee giveaways.
Additionally, the Downingtown Good Neighbor Christmas Parade is scheduled for December 11.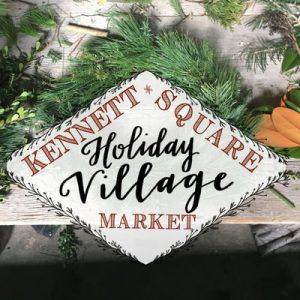 The 2021 Kennett Square Holiday Village Market will be held at The Creamery of Kennett Square (401 Birch Street, Kennett Square) on December 4, 5, 11 and 12 from 11 a.m.-5 p.m. each day.
Visitors will be able to shop from 80 artisan and vintage vendors at the market. In addition to finding gifts for the holiday, they also can make a Christmas tree purchase from fresh tree vendors at the market. And they can quench their thirst with mulled wine and hot cider as well as enjoy food from three participating food trucks.
Other special activities include an ice sculptor on Saturdays, photos with Santa on Sundays, wreath-making workshops and live music.
The Kennett Holiday Village Market was initiated by Kennett Township supervisor Whitney Hoffman who wanted to bring the essence of vibrant European Christmas Market to the Kennett area.  The goal of the Holiday Village Market to give local and regional artisans an opportunity to sell their wares, to provide visitors another great reason to visit Kennett Square and to highlight the revitalization of the Birch Street corridor.
Oxford's First Friday event this month will be a holiday celebration – "Country Christmas" (www.downtownoxfordpa.org).
At the event, which will run from 5-8 p.m. on December 3 in the heart of Oxford's downtown area, visitors can take photos with Santa, participate in Santa's Workshop and watch a live tree lighting.
There will be a "Live Nativity" at the Oxford Presbyterian Church from 6-7 p.m. and live music from Christian Life Center and Crescendo Choir.
Other activities include horse drawn carriage rides, hayrides, holiday shopping and dining and live holiday music.
Admission to the family-friendly event is free.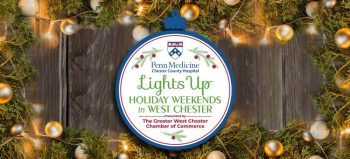 "Chester County Hospital Lights Up Holiday Weekends in West Chester" (greaterwestchester.com/events/featured-events/holiday-weekends-west-chester) will begin on November 26, 2021 and run through January 1, 2022.
The Greater West Chester Chamber of Commerce is reimagining what the holidays mean this year by launching the first-ever "Chester County Hospital Lights Up Holiday Weekends in West Chester."
Transformed into a winter wonderland, the streets of historic West Chester are bathed in the glow of thousands of holiday lights every evening from November 26 to January 1. Each weekend features holiday festivities, shopping and dining, title sponsored by Chester County Hospital.
This weekend's theme is "Old-Fashioned Holiday Weekend" from December 3-5.
Other themed weekends are "First Responders & Health Care Heroes Weekend" from December 10-12, "'Twas the Weekend Before Christmas" from December 17-19, and "New Year's Weekend" from December 31-January 1.
Old-Fashioned Holiday Weekend will start Friday night with the Tree Lighting Ceremony at the Historic Chester County Courthouse (2 N. High Street) including live music from West Chester University Marching Band, Gospel Choir and acapella Group Under A Rest as well as the West Chester Area School District Honors Choir.
There will be appearances by Miss Pennsylvania Meghan Sinisi and Santa Claus as well as iconic images from holidays past projected on borough buildings. In addition to the traditional decorations, the tree is featuring more than 70 handmade ornaments created by local non-profits and businesses in Chester County.
Special activities on December 4 include West Chester's Merrie Minstrels Carolers, Little Lincolns Gettysburg Address Competition, Holiday Market and Green Sale at the History Center, The Holiday Home Tour, Making Spirits Bright Holiday Music, free photos with Santa and and performances of "Scrooge!" produced by West Chester Dance Works in residence at Diane Matthews School of Dance Arts.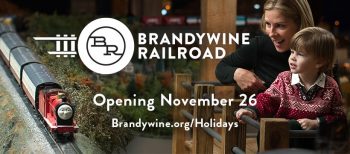 The Brandywine River Museum of Art Route 1, Chadds Ford 610-388-2700, www.brandywinemuseum.org) reopened to the public on November 26 with the return of the Brandywine Railroad holiday train display and highlights from the permanent collection. The Brandywine has been temporarily closed to the public since September 1, after the remnants of Hurricane Ida brought historic flooding to Chadds Ford and across the Brandywine's 15-acre campus.
Also returning will be the Brandywine's whimsical Critter ornaments decorating the holiday trees in the Museum's atrium and also available to purchase during the annual Holiday Critter Sale. Each year since 1971, these distinctive ornaments have been carefully handcrafted by a dedicated group of volunteers using only natural materials such as teasel, pinecones, acorns, eggshells, flowers and seed pods.
All of the ornaments that had been made for this year's upcoming sale—over 8,200 new creations—were destroyed by floodwaters, including many decades of Critter ornaments that have been highlights of the holiday display, some of which date back to the early 1980s. After this devastating loss, the Brandywine's Critter volunteers rolled up their sleeves, fired up their glue guns and got back to work, quickly creating an amazing range of new ornaments in time for the annual holiday sale.
This year's Holiday Critter Sale will be held off site at the Chadds Ford Historical Society on December 4 and 5 from 10 a.m. to 4 p.m. A variety of "classic Critter" favorites along with fanciful new creations will be available during the sale. A smaller selection of Critter ornaments and houses are also available for purchase online and can be shipped across the country by visiting www.brandywine.org/critters.
While all of the art in the galleries at the Brandywine River Museum of Art were safe and unharmed by the storm, the Museum's lowest level—containing a lecture room, classroom, offices and more—had significant flood damage, in addition to 10 other buildings on the Brandywine's campus.
Beginning November 26, the Museum will be open seven days a week, from 9:30 a.m. to 4:30 p.m. (closed on Christmas day), with the Brandywine's iconic O-gauge model train display on view through January 9, 2022. A holiday favorite since 1972, the Brandywine Railroad offers something for everyone with its dazzling array of both toy and scale model trains made by Lionel, Williams, Atlas, Mike's Train House, K-line and others.
The display features trains running on 2,000 feet of track with more than 1,000 pieces, including locomotives, passenger and freight trains, and trolleys that pass through a small village, a farm, factories, and even a carnival and a drive-in movie theater. Interactive components are also incorporated into the display, operated by hands-free foot pedals that allow for further engagement.
The fabulous holiday light display "West Chester Griswolds" (304 Dutton Mill Rd, West Chester, www.westchestergriswolds.com) opened on Thanksgiving night and will run through January 2.
This year's display features more than 133,000 lights and 800 smart pixels.
This year, they have added a Cosmic Color Ribbon Tree (CCR) to our display. It is an exciting piece of technology with the ability to create any color of the rainbow. The exhibit will be playing throughout the night and "singing" with the bulbs, which are making their return this year.
Lights will be on now through January 2 — Monday through Thursday from 4:45-9:45 p.m. and Friday through Sunday from 4:45-10:15 p.m.
The holiday season at Herr's Snack Food Factory (20 Herr Drive, Nottingham, 610-932-9330, www.herrs.com) has arrived. The area around the factory site will be illuminated with thousands of lights and holiday displays.
Herr's "Holiday Light Display," which is free and open to the public, will be open nightly now through January 2.
Visitors to the site will be able to drive along a trail that is illuminated with more than 600,000 lights.
The special light exhibit will be open daily from dusk to dawn.
"Christmas Around The Farm" converts a summertime destination for home-grown produce into a sparkling winter wonderland. The popular annual event at Linvilla Orchards (137 West Knowlton Road, Media, 610-876-7116, www.linvilla.com) is running now through December 23.
Visitors will be able to cut their own Christmas trees, or, if not so inspired, purchase them at the shop — which also features other decorations, including holiday wreaths. Christmasland features freshly cut trees, greens and holly, poinsettias, hand-made wreaths and a large variety of children's toys and collectables.
Santa and his elves will be stopping by every Saturday and Sunday to visit his friends in Christmasland from 1-3 p.m. And, there will be caroling Hayrides Saturday evenings in December that include the ancient tradition of Wassailing, singing Christmas Carols around a campfire and roasting marshmallows.
Longwood Gardens (Route 1, Kennett Square, 610-388-1000, www.longwoodgardens.org) has shifted into holiday mode with the arrival of "A Longwood Gardens Christmas."
The festive holiday display at Longwood Gardens, which is running now through January 9, features spectacular lights, lavish decorations, holiday music and colorful displays featuring thousands of brilliant poinsettias, brightly decorated trees and fragrant flowers — all inside the heated Conservatory.
There will be towering trees adorned in amber to fiery red tones, flickering flame lanterns, and an inviting mountain retreat, complemented by icy-hued plantings, a "frozen" succulent fountain, and a refreshing alpine waterway that is the ultimate winter wonderland.
The colorful annual event, which appeals to the entire family, also has a lot of outdoor attractions such as fountain shows and nighttime light displays. Longwood's Christmas celebration also includes a wide array of seasonal music — holiday concerts, organ sing-alongs and carillon performances.
When darkness arrives at Longwood, a night-blooming garden of more than a half-million lights strung on close to 100 trees with approximately 40 miles of wire comes to life. A carillon with 62 cast bells plays holiday music every half hour during daylight hours. Longwood's Open Air Theatre fountains dance to holiday music each half hour — temperature permitting.
As always, admission by "Timed Ticket" — tickets issued for specific dates and times. Timed ticketing limits the number of people in the Gardens at any given time and allows guests to enjoy minimal lines and a better viewing experience.
Visitors to "A Longwood Gardens Christmas" can also check out Longwood's Garden Railway — a whimsical display set into motion with G-scale model trains. This is the 17th year that the railway has delighted visitors with special water features and custom trains traveling in and out of bridges and tunnels.
Admission to Longwood Gardens is $25 for adults, $22 for seniors (ages 62 and older) and college students, $18 for active and retired military and $16 for youth (ages 5-18).
Tinseltown Holiday Spectacular has taken up residence at the Greater Philadelphia Expo Center (Station Avenue, Oaks, 484-754-3976, www.tinseltownholiday.com) now through January 2, 2022.
This brand-new event at the Fairground at the Greater Philadelphia Expo Center at Oaks invites guests to walk through a winter wonderland of light sculptures and displays, including illuminated recreations of local landmarks like the Liberty Bell. It features more than one million bulbs.
Activities include ice skating on a synthetic rink, photos with Santa (reservations required) and Gritty (Thursdays), shopping at the Mistletoe Marketplace, and seasonal treats and drinks in the heated Tinsel Lodge and McTinsel's Pub.
Tickets start at $13.99 for kids under 13 and $19.99 for adults.
On December 5 from noon-4 p.m., it will be time for the Narberth Dickens Festival.
The festival is a free family event held each December on the streets of downtown Narberth.  It draws thousands to this little borough every year, and it has become one of the most anticipated holiday festivals in the Philadelphia area.
In this Dickens-themed event, the town of Narberth is transformed into 1840s London, as Ebenezer Scrooge, Tiny Tim, and all the characters from "A Christmas Carol" roam the streets for an afternoon.
There is entertainment and activities for all ages, including horse-drawn carriage rides, holiday crafts, carolers, period vendors and food, dancers, musicians, ballet performances, puppet shows, magicians, puppeteers, a free Dickens-themed scavenger hunt for children, and much more.
There are plenty of reasons to take the short drive to Delaware this holiday season with tax-free shopping on everything at the top of the list.
One of the best holiday events in the area is the annual "Yuletide at Winterthur." This year's 40th annual staging of the event, which runs now through January 2 at Winterthur Museum, Garden & Library (Route 52, Wilmington, Delaware,800-448-3883, www.winterthur.org).
Visitors can revel in the beauty and warmth of the holidays and explore treasures of Christmases past with displays of holiday traditions from the 1800s to the early 20th century, including displays of: the earliest types of colorful lights decorating house exteriors; the du Pont family holiday celebrations; and the evolution of Christmas trees over the decades from the 1880s to 1960s.
One of visitors' favorites every year is the 18-room dollhouse mansion created by designer and philanthropist Nancy McDaniel over a period of 30 ears. It features amazing intricate details in each room and is even decorated for the holidays.
As always, the rooms will be enhanced with the floral displays so essential to du Pont's decorating, and with special Christmas trees inspired by the beauty of the Winterthur's gardens — including the popular Dried Flower Tree in the Conservatory.
Special holiday programs throughout the season include "Wonderful Wednesdays" in December, evening events featuring live jazz performances, caroling, and workshops. In addition to the Wednesday evening festivities, visitors can enjoy a live one-man performance of "A Christmas Carol" by Gerald Charles Dickens, the great-great-grandson of Charles Dickens, wine and cocktail tastings, and family events with Santa Claus and Mrs. Claus.
Timed Yuletide Tour reservations are required. Admission to Yuletide at Winterthur is $15 for adults, seniors (age 62 and older) and students and $6 for children (ages 2-11).
Another major reason is the annual staging of "Holidays at Hagley: A Celebration of Family" — an event that is always one of the most eagerly anticipated holiday attractions in this area every year.
The popular Brandywine Valley exhibit, which is included with regular admission, is running now through January 2 at Hagley Museum and Library (Route 141, Wilmington, Delaware, 302-658-2400, www.hagley.org).
This year's edition of "Holidays at Hagley" features tours of Eleutherian Mills, which is the first du Pont family home built in America. The tours, which will be presented each day from 10a.m.-4:30 p.m., feature decorations in a combination of styles from both the 19th and 20th centuries.
During the Victorian years when candle-lit tabletop Christmas trees were the norm, hand-made gifts were attached to tree branches, and winter scenes were displayed underneath the tree. The upstairs Victorian Library shows how magical that looked with its mid- to late-nineteenth-century toys, games and dolls. The upstairs Parlor features a case filled with small ceramic animals well-loved by some of the du Pont family children.
Early du Pont family French holiday traditions are remembered with a display of gifts that were given to E. I. du Pont's children on New Year's Day as well as the Twelfth Night party illustrated by the ornate French dessert service in the Dining Room.
Well-loved displays returning include the elaborate Twelfth Night celebration in the dining room and the Victorian library's Christmas for children with its table-top tree surrounded by toys and games. Of course, there will be warm glowing lights and poinsettias.
Admission is $8 for adults, $6 for seniors and students and $4 for children (ages 6-14).
Nemours Mansion & Gardens (Route 141 South, Alapocas Drive, Wilmington, Delaware, 302-651-6912, www.nemoursmansion.org) is welcoming visitors for the Christmas holidays with "Holidays at the Estate." The attraction is open now through December 30.
Originally constructed more than a century ago, Nemours Mansion is one of Delaware's grandest buildings and includes the largest formal French garden in North America.
Ever since 1910, when Mr. and Mrs. duPont began living in their newly built mansion, the holiday season has been a festive time at Nemours. The Christmas decorations at the Nemours Mansion are often inspired by the architecture of the home, the customs of the duPonts or the French influence.
The Mansion is also decorated by some of the duPonts' original decorations, including a German crèche, which dates from the late 19th century. The figures are soft ceramic, unglazed and hand-colored. In addition to their own ornaments, Nemours also proudly displays ornaments made by patients at Nemours Alfred I. duPont Hospital for Children.
Visitors can enjoy Christmas trees, wreaths, and hundreds of feet of garland on grand display in the Visitor Center, Chauffer's Garage, Mansion and grounds.
The Historic Odessa Foundation's 2021 Christmas Holiday Tour and Exhibit "Little Women" is an event with an appeal that spans generations. The tours will be presented now through the end of the year in Odessa's historic district (Main Street, Odessa, Delaware, 302-378-4119, www.historicodessa.org).
For the past three-and-a-half decades, Historic Odessa has celebrated children's literature by recreating scenes from the classics in one of its 18th-century museum houses. Visitors have been treated to the literary works of Louisa May Alcott, P.L. Travers, Beatrix Potter, Tasha Tudor, Washington Irving, Lewis Carroll, and Charles Dickens, to name just a few.
After a one-year hiatus, Odessa is reviving its tradition of recreating scenes from classic literature through interpretive vignettes displayed in one of the foundation's historic museum houses. Last year's Holiday Exhibit was cancelled due to the coronavirus pandemic.
From November 16-December 31, the National Historic Register Wilson-Warner House (c. 1769) will be the setting of adapted scenes from the beloved autobiographical coming-of-age novel "Little Women or, Meg, Jo, Beth and Amy" written by the American novelist Louisa May Alcott and first published before Christmas in 1868.
Visitors will be enchanted with old-fashioned room vignettes to include those of the March sisters' Christmas parlor, festive dining room and well-appointed bed chamber. In addition, Historic Odessa is honored to present a display case full of "Little Women" memorabilia on loan from the Louisa May Alcott Orchard House Museum in Concord, Massachusetts.
All of Historic Odessa's museum properties will be adorned with thousands of lights again this year, and on full festive display for the 2021 Holiday Season. Special school and public tours and events will celebrate "Little Women" and its accompanying exhibit in the Wilson-Warner House, including the Storybook Trees exhibit in the National Historic Landmark Corbit-Sharp House, holiday Festive Foods cooking demonstrations, as well as regularly scheduled Candlelight Tours.
This season, Odessa will present outdoor Candlelight Tours of the foundation's museum properties every Tuesday and Thursday evening in December beginning at 7 p.m. Tickets are $15 and include a libation at Cantwell's Tavern. Reservations are required for the tours.
The Historic Houses of Odessa are open Tuesday through Saturday from 10 a.m.-4:30 p.m. and Sunday from 1-4:30 p.m. Admission to the Historic Odessa Foundation Holiday Tours is $10 for adults, $8 for groups, seniors, and students and free for children (under 6).
The New Candlelight Theatre (2208 Millers Road, Arden, Delaware, 302- 475-2313, www.candlelighttheatredelaware.org) celebrates the opening of its holiday show this weekend.
"A Christmas Carol by Candlelight" is the theater's heartwarming celebration of the yuletide season – a bi-annual event that is back by popular demand. The show features classic holiday tunes, as well as some new surprises – all performed by fans' favorite "Candlelighters."
The holiday show will run now through December 22.
Performances are Friday and Saturday evenings (doors 6 p.m./show, 8 p.m.) and Sunday afternoons (doors, 1 p.m./show, 3 p.m.). Tickets, which include dinner and show, are $63 for adults and $33 for children (ages 4-12). All seats are reserved.
On December3 and 4, Rockwood Park (4651 Washington Street Extension, North Wilmington) is hosting its annual "Holiday Open House at Rockwood Park & Museum."
The popular family event, which runs from 5-9 p.m. each night includes tours of the holiday display in the museum and a joyous light display in the gardens surrounding the Mansion and Carriage House.
Holiday Open House features exceptional entertainment, fun festive crafts, costumed characters, refreshments, food trucks and free photos with Santa! The event also includes the Holiday Shoppe selling gifts for the whole family. There will also be performances by dance, music, and choral groups.
This is a free event, but donations of non-perishable foods are collected for local food closets.
Laurel Hill Cemetery (3822 Ridge Avenue, Philadelphia, 215-228-8200, www.thelaurelhillcemetery.org) will have a special event this weekend that looks back in time.
On December 4, Laurel Hill Cemetery will present "Sinners and Scandals Walking Tour" walking tour at 10 a.m.
Laurel Hill has brave military heroes, uplifting reformers, and selfless philanthropists.
But what about the less than pure spirits? The South Philly gangster who got whacked when he tried to infiltrate the Schuylkill County numbers racket? The female grifter who conned New York City and then sipped strychnine while a dozen bill collectors tried to batter down her door? The final resting places of these troubled souls show Laurel Hill's scandalous, sinful and sordid side.
The Tour Guide is Tom Keels
The tour will depart at 10 a.m. from Laurel Hill Cemetery's Gatehouse entrance at 3822 Ridge Avenue.
Tickets must be purchased in advance.
Ticket pricing is: $12, General Admission; $10, Seniors (65 & Up) and Students with ID;  $6, Youth (6-12), and free for children (5 and under). Youth and children must be accompanied by an adult.
If you're looking to do some walking indoors, consider Wonderspaces.
Wonderspaces at the Fashion District (27 North 11th Street, Philadelphia, philadelphia.wonderspaces.com) is an experiential, interactive arts venue.
Building on the success of annual pop-up shows in San Diego, and its first permanent location in Scottsdale, Arizona, Wonderspaces opened a 24,000 square foot gallery space in Philly a year ago.
Wonderspaces features 14 art installations that all play with the idea of perspective. The artwork ranges from award-winning virtual reality short film about a dinner party-turned-alien abduction, to a room where visitors digitally paint the walls with the movement of their bodies.
New artworks rotate in every few months, creating an ever-evolving, year-round show.
Tickets are for entry at a specific date and time. Visitors are welcome to stay as long as they please during operating hours. The average time spent experiencing the show is 90 minutes.
A few installations contain flashing lights, images, and patterns that may trigger seizures for people with photosensitive epilepsy. All visitors must sign a waiver prior to being admitted into the space. Adult supervision is required for visitors under 16.
The installation is open from noon-10 p.m. on Thursdays and Fridays, 10 a.m.-10 p.m. on Saturdays and 10 a.m.-8 p.m. on Sundays.
Tickets are $24 for adults, $20 for seniors, teachers, healthcare workers, students and active military, and $15 for children (ages 3-12).
On November 26 at 10 a.m., Fort Mifflin (Fort Mifflin and Hog Island roads, Philadelphia, 215-685-4167, www.fortmifflin.us) will host a special event called "Haunted Holiday Open Investigation."
Haunted Fort Mifflin invites guests to get into the holiday "spirit" at the Haunted Holiday Open Investigation Evening.
Participants can enjoy investigating the deep dark corners of the Fort, then warm up by the fire. Complimentary light refreshments!
The event is appropriate for both experienced and novice paranormal investigators with special access to areas not open to the general public.
Guests can bring their own equipment or just use a cell phone and flashlight. Experienced investigators will be on hand to assist them and review evidence. Advance purchase is required.
Admission is $8 for adults, $6 for seniors and veterans and $4 for children (ages 6-12).
One of the best train rides with Santa Claus is the one presented by the West Chester Railroad (Market Street Station, West Chester, 610-430-2233 or www.westchesterrr.net).
The special "Santa's Express" trains (which feature heated cars decorated for the holidays) will run on December 4, 5, 11, 12, 18 and 19 at 11 a.m., 1 and 3 p.m. There will be additional departures at 5 p.m. on December 4, 11, 12, 18 and 19.
The 75-minute journey on the trail line's heated decorated train travels through the Chester Creek Valley. Santa Claus will be greeting everyone at Market Street Station and then going along for the ride to Glen Mills.
Adult fare for the West Chester Railroad trips is $30. Tickets for children (ages 2-12) are $25 while toddlers (ages 9-23 months) get to ride for $10.
The Strasburg Rail Road (Route 741, Strasburg, 717-687-7522, www.strasburgrailroad.com) is running its "Santa's Paradise Express" now through December 24. Santa will be the featured guest on each ride from Strasburg to Paradise and back.
The rotund guy in the red suit will be greeting passengers, shaking hands, posing for photos and giving a treat to each child. After the train ride, children are treated to storybook readings of holiday classics. Visitors of all ages can also enjoy a ride aboard the Tinsel Trolley, a self-propelled motor car.
Tickets are $23 for adults and $17 for children (ages 2-11) and $4 for infants.
The New Hope & Ivyland Railroad (32 West Bridge St, New Hope, 215- 862-2332, www.newhoperailroad.com) offers two new activities that will run now through December 30.
One is "Santa's Steam Train Ride."
This year the New Hope Railroad invites guests to share in a magical journey celebrating a bygone era.
As guests to the railroad, riders will board beautifully restored passenger cars which date back to the first half of the 20th century. All are heated and will be traditionally decorated for the season, creating a warm and cheerful feeling during the trip. Aboard the train, hot chocolate and freshly prepared cookies will be served to all in attendance by the rial line's hosts. Talented musicians will serenade everyone with live music, with all passengers encouraged to sing along to this festive selection of familiar holiday tunes.
There will also be an opportunity for children to send their letter of Christmas wishes to Santa Claus himself by way of a special red postbox. At the end of the journey, Santa Claus will make an appearance to invite everyone to visit him at his Christmas workshop back at the train station, where his elves are busy making all the toy trains for the good little boys and girls across the world.
The other excursion ride is the "North Pole Express Train.
The "North Pole Express Train" offers similar amenities to the Santa's Steam Train Ride, but this Santa train is pulled by one of the railroad's vintage diesel locomotives.
Fees vary based on the package selected.
The Northern Central Railway (2 West Main Street, New Freedom, www.northerncentralrailway.com)  is running its "Tannenbaum Christmas Tree Train" excursions now through December 5.
On a 45-minute train ride to Seitzville, passengers can listen to Christmas music while enjoying the scenery of southern York County and Heritage Rail Trail County Park. And Santa Claus to appear with a special gift for each child!
Riders will disembark at Bricker's Tree Farm where they will be able to cut their own tree or select a pre-cut tree. It is a .25-mile walk from the train to the tree farm.
This excursion operates rain or shine. Participants are reminded to dress appropriately for the weather and outdoor conditions and wear sturdy shoes. Bricker's will provide handsaws.
Tickets are $44 adults, $25 for children and $10 for toddlers.
The Colebrookdale Railroad (South Washington Street, Boyertown, www.colebrookdalerailroad.com)  is running its "Santa's Polar Bear Express" now through December 24.
Kids can join Santa on a magical adventure into "Christmas Past" on an exciting train journey. They will be able to sip complimentary hot cocoa or enjoy Christmas cookies and, on some trains, sing favorite carols as the Secret Valley passes by the window. Santa will bring a gift for every child, and every child has an opportunity to give their Christmas letter to him.
The rail line also is running "Twas the Night Before Christmas" excursions now through December 18.
These special evening trains bring the storybook magic of the season to life. Kids are invited to wear pajamas and sip complimentary hot cocoa as the train crew reads "'Twas the Night Before Christmas." Rumor has it Santa himself will appear with a gift for every child.
Christmas trains also come in a smaller variety. Model railroad displays and the Christmas holiday season have been linked together since a time before even your parents were even kids.
On December 4 and 11, the Railroad Museum of Pennsylvania (Route 741, Strasburg, 717- 687-8628, www.rrmuseumpa.org) is hosting its annual "Home for the Holidays" event from 9 a.m.-5 p.m.
Costumed interpreters — engineers, conductors, ticket agents, and railroad passengers –will recreate scenes of holiday travel from the past. Visitors will also be able to ride the Museum's Cab Simulator.
Children will be able to send a message to Santa Claus with the help of a railroad telegrapher who will send their personal telegrams from Steinman Station to the North Pole. And they can visit with Santa in person at the Steinman Station passenger depot.
Cookies and hot chocolate will be offered in the Museum lobby.
Tickets are $10 for adults, $9 for seniors and $8 for youth (ages 3-11).
The Morris Arboretum (100 Northwestern Avenue, Chestnut Hill, 215-247-5777, http://www.morrisarboretum.org) opens its popular Garden Railway Display this weekend and will keep it running through January 2.
The display and buildings are all made of natural materials – bark, leaves, twigs, hollow logs, mosses, acorns, dried flowers, seeds and stones – to form a perfectly proportioned miniature landscape complete with small streams. Each building, while an exact replica of the original, is unique in its design. Philadelphia-area landmarks such as a masterpiece replica of Independence Hall are made using pinecone seeds for shingles, acorns as finials and twigs as downspouts.
The buildings are all meticulously decorated for the holidays with lights that twinkle along the tracks and around the surrounding landscape. The Garden Railway Display has become one of the Arboretum's most beloved attractions since it opened in 1998, and the Holiday Garden Railway is quickly becoming a favorite holiday tradition for many families.
There will also be Holiday Garden Railway Nights on December 4, 5, 10, 11, 12, 17, 18, 19 and 26 from 4:30-7:30 p.m. each night.
Admission to the Morris Arboretum is $20 for adults, $18 for seniors (65 and older) and $10 for students and military.
Elmwood Park Zoo (Elmwood Park Zoo, 1661 Harding Boulevard, Norristown, www.elmwoodparkzoo.org) welcomes back one of its favorite family traditions this weekend – "Wild Lights."
With new lights and decorative attractions, and with more animals on exhibit, this year's Wild Lights is brighter than ever. Each night of "Wild Lights" features live entertainment, unique animal encounters, performances, holiday music, and a chance to see Santa himself.
"Wild Lights" operates from 5-9 p.m. on select days now through December 30. Wild Lights tickets are valid beginning at 5 pm. The zoo and "Wild Lights" will be closed on Thanksgiving, Christmas Eve, and Christmas Day. Wild Lights is held rain or shine.
Admission to the Zoo is $12.95.
The Zoo also is hosting several "Dog Days."
The Zoo's "Dog Days" event will be held on December 5 and 8 from 1-5 p.m. each day.
All guests visiting the zoo with a furry friend must complete an online waiver and submit required documents before visiting the zoo. You must upload a copy of your most recent veterinary visit, including proof of vaccine and heartworm test here. All items will be required for you to attend "Dog Days."
Pricing is $10.95 per dog with each additional dog at $9.95. Regular zoo admission is required for all humans.
Now through January 9, the Philadelphia Zoo (3400 West Girard Avenue, Philadelphia) will host LumiNature, a gigantic holiday season light experience that transforms the entire Zoo into a magical journey of lights, music, sounds and surprises.
The giant-sized holiday extravaganza will transform the entire Zoo into a nighttime winter wonderland. Guests will experience a magical journey of lights, music, sounds and surprises. LumiNature will expand to feature 14 illuminated experience zones that will feature lively themed displays, newly-enhanced installations and thousands of twinkling lights.
Highlights for 2021 include: more than one million lights and 10 miles of power cord; more than 500 colorful illuminated flamingos and a 25 feet tall flamingo holiday tree;  200-plus illuminated penguins;  100 ft-long aquarium tunnel with enormous jellyfish; 22-feet-tall new Butterfly Tree;  21-feet tall brilliant colored snake; glee club made from talking trees that come to life' brand new octopus tree that is sure to make you laugh' cascading blue and white meteor light showers; giant cat eyes glowing in the dark of night; and a new Wilderness Express Train.
Additionally, seasonal fare, strolling performers,  hot chocolate and ever-warming adult beverages promise to additionally spark the holiday spirit.
Tickets are $25 for adults and $20 for children.
The Lehigh Valley Zoo (5150 Game Preserve Rd, Schnecksville, https://www.lvzoo.org/) is hosting its "Winter Light Spectacular" now through January 2.
This season's "Winter Light Spectacular," which runs from 5:30-10 p.m. nightly, will feature more than 30 scheduled event nights.
Guests are invited to bundle up and enjoy the beauty of nature as they stroll through tree-lined paths illuminated by more than 1.2 million twinkling lights and themed animated displays.
They also can warm up next to the cozy outdoor fire pits while enjoying hot cocoa and s'mores.
Children will be delighted when they encounter Santa, Radley the Sea Turtle, The Grinch, Woody, Buzz, Elsa, Princess Belle, Olaf and friends.
Ticket prices start at $8.
LEGOLAND Discovery Center Philadelphia (500 W Germantown Pike, Plymouth Meeting, Https://philadelphia.legolanddiscoverycenter.com/) is presenting "Holiday Bricktacular!" now through January 1.
Participants can create their own LEGO ornament and display it in on the LEGO tree and check out all the holiday scenes in the Winter Wonderland in Miniland Philadelphia.
As an added attraction, LEGO Santa will be visiting from the LEGO North Pole.
Ticket prices start at $22.99.
The American Swedish Historical Museum (1900 Pattison Avenue, Philadelphia, 215-389-1776, www.americanswedish.org) will present its Lucia Celebration and Julmarknad (Christmas Bazaar) on December 4 from 10 a.m.-4 p.m.
Light, warmth and Christmas songs have been hallmarks of the Lucia celebration at ASHM since 1939. Each year families pour through the magnificent bronze doors of the museum to be greeted by the aroma of freshly baked pastries, meatball dishes and strong Swedish coffee.
Guests can stroll through the Christmas Market, or Julmarknad, where Swedish delicacies, crafts, decorations, and imported gifts may be purchased, before the musical entertainment begins. The Swedish Christmas Café will be selling favorite sweet and savory holiday foods and the SWEA bakery tables will be open all day.
At 1 and 3:15 p.m., the lights will dim and the doors will close for the duration of a performance of Swedish Christmas songs and dances, which are sure to warm your heart in the cold of winter. Children from toddlers to teens dressed in costume entertain the crowds, culminating with the procession of Lucia, wearing her crown of candles, surrounded by her white gowned attendants and star boys.
Admission is $12 for adults, $4 for children (ages 4-12) and free for children (under 4).
The 2021 "Winter in Franklin Square Festival" (200 North Sixth Street, Philadelphia, http://www.historicphiladelphia.org/franklin-square/holidays-in-franklin-square/) is running through February 27.
The Electrical Spectacle Holiday Light Show will be open from 5-9 p.m. daily and 10 a.m.-10 p.m. on Saturdays and Sundays and will be closed on Thanksgiving and Christmas Day.
Visitors are invited to experience the magic of the holidays and celebrate traditions new and old at the Franklin Square Holiday Festival.
Inspired by Benjamin Franklin's electrifying genius, the free Electrical Spectacle Holiday Light Show presented by PECO is the key to holiday fun in Franklin Square.
Attendees can marvel at more than 50,000 lights as they shimmer, dance, and illuminate the Square to a soundtrack of holiday classics, some of which are performed by The Philly POPS in two alternating shows every 30 minutes. Every evening, one lucky audience member will be selected to "ignite' the 4:30 p.m. show.
Center City Parks District's Rothman Orthopaedics Institute Ice Rink at Dilworth Park (1 South 15th Street, Philadelphia, http://ccdparks.org/dilworth-park) has just opened for the season.
Visitors of all ages can enjoy a dramatic seasonal transformation as fountains have been replaced by the Rothman Orthopaedic Institute Ice Rink and reindeer topiaries take up winter residence on the Greenfield Lawn.
In addition, a full lineup of free entertainment is planned, including the Deck the Hall Light Show, the Made in Philadelphia Holiday Market and Rothman Orthopaedic Institute Cabin.
The Rothman Institute Ice Rink at Dilworth Park is an unparalleled entertainment experience on Philadelphia's center stage in a wonderfully urban and unique setting. Open seven days a week, the rink offers wintery fun for all ages, with a full slate of programs.
Dilworth Park's winter season began on November 1 with the opening of the Wintergarden on the Greenfield Lawn presented by TD Bank.
The "Made in Philadelphia Holiday Market" opened on November 20 with more than 40 local vendors.
Dilworth Park's "Deck the Hall Light Show" has returned and is illuminating the west façade of Philadelphia's historic City Hall.
"Christmas Village in Philadelphia" (Love Park, 1400 JFJ Boulevard, Philadelphia, 215-391-3017, www.philachristmas.com) is a free outdoor holiday market event that captures the vibe of the traditional European Christmas markets.
Christmas Village in Philadelphia is modeled after traditional German Christmas Markets. The history of Christmas markets in Germany dates to the late Middle Ages. One of the oldest and most famous ones is held each year in Nuremberg in the state of Bavaria.
It has been passed down from generation-to-generation ever since the area's farmers started selling their crops in a farmers' market during the Advent time in the mid-16th century. The goods presented in wooden booths include a rich variety of holiday gifts including Christmas ornaments, arts and crafts, toys, sweets, as well as German food and drinks. People stroll around, meet friends, and enjoy live performances of Christmas music.
At the Village in Philadelphia, vendors selling traditional European food, sweets and drinks are set up in 80 wooden booths and timber houses that form a medieval village. They will also offer a unique shopping experience with international holiday gifts, ornaments, jewelry and high-quality arts and crafts.
The Village will feature the sights and sounds of the holidays with thousands of twinkling lights, giant glowing stars, festive decorations, a musical stage and children's activities. All the event's annual fan favorites will be back, including Photos with Santa, Käthe Wohlfahrt, Herrnhuter Stars, the German Grill and the event's main stage.
At the center of the market, an ornate and grand old-time carousel will be operating to give children of all ages a new holiday tradition while visiting the authentic German Christmas Market. The carousel features 20 wood-carved horses that will twirl around for an unforgettable view of the new market inside City Hall's courtyard.
The Comcast Holiday Spectacular (1701 John Fast Kennedy Boulevard, Philadelphia) is back for the 2021 season.
Typically shown on the Comcast Experience video wall in the lobby of The Comcast Center, the annual super high-res LED holiday show has moved outdoors and will be presented daily at the top of every hour from 10 a.m. to 8 p.m. from November 25, 2021 to January 1, 2022.
The 15-minute family-friendly show will play on an outdoor video wall starting Thanksgiving Day! This Philly favorite tradition brings the magic of the holidays to life, featuring classic holiday songs and performances by the Pennsylvania Ballet.
For the first time, the Comcast Holiday Spectacular will have a sensory-friendly version. Guests may use their own personal mobile devices to access Audio Description (AD) of the show. AD devices will also be available upon request.
The Comcast Center Campus has another holiday activity at the Comcast Technology Center (1800 Arch Street), located a half block from the Comcast Center.
From Steven Spielberg, DreamWorks Animation, Universal Parks & Resorts and Comcast Labs, The Universal Sphere is a free, cinematic experience exploring the power of ideas. Get inspired by stories of creative minds who shaped our world for the better.
The Universal Sphere — accessible for guests of all ages — is wheelchair- and service animal-friendly. Descriptive audio and closed-captioning devices are available in English and Spanish, and full audio translations are available in Spanish and Mandarin Chinese.
Macy's (1300 Market Street, Philadelphia, www.macysinc.com) welcomed the return of the free Christmas Light Show and Dickens' Village to the former Wanamaker's location at 13th and Market streets (across from City Hall).
Both the musical light show, which started in 1956, and the "Christmas Carol"-themed animated display, which had its start in the 1980s — have been Philadelphia holiday traditions for decades.
COVID-19 forced the cancellation of both events in 2020 and this year's exhibit will be different than in previous years.
For 2021, the light show will run just once a day at 10:30 a.m. from Dec. 1-24 and moves to 11:30 a.m. from Dec. 26-31.
The Friends of the Wanamaker Organ annual Christmas in the Grand Tradition Concert, starring Peter Richard Conte, is held Sunday December 12, 2021, at 6:45 pm and is admission-free in the Grand Court.
Winter is coming and the Blue Cross RiverRink (Delaware Avenue at Walnut Street, Philadelphia, 215-925-RINK, www.riverrink.com) has come back to life.
Unlike most of the suburban ice rinks, RiverRink features public skating. Ice skating is the only use of the ice. This winter, RiverRink takes the ice-skating experience on the Delaware River waterfront to another level by once again transforming the annual rink into a bona fide winter wonderland.
For 28 seasons, Winterfest has been Philadelphia's favorite Winter tradition on the Delaware River Waterfront, inviting visitors for a chance to indulge in flights of fancy under thousands of sparkling lights in a winter wonderland with spectacular views of the Delaware River, complete with comforting warming cabins, physically-distanced fire pit stations, games for the young and young-at-heart, delicious food and refreshing drinks, the signature holiday tree and — of course — ice skating on an NHL-sized rink. Winterfest is a top destination for anyone looking for safe, family fun.
Open seven days a week, the Blue Cross RiverRink Winterfest is an immersive winter-themed experience with a popular bar and restaurant called The Lodge, winter beer garden-style landscaping, a brand-new light show, and a retail shopping experience from Art Star Gallery & Boutique.
The outdoor rink's hours are 1-11 p.m. Mondays through Thursdays, 1 p.m.-1 a.m. on Fridays, 11 a.m.-1 a.m. on Saturdays and 11 a.m.-11 p.m. on Sundays.
There are several special events to celebrate Hanukkah this year.
The Hanukkah Celebration at Sesame Place (100 Sesame Road, Langhorne) is scheduled for November 28 and December 3, 4, and 5.
Visitors can celebrate the Festival of Lights with Sesame Place's Menorah Lighting Ceremony.
They'll be able to join a local cantor, Baby Bear, who celebrates Hanukkah with his family, Grover and more of your Sesame Street friends.
Everyone will play a game of dreidel, light the Menorah, and learn all about Hanukkah.
The Boathouse Row Festival of Lights: Hanukkah (on the Schuylkill River Trail just off Martin Luther King Jr. Drive) is running now through December 6.
The City of Philadelphia will celebrate the season by lighting Boathouse Row in honor of Hanukkah, Christmas, and Kwanzaa. Boathouse Row will be illuminated for Hanukkah from November 28 through December 6, with a virtual program led by the Jewish Federation of Greater Philadelphia at 4 p.m. on Saturday, December 6. The Christmas lights on Boathouse Row will be on display from Monday, December 20 through Saturday, December 25, with a virtual program led by the City's Office of Faith-Based and Interfaith Affairs at 4 p.m. on Monday, December 20. Boathouse Row will be illuminated in honor of Kwanzaa from Sunday, December 26 through Saturday, January 1, with a virtual program led by the Philadelphia Kwanzaa Cooperative at 4 p.m. on Sunday, December 26.
Christmas Underwater at Adventure Aquarium (1 Riverside Drive, Camden, New Jersey, www.adventureaquarium.com) opens this weekend.
At Christmas Underwater, which is running now through December 24, visitors can discover an incredible world of seasonal under-the-sea fun.
Scuba Santa is back in Ocean Realm, sharing Christmas cheer with kids (and animals) of all ages. The event features more holiday decor than ever before, including underwater light displays, and festive new shows.
The World's Tallest Underwater Christmas Tree returns — stretching 18 feet tall and decorated with colorful, custom-sculpted corals.
More than 15,000 incredible animals are getting in on the festive fun with eight underwater light displays spread throughout the exhibits.
Admission fees start at $29.99 for adults.
On December 3 from 3-9 p.m., there will be special Candlelight Tours at the Peter Wentz Farmstead (2030 Shearer Road, Lansdale, 610-584-5104).
The soft glow of candles will guide visitors throughout the farmstead for tours showcasing colonial music, seasonal entertaining, and a visit from Belsnickel, a Pennsylvania German St. Nicholas in furs.
The last tour begins at 8:30 p.m. It is an all-ages event with a suggested donation $2 per person.
Now that Christmas activities have begun, Peddler's Village (Routes 202 and 263, Lahaska, 215-794-4000, http://peddlersvillage.com) has started its celebration and that means there will be a lot of activity at the site over the next few weeks.
Visitors to the Village can join special guest Mrs. Claus for festive fun and mini-lightings in a different Village neighborhood each night leading up to the Village-wide Grand Illumination Celebration. Village shops will be open until 9 p.m. with a distinctive assortment of merchandise, special promotions and refreshments.
The 20th Annual Grand Illumination will showcase thousands of tiny white lights outlining the Village's buildings, colorful lights with less-than-common colors (teal, peach, and fuscia) adorning the trees and shrubs and a landscaped backdrop featuring a group of reindeer glowing in white light. Santa will arrive to turn on the lights and officially mark the beginning of the event. After the lights go on, visitors will be treated to free cider and toasted marshmallows.
Peddler's Village "Gingerbread House Competition and Display," which is slated to run through January 8, the "Gingerbread House Competition" features over $2,000 in cash prizes in such categories as Traditional and Authentic Reproduction of a Significant Building.
A popular Bucks County attraction is the "Holiday Light Show" at Shady Brook Farm (931 Stony Hill Road, Yardley, www.shadybrookfarm.com)
The farm features a three–million-light Holiday Light Show with "Dashin' Through the … Lights," a family-friendly two-mile drive-through on Thursday and Friday nights.
The main display allows visitors to drive or (if weather permits) ride in wagons past post-sundown displays including illuminated tunnels.
The "Holiday Light Show" is open now through January 10.
Timed tickets, which start at $40, are required.
"Christmas Spirit Light Show"  is running now through January 1 (except December 25) at Clipper Magazine Stadium (650 North Prince Street, Lancaster, christmasspiritlightshows.com).
"Christmas Spirit Light Show" is an exciting, one-of-a-kind Christmas light display that families can enjoy from the comfort of their vehicles.
As participants make the journey through the mile-long track, they get immersed and surrounded by hundreds of thousands of color-changing lights that are animated and dancing in harmony with favorite Christmas classics.
The drive-through event is billed as a "breathtaking holiday experience that you and your loved ones will never forget."
The cost is $20 per car with eight people or less and $30 per car with nine or more people.
"Christmas Candylane," which is the annual holiday event at Hersheypark (100 West Hersheypark Drive, Hershey, 800-HERSHEY, www.hersheypark.com), is running now through January 2.
Visitors to Hershey can also experience the winter wonderland called "Hershey Sweet Lights, A Holiday Drive-Thru Spectacular." The attraction is a two-mile drive through wooded trails featuring approximately 600 illuminated, animated displays.
Admission to "Christmas Candylane" is $44.95.
"A Very Furry Christmas at Sesame Place" (100 Sesame Road, Langhorne, www.sesameplace.com) is a festive, family-friendly celebration with everyone's favorite Sesame Street friends live and in-person at the amusement park in Langhorne.
The annual event, which runs through January 2, offers a wide array of family holiday activities.
Visitors to the park can sing along at three special Christmas shows and a spectacular music and light show at our giant 1-2-3 Christmas Tree, take a train ride tour through the Twiddlebugs' Gingerbread Cookie Factory on the Sesame Place Furry Express, take part in the Neighborhood Street Party Christmas Parade, and have the opportunity to meet Lightning, the adorable reindeer from the movie "Elmo Saves Christmas."
As an added attraction this year, Rudolph the Red-Nosed Reindeer is spending the holiday season at Sesame Place. The lovable reindeer along with his friends Clarice and Bumble, will be available for photos with guests.
Tickets for "A Very Furry Christmas" start at $34.99.
Dutch Wonderland Family Amusement Park (2249 Route 30 East, Lancaster, 866-386-2389, www.dutchwonderland.com) is hosting its "Dutch Winter Wonderland" now through January 2 on Saturdays, Sundays and select weekdays.
Visitors are invited to celebrate the magic of the season at Dutch Winter Wonderland with rides, entertainment, and the Royal Light Show, a spectacular display of thousands of twinkling lights dancing to music.
Ticket prices start at $29.99 at the gate. Children age two and under are admitted free.
Just down the road from Dutch Wonderland is the American Music Theatre (2425 Lincoln Highway East, Lancaster, 800-648-4102, www.AMTshows.com), which has its holiday show running from November 9 through December 30.
The AMT's 2021 show "Winter Wonderland" is an all-new presentation of favorite sacred and secular holiday songs performed by professional artists from across the country. The show will feature spectacular vocal harmonies, lively musical arrangements, impressive dancing and the music of the AMT Orchestra.
Also featured will be elaborate scenery, elegant costumes and a theater decked out with holiday decorations.
The show will have both matinee and evening performances each week with the addition of 10:30 a.m. performances on Saturdays throughout December. Show length is two hours and 15 minutes with a short intermission. Tickets are $46.
Bethlehem, which is known as the "Christmas City," presents Christkindlmarkt Bethlehem (PNC Plaza at SteelStacks, 645 East First Street, Bethlehem, 610-332-1300,http://www.christmascity.org) every Friday, Saturday and Sunday now through December 21.
Christkindlmarkt Bethlehem showcases aisles of exquisite handmade works by the nation's finest artisans. The market also features live performances of Christmas music and vendors with an amazing variety of tasty food items.
Other special attractions include ice carving, glassblowing demonstrations, "Breakfast with St. Nicholas," outdoor artisan huts, fire pits and igloos in the Outdoor Village, and Käthe Wohlfarht with handmade ornaments, nutcrackers and collectibles from Germany.
Anyone wanting to really get into a Christmas mood can visit Koziar's Christmas Village (782 Christmas Village Road, Bernville, 610-488-1110, www.koziarschristmasvillage.com) which begins its 74th season on November 6.
Koziar's Christmas Village is truly a holiday wonderland — a wintertime spectacle that delights young and old alike with a huge amount of holiday displays and special attractions. It will remain open every night through January 1 — including Christmas Eve, Christmas Night, New Year's Eve and New Year's Night.
The tours of "Christmas Village" feature visits to a variety of displays and exhibits, including "Santa's Post Office," "Christmas in the Jungle," "Manger Scene," "Christmas Beneath the Sea," "'Twas the Night Before Christmas," "Olde Fashioned Bakery Shop," "Toy Maker and his Toy Shop," "Christmas in Other Lands" and "The Olde Church".
Other attractions at Koziar's Christmas Village include a huge model train display, a toy shop, a country kitchen, indoor and outdoor Christmas displays and a place to visit with Santa and even get pictures taken with the old guy in the red suit. Admission to Christmas Village is $12 for adults, $11 for seniors (65 and older) and $10 for children (ages 4-10).