By Denny Dyroff, Entertainment Editor, The Times
Two of the area's most respected museums – Brandywine River Museum of Art and American Swedish Historical Museum — are introducing new exhibitions of art this weekend.
The Brandywine River Museum of Art (Route 1, Chadds Ford, www.brandywine.org) will present its latest exhibition, "Wayne Thiebaud 100: Paintings, Prints, and Drawings," from February 6 through April 10.
Highlighting the full range of this iconic American artist's work made over 70 years, the exhibition features a spectacular selection of his paintings, watercolors and prints.
Created on the occasion of Thiebaud's 100th birthday, the exhibition now also serves as a fitting tribute to his remarkable career following the artist's recent death on December 25, 2021.
Organized by the Crocker Art Museum in Thiebaud's hometown of Sacramento, California and curated by its associate director and chief curator, Scott A. Shields, this is the largest exhibition of the artist's works in 20 years.
Drawn from the collection of the Thiebaud family and foundation, as well as from the Crocker Art Museum's rich holdings, the retrospective includes works from every period of the artist's long career — including many that have never been shown publicly.
Thiebaud first came to prominence in the early 1960s with a group of works depicting pies, cakes, ice cream cones and other sugary treats executed with thick, lusciously painted brush strokes.
By the mid-1960s, Thiebaud was also creating beautifully realized figure paintings and landscapes. He gained increased attention in the 1970s for his dizzying interpretations of the San Francisco cityscape. Many of these same qualities are exemplified in a group of paintings the artist began in the mid-1990s of sweeping, bird's-eye portrayals of Sacramento-San Joaquin Delta scenes.
Concluding with Thiebaud's return to the figure, the exhibition also includes the artist's newest body of work — circus clowns — revealing his extraordinary and expansive practice over seven decades.
Spanning two floors of galleries in the Museum's historic Mill, this exhibition at the Brandywine will allow visitors to appreciate the totality of Thiebaud's artistic vision and the rich sensations he infused into all his work.
The Brandywine River Museum of Art will be the fourth stop for this exhibition, which previously traveled to the Toledo Museum of Art in Ohio; the Dixon Gallery and Gardens in Memphis, TN; and the McNay Art Museum in San Antonio, TX. It will then be presented at the Crocker Art Museum in Sacramento, CA.
The exhibition is accompanied by a richly illustrated catalogue chronicling the artist's visual journey and artistic influences.
The Brandywine River Museum of Art features an outstanding collection of American art housed in a 19th-century Mill building with a dramatic steel and glass addition overlooking the banks of the Brandywine.
Admission is $18 for adults, $15 for seniors ages 65 and over, $6 for students and children ages 6 and up; free for children 5 and younger
On February 5, the American Swedish Historical Museum (1900 Pattison Avenue, Philadelphia, 215-389-1776, http://www.americanswedish.org) is opening a new exhibition – "Tattoo: Identity Through Ink."
For more than 5,000 years, tattoos have helped document the history of humanity one painful mark at a time. "Tattoo: Identity Through Ink" tells the story of why people have adorned their bodies with tattoos, from practices in Indigenous cultures to sailors in the 19th century to motorcycle gangs in the 1960s, to athletes and celebrities today.
The exhibition, which runs through May 1, showcases the last 150 years of tattooing in America, from the sideshows in the early part of the 20th century to modern celebrity tattoos.
A highlight of this exhibition is the story of influential tattoo artist Amund Dietzel, a Norwegian immigrant who became one of the most important tattoo artists of his time. Dietzel, known as the "Master of Milwaukee," rose to fame throughout America's circuses and sideshows and would go on to open a shop in Milwaukee. At 14, Dietzel got his first tattoo to commemorate his time at sea as a sailor – an anchor on his left hand between his thumb and forefinger. This later inspired his travels around North America, where he tattooed lumberjacks, sailors, and merchant marines.
The exhibit is curated by renowned anthropologist Dr. Lars Krutak, a Research Associate at the Museum of International Folk Art in Santa Fe, New Mexico. In this exhibition, Krutak shares his ongoing journey to understand how ancient and more contemporary tattoos "make" the people who wear them.
On Saturday only, the ASHM will offer special "Tattoo: Identity Through Ink Public Tours."
Participants will be able to gain a new perspective on the museum's exhibitions with a guided tour. The tour will include current galleries and the new exhibition, "Tattoo: Identity Through Ink."
The tours, which cost costs $5 for members and $15 for non-members, are offered at 1 p.m. and 3 p.m. Space is limited, and pre-registration is required.
Another new museum exhibition just got underway at the Delaware Museum of Art (2301 Kentmere Parkway, Wilmington, Delaware, delart.org).
"Delaware Women's Hall of Fame: Celebrating 40 Years," which opened on January 22 and runs through April 17, is an exhibition of portraits of outstanding women from across the state.
To mark the 40th anniversary of the prestigious award, the Office of Women's Advancement and Advocacy commissioned Delaware artist Theresa Walton to create portraits of every woman inducted. The exhibition celebrates the tremendous achievement of women from across the state in a variety of professional fields.
Portraits of Hall of Fame inductees include, former Governor Ruth Ann Minner, U.S. Representative Lisa Blunt-Rochester, Delaware Children's Theatre founder Marie Swajeski, educators Dr. Jill Biden and Dr. Reba Hollingsworth, and community leader Maria Matos, among others.
Admission is $14 for adults, $7 for students, $6 for youth (ages 7-18) and free for children (6 and under).
One of the most popular art shows each year is Malvern Retreat House's Art Show (McShain-Horstmann Family Life Center, 315 South Warren Avenue, Malvern, 610-644-0400, www.MalvernRetreat.com).
While many shows are just weekend events, Malvern Retreat House's 2022 Art Show is a five-day event from February 2-6. The ambitious show will have more than 500 original works of art by more than 100 professional artists.
Participating artists are Giovanni Arcamone, Sandy Askey-Adams, George Baldt, Richard Bollinger, Dan Burstein, Polly Davis Chalfant, Katherine Cheetham, Anne Patrizi, Monique Perry, Diane R Drosdal Ponticello, Patricia Poppert, Piera Raffaele, Robert Rankin, Rebecca Rhodes, Kathy Ruck and Valerie Rzepka.
The list of artists also includes Claire Saponaro, Steven R Schaefer, Thomas Schlenker, Robby Schlesinger, Sandra Severson, Lynnette Shelley, Robert Siliani, Amy Grant, Barbara Grant, Bob Hakun, William Hobbs, Fred Jackson, Fiona Katarina, Nicole Rose Keisler, Suzanne Kent, Susan Klinger, Gwenn Knapp, John R Lloyd, Kay Lord, Linda Luke, Judy Lupas, Patricia H Lynch, Lisa Lynn, Matiko Mamaladze, Sue Ciccone and Charlotte Clark.
Some of this year's other participants are Robert Colameco, Angela Colasanti, Bette J Conway, Wendy Cotton, Rhonda Counts, Thomas DelPorte, Melissa T DiPietro, Mary Lou Doyle, Leslie Ehrin, Timothy Stanford, Greg Teter, Cynthia Underhill, Helena VanEmmerick-Finn, Denise Vitollo, Patricia Walkar, Janice Ward, Elizabeth Wilson, Katy Winters, Jean Roney Yoder, Maria Morales, Terri Morse, Ginny Morton and Kiya Nicole.
The line-up also features Kathryn E Noska, Ruth Ochia, Joanne Orth, Suzanne Oswald, Jack Paolini, Charley Parker, Jack Martin, Constance McBride, Patrick McBride, Ana Delia McCormack, Barbara W Michel, Paula Mintzer, Diane Mont, Carol Fastuca, Felicia Fieo, Cary Galbraith, Eileen Gallagher, David Gerbstadt, Susan Grabert and Joanne Graham.
Show hours are 10 a.m.-7 p.m. today and Saturday and 10 a.m.-4 p.m. on Sunday. There will be free admission every day. All proceeds support only Malvern Retreat House programs.
Visitors to Longwood Gardens (Route 1, Kennett Square, 610-388-1000, www.longwoodgardens.org) during the next two months will be able to immerse themselves in a winter wonderland.
Now through  March 27, Longwood Gardens will celebrate a winter wonderland with a special attraction called "Winter Wonder."
In the past, Longwood Gardens was always a great place to go from January to April to escape the harshness of winter. Guests could enjoy an amazing array of flowering plants inside the lush and nicely heated Conservatory.
That has stayed the same this year and "Winter Wonder" adds a new dimension.
Outdoors, winter's subdued beauty illustrates how plants can be used for both aesthetic and habitat benefit. Visitors can stroll among the serene landscape of the Hillside Garden or reflect among a symphony of copper and umber hues in the 86-acre Meadow Garden.
Although subdued colors reign, the occasional burst of bright yellow and orange of blooming witch-hazel dots the landscape, while winter grasses add a textural element.
Even though winter is a time of dormancy for many plants, it is also a time when plants' different characteristics are on display – characteristics such as bark patterns, seed pods and ornamental fruit.
Wintertime allows the clear details of the garden to come forward and highlights the harmony that a garden builds with its surrounding landscape. The clear light of winter enhances the finer details of the outdoor landscape, from deciduous trees holding onto their late winter leaves to the brown-toned structures of summer-flowering perennials set against a blue winter sky.
Indoors, there is always the Conservatory.
This winter, visitors can experience a warm, colorful oasis in Longwood's grand Conservatory. Vibrant Streptocarpus 'Concord Blue' baskets float above, pink and purple Saintpaulia (African-violets) delight, and tall Clerodendrum schmidtii (chains-of-glory) stun.
From beds of coral Cymbidium to a dedicated area showcasing highlights from the site's vast collection, guests will be able to find hundreds of orchids in spectacular bloom.
January marked the return of performances to the Conservatory featuring a lineup of artists from audience favorites to new talent, all bringing a world of music to the ever-changing beauty of the Conservatory.
In early March, Longwood's famed blue poppy (Meconopsis 'Lingholm') returns to the Conservatory. These spectacular flowers—which are native to the high elevations of the Himalayan Mountains— are grown using precise techniques to force the blue-poppies to flower in March. The substantial petals are a mesmerizing sky-blue color.
Laurel Hill Cemetery (3822 Ridge Avenue, Philadelphia, 215-228-8200, www.thelaurelhillcemetery.org) will have a special event this weekend that look sat nature in winter..
On February 6, Laurel Hill Cemetery will present its "Bark, Buds & Berries Winter Tree Tour" walking tour from 1-3 p.m.
Guests can enjoy the wintry phase of the cemetery's arboretum with a Sunday stroll. Arboretum Manager Aaron Greenberg, who is a Board-Certified Master Arborist by the International Society of Arboriculture, will lead this tour which features some of his favorite plant specimens.
Greenburg will focus on prominent evergreen trees, while identifying trees without their leaves by their bark, branch arrangement, berries, and buds. Special attention will be given to trees with historical significance to Laurel Hill and Philadelphia horticulture.
Tickets are $15 (ages 13 and up), $12 for seniors (ages 65 and older) and Students with ID, $7.50 for youth (ages 6-12) and free for children (ages 5 and under).
Youth and children must be accompanied by an adult and tickets must be purchased in advance
This tour departs from Laurel Hill Cemetery's Gatehouse entrance at 3822 Ridge Avenue, Philadelphia.
If you're looking for a fun family activity – an indoor activity unaffected by the weather — Linvilla Orchards (137 West Knowlton Road, Media, 610-876-7116, www.linvilla.com) has something just for you — the miniature golf course "Fore! the Planet."
Linvilla Orchard's "Fore! The Planet" is a highly interactive and playful museum exhibit created by the Academy of Natural Sciences in Philadelphia. This exhibition pairs important environmental issues with the fun of miniature golf.
It features 18 unique educational holes on a variety of topics — butterfly metamorphosis, a tropical rainforest, evolution, dinosaur extinction, food chains and more. Kids of all ages can enjoy playing miniature golf while learning about our environment on every hole.
The first hole is "Butterfly Life Cycle" and players must putt through each stage of the colorful insect's metamorphosis. The next five holes are titled "Seed Dispersal," "Bat Sonar," "Food Chain," "Evolution of a Golfer" and "Backyard Explorer" followed by "Natural Selection" and "Predators and Prey."
On the "Dinosaur Extinction" hole, players get to hit their balls toward the scientific theory of dinosaur extinction they find most plausible. The remainder of the thought-provoking holes are "Recycling," "Water Pollution," "Landfills," "Wild Corridors," "Bird Migration," "Spawning Salmon," "Alien Species," "Population Threats" and "Rainforest Threats."
The mini-course is open daily from 9 a.m. through March 27. Tickets are $7.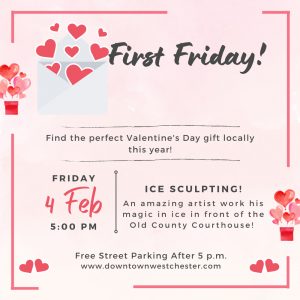 First Friday in West Chester (www.downtownwestchester.com) will take place on the evening of February 4.
Shops and boutiques are open late on the First Friday of each month to show off their newest seasonal fashions and giftware items.
Visitors to the borough for the free "rain or shine" event will be able to browse the in-store specials and enjoy complimentary refreshments while they explore the variety of unique items each shop has to offer.
Parking on the street will be free after 5 p.m.
As a special treat, you can watch Peter Slavin and his team create an amazing ice sculptor on the steps of the Old County Courthouse.  They will be carving on-site so you get an opportunity to see how the magic happens.
There will also be First Friday happenings in Lancaster tonight.
Lancaster's popular First Friday (http://www.visitlancastercity.com/first-friday/) is an arts extravaganza that runs from 5-9 p.m. on February 4. Visitors to downtown Lancaster will have the opportunity to discover innovative exhibitions, performances and perhaps a few surprises as they walk the streets lined with trees and distinctive architecture.
Unique boutiques and excellent restaurants complement the art galleries, artisan studios, museums, performing groups, professional theater, symphony orchestra and art college that form Lancaster's arts community.
One of February' highlights each year is Valentine's Day and one of the best things about Valentine's Day is chocolate.
Wine-loving chocoholics are celebrating – all month
The Chaddsford Winery (632 Baltimore Pike, Chadds Ford, www.chaddsford.com) will host Wine & Chocolate Reserve Tastings every Saturday and Sunday in February.
Visitors can enjoy stops at stations featuring locally crafted artisan chocolates from Éclat Chocolate carefully paired with the winery's award-winning wines. 
The pairing lineup is 2019 Sparkling White with Grapefruit Patê de Fruite, 2021 Artisan Series Dry Rosé with Lavender Truffle, 2019 Artisan Series Rise / Run paired with Coffee and Cardamom Bar, good vibes only with Tahitian Vanilla Truffle, and Niagara with Pear Caramel Truffle.
Sessions will be offered throughout the day at noon, 2 and 4 p.m.  During the session, Chaddsford Winery staff will lead guests through an educational pairing while providing interesting facts about the featured wines and chocolates.
Advanced tickets are $35 per person, and space is limited. Advanced reservations are required and are non-refundable.
Guests under 21 years old are not permitted to attend a Reserve Tasting. Outside food is not permitted during this program.
In another wine pairing event, Harvest Ridge Winery (1140 Newark Road, Toughkenamon, harvestridgewinery.com) is presenting a "Chocolate & Wine Pairing" on February 6.
The "Chocolate & Wine Pairing" will feature four selections of Harvest Ridge's award-winning wines paired with four different types of artisan chocolate.
Tickets are $25 for the two-hour event that is slated to get underway at 1 p.m. on Sunday.
The "Wine and Chocolate Pairings" at Penns Wood Winery (124 Beaver Valley Road, Chadds Ford, http://www.pennswoodsevents.com) will be held every Saturday and Sunday in February.
In addition to its regular tastings, the winery is offering special tastings to celebrate February because February is the month of wine, chocolate, romance and fun.
Penns Wood is adding new and exciting items to its wine and chocolate pairings this year featuring its wines carefully paired with local chocolate treats.
Tickets cost $36 per person in advance and reservations are required.
The Berks County Wine Trail (www.berkscountywinetrail.com) will present "Chocolate & Wine Pairing Event Weekends" to celebrate Valentine's Day. The event is scheduled for February 12, 13, 19 and 20 from noon-5 p.m. each day.
Visitors can toast Valentines' Day during two sweet weekends on the wine trail sampling sumptuous chocolates and confections paired with featured wines of the region. They can visit each of the 11 participating wineries along the Berks County Wine Trail to determine their favorite pairing combo.
The list of wineries and featured tastings includes: Deerfoot Winery (Shoemakersville); Stone Barn Cellars (Spring City); Manatawny Creek Winery (Douglassville); Kog Hill Winery (Morgantown); Long Trout Winery (Auburn); Stoudt's Winery (Shartlesville); Setter Ridge Vineyards (Kutztown); Stonekeep Meadery (Fleetwood); Lily's Winery & Vineyard (Reading);Weathered Vineyards (New Tripoli); and Ridgewood Winery (Birdsboro).
Tickets are $10 and are good for all four event days.
The Colebrookdale Railroad (South Washington Street, Boyertown, www.colebrookdalerailroad.com) is running its "Valentine's Day –Romance on the Rails" excursions on February 4, 5, 11, 12, 13 and 14.
The Edwardian splendor of the Secret Valley Expedition will surely kindle romantic fires as the train journeys into the night. The rail line has taken care of all of the details so that you and your love can sit back, relax, and let the world fade away as you focus on each other. This Valentine's Day do something different — get aboard a 1920's era train and enjoy a hand prepared meal as you leisurely wind your way through the Secret Valley.
The dinner menu starts with a garden salad of mixed greens and seasonal veggies. The main course will be a choice of a beef burgundy over bowtie pasta or pasta primavera. For children onboard, the menu features chicken fingers with macaroni and cheese. Beverage options are coffee, tea, soda, wine or beer. There will also be a tasty dessert to cap off the meal.
For those who want to ride in the evening but are not interested in dinner, there are first class accommodations in the Parlor Car which include a complimentary adult beverage, light hors d'oeuvres tapas plate and dessert.
All ticketed passengers will receive complimentary chocolates and a flower as a thank you for spending Valentine's Day with the Colebrookdale Railroad.
Fares vary based upon meal options. Departure time for all six excursions is 6 p.m.
February 5 is the day that The Ridley House & The Heritage Ballrooms (2107 MacDade Blvd., Holmes, 610-522-5400, www.ridleyhousepa.com) will be hosting its "Eighth Annual Freezefest."
The event, which runs from noon Saturday until 2 a.m., will feature 10 live bands – including Engine #9 — and DJs along with several themed rooms. It will also host a giant outdoor ice bar, food court, photo booth, axe throwing trailer, custom heated tents, ballrooms, beer pong and baggo tournaments, giveaways and interesting drink specials.
Tickets are $9.99.
On February 5, Peace Valley Nature Center (170 North Chapman Road, Doylestown, http://www.peacevalleynaturecenter.org) is presenting a special event billed as "Out of Hibernation."
Humans, groundhogs, amphibians and a host of other animals have amazing adaptations. Participants in this event will have the opportunity to discover some amazing facts about these critters.
Guests are reminded to dress for the weather. Inclement weather will cancel the walk.
The event runs from 2-3 p.m. and no registration necessary. Admission is free but "Donations Greatly Appreciated."
Peace Valley Nature Center will also host a "Winter Foraging Foray" on February 5 at 2:30 p.m.
Participants can discover the wonders of winter as park guides identify wild edibles in the winter landscape. They will lead a foraging walk around the property before heading back to the center to try some seasonal wild edibles and create healthy tea blends.
Guest can try such beverages as "Foraged Root Hot Coffee" (non-alcoholic), "Rosehip Punch" (non-alcoholic), Pine Shortbread Cookies, and Beautyberry honey over crackers and fruits. Admission is $40 per person. A portion of the proceeds is donated back to Peace Valley Nature Center.
This Saturday and every Saturday during the winter, the Kalmar Nyckel Shipyard (1124 East Seventh Street, Wilmington, Delaware, www.kalmarnyckel.org) is hosting "Winter Ship Tours" of the Kalmar Nyckel.
Kalmar Nyckel deck tours are open during the winter "maintenance season" on Saturdays from 10 a.m.-4 p.m.
The $10 admission includes a self-guided tour of the Copeland Maritime Center.
Ship tours will cancel for inclement weather and safety issues due to heavy maintenance work.
The ship is a beautiful recreation of the original Kalmar Nyckel, which was built in Holland in the 1620s. Her mainmast is taller than a 10-story building and she carries 7,600 square feet of sail area and six miles of rigging.
The original Kalmar Nyckel was a Swedish-owned, three-masted armed pinnace that sailed from Goteborg, Sweden in November of 1637 and brought the first permanent European settlers to the Delaware Valley.
In 1986 a group of citizens established the Kalmar Nyckel Foundation to design, build and launch a replica of the Kalmar Nyckel at a shipyard adjacent to the original landing site.
The new Kalmar Nyckel was constructed there and was launched on September 28, 1997. She was commissioned on May 9, 1998 and now serves as Delaware's sea-going Ambassador of Good Will. She is a fully functional sail training vessel and has represented Delaware all over the country.
February is African American History Month and the National Constitution Center National Constitution Center (525 Arch Street, Independence Mall, Philadelphia, 215-409-6700,www.constitutioncenter.org) is honoring it with a number of special events and attractions that are running now through the end of February.
During the month of February, the National Constitution Center will pay tribute to the achievements and the courageous sacrifices made by African Americans throughout history as they strived to become recognized as an integral part of "We the People."
The National Constitution Center will honor that milestone all month long with special educational programs and performances in conjunction with the new Civil War and Reconstruction exhibit, including "The Road to Freedom" show.
Visitors can also take a self-guided tour of the museum's The Story of We the People exhibit to discover key milestones in African American history, and then test their knowledge at the Center's giant game board activity.
Activities at the Center will feature interactive programming designed for visitors of all ages, including "Decoding the Document: Emancipation Proclamation Document Workshop,"
Visitors can take a closer look at the museum's rare printing of the Emancipation Proclamation to learn more about its history, the history of the Civil War, and the background of the 13th, 14th, and 15th Amendments.
On the "Self-Guided African American History Tour", visitors can tour the Center's main exhibition "The Story of We the People" and discover important moments in African American history through historical artifacts.
From January 19 – March 31, visitors can enjoy discounted admission of $10 for adults (usually $14.50) and $7.50 for youth ages 6-18 (usually $11).
As part of the Black History Month celebration at the Museum of the American Revolution (101 South Third Street, Philadelphia, www.amrevmuseum.org), visitors can explore the life and legacy of James Forten, a free Black Philadelphian, Revolutionary War privateer, and stalwart abolitionist with the Museum's newest first-person theatrical performance "Meet James Forten" on February 10 from 5:30-7:30 p.m.
The 20-minute live performance will be followed by a discussion with the audience. The event will take place in-person at the Museum and will be livestreamed for ticketed online audiences.
During the talkback session, actor Nathan Alford-Tate and Michael Idriss, the Museum's African American Interpretive Fellow, will discuss how and why this new theatrical piece was created and why Forten's story continues to resonate with audiences today. Kalela Williams, founder of Black History Maven and a member of the Museum's Diversify Living History Advisory Committee, will moderate the conversation.
The Museum's Senior Manager of Gallery Interpretation Dr. Tyler Putman will provide opening remarks about "Brave Men as Ever Fought," a new painting by nationally renowned historical artist Don Troiani that shows a significant moment in Forten's life. The painting, which is featured in the Museum's current special exhibition, "Liberty: Don Troiani's Paintings of the Revolutionary War," was commissioned with funding from the Washington-Rochambeau Revolutionary Route National Historic Trail of the National Park Service.
This is a hybrid event with onsite and online tickets available. Onsite tickets to this event include access to the "Liberty" special exhibition, a cash bar, and activities at a discovery cart from 5:30-6:30 p.m. The performance will begin at 6:30 p.m. for onsite and online audiences with the discussion to follow. Onsite tickets include an option to access the online Zoom link and participate from home. Tickets range from $10-20.
Throughout the month of February, the Betsy Ross House (239 Arch Street, Philadelphia, historicphiladelphia.org) will offer free programming on weekends celebrating the contributions Black Americans have made throughout our nation's history.
The opening event, which is scheduled for February 5 from 11 a.m.- 4 p.m., will be "Meet Frances Harper."
Harper was an American abolitionist, suffragist, poet, teacher, public speaker, and writer. Beginning in 1845, she was one of the first African-American women to be published in the United States.Visitors will hear her first-person accounts of her fascinating life.
On February 12, 19 and 26 from 11 a.m.-4 p.m. each day, the program will be "Meet Rev. Richard Allen."
Reverend Allen was a minister, educator, writer, and one of America's most active and influential Black leaders. In 1794, he founded the African Methodist Episcopal Church (AME), the first independent Black denomination in the United States and opened its first church here in Philadelphia.  Visitors can hear about his journey from enslaved person to powerful religious leader and abolitionist.
The events on February 6, 13, 20 and 27 from 11 a.m.-4 p.m. each day will be "Once Upon A Nation Storytelling."
The Betsy Ross House's award-winning storytellers will share short, interactive and little-known tales about Black Americans through history.
Center City Parks District's Rothman Orthopaedics Institute Ice Rink at Dilworth Park (1 South 15th Street, Philadelphia, http://ccdparks.org/dilworth-park) is open for the season. It is an unparalleled entertainment experience on Philadelphia's center stage in a wonderfully urban and unique setting. Open seven days a week, the rink offers wintery fun for all ages, with a full slate of programs.
A good way to get out of the cold weather is to visit Wonderspaces.
Wonderspaces at the Fashion District (27 North 11th Street, Philadelphia, philadelphia.wonderspaces.com) is an experiential, interactive arts venue.
Building on the success of annual pop-up shows in San Diego, and its first permanent location in Scottsdale, Arizona, Wonderspaces opened a 24,000 square foot gallery space in Philly a year ago.
Wonderspaces features 14 art installations that all play with the idea of perspective. The artwork ranges from award-winning virtual reality short film about a dinner party-turned-alien abduction, to a room where visitors digitally paint the walls with the movement of their bodies.
New artworks rotate in every few months, creating an ever-evolving, year-round show.
Tickets are for entry at a specific date and time. Visitors are welcome to stay as long as they please during operating hours. The average time spent experiencing the show is 90 minutes.
A few installations contain flashing lights, images, and patterns that may trigger seizures for people with photosensitive epilepsy. All visitors must sign a waiver prior to being admitted into the space. Adult supervision is required for visitors under 16.
The installation is open from noon-10 p.m. on Thursdays and Fridays, 10 a.m.-10 p.m. on Saturdays and 10 a.m.-8 p.m. on Sundays.
Tickets are $24 for adults, $20 for seniors, teachers, healthcare workers, students and active military, and $15 for children (ages 3-12).
Ghost Tour of Philadelphia (215-413-1997, www.ghosttour.com), Ghost Tour of Lancaster (717-687-6687, www.ghosttour.com) and Ghost Tour of Strasburg (717-687-6687, www.ghosttour.com) operate throughout the winter and offer an eerily entertaining evening of true ghost stories and real haunted houses.
The Ghost Tour of Philadelphia, which is based on the book, "Ghost Stories of Philadelphia, PA.," is a candlelight walking tour along the back streets and secret gardens of Independence Park, Society Hill, and Old City, where ghostly spirits, haunted houses, and eerie graveyards abound.
Participants can discover the ghost lore of America's most historic and most haunted city with stories from the founding of William Penn's colony to present-day hauntings.
The activity is open year-round – weekends, December-February; every night, March-November. Tickets are $24.
The Ghost Tour of Lancaster and the Ghost Tour of Strasburg are based on the book, "Ghost Stories of Lancaster, PA."
Participants in the Ghost Tour of Lancaster explore the long-forgotten mysteries of one of America's oldest cities, with haunting tales of otherworldly vigils, fatal curses, and star-crossed lovers. The tour provides the opportunity to experience 300 years of haunted history from the Red Rose City's thorny past. Tickets are $18.
The Ghost Tour of Strasburg is a candlelight walking tour of the quaint and historic town of Strasburg in the heart of Pennsylvania Dutch Country. Visitors will experience an entertaining evening with a costumed tour guide spinning tales of haunted mansions, eerie graveyards, and spirits that roam the night … in a town lost in time. Tickets are $18.
"Elmo's Furry Fun Fest" at Sesame Place (100 Sesame Road, Langhorne, www.sesameplace.com) is happening every weekend now through March 20.
Guests are invited to visit the park to enjoy an event series during "Elmo's Furry Fun Fest," a festive, family-friendly celebration with everyone's favorite Sesame Street friends live and in-person at the amusement park in Langhorne.
This weekend's special attraction is "Elmo's Rockin' Birthday Bash" on February 5 and 6.
Every weekend through March, visitors can celebrate everyone's favorite red monster during "Elmo's Rockin' Birthday Bash," treat little loves to a fun day during the "My Fuzzy Valentine's Celebration," let the good times roll during the family-friendly "Mardi Gras Celebration," experience the park's "St. Patrick's Day Celebration," and wish Big Bird a Happy Birthday during his Birthday Weekend.
Activities include a riding on the Sunny Day Carousel, dancing and grooving during at the "Furry Friends Dance Party," watching "Elmo the Musical, LIVE!" and having fun at the always popular Mini Parades.
The schedule features "Elmo's Rockin' Birthday Bash" on February 5 and 6, "My Fuzzy Valentine's Celebration" on February 12 and 13, "Mardi Gras Celebration" on February 19, 20, 26 and 27, "St. Patrick's Day Celebration" on March 5, 6, 12 and 13, and "Big Bird's Birthday Pajama Party" on March 19 and 20.
The park will be open from 10 a.m.-2 p.m. on Saturdays and Sundays now through March 20 along with February 21.
Elmwood Park Zoo (1661 Harding Boulevard, Norristown, www.elmwoodparkzoo.org) is getting the new year off to a good start – especially for its canine friends.
The Zoo is hosting several of its ultra-popular "Dog Days" over the next week.
The Zoo's "Dog Days" event will be held on February 4, 6 and 9 from noon-4 p.m. each day.
All guests visiting the zoo with a furry friend must complete an online waiver and submit required documents before visiting the zoo. You must upload a copy of your most recent veterinary visit, including proof of vaccine and heartworm test here. All items will be required for you to attend "Dog Days."
Pricing is $10.95 per dog with each additional dog at $9.95. Regular zoo admission is required for all humans.