By Denny Dyroff, Entertainment Editor, The Times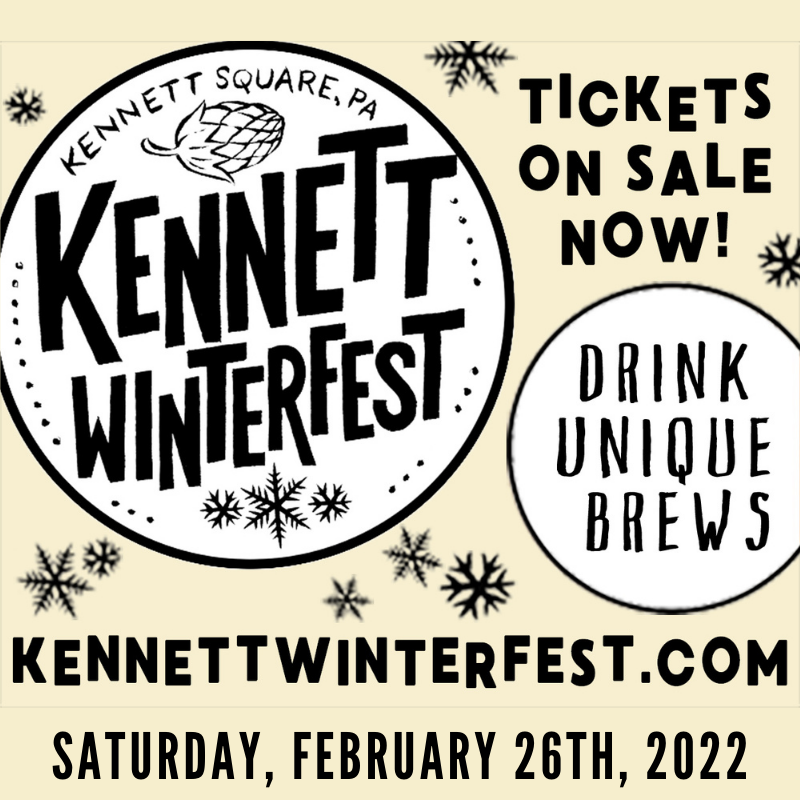 This is a special time of year in Kennett Square – the time for a popular annual event known as the Kennett Winterfest. Usually, tickets are already sold out by this time but this year some tickets remain.
The Annual Kennett Winterfest (http://kennettwinterfest.com/) will be held on February 26 from 12:30-4 p.m. in a tented area near 600 South Broad Street in Kennett Square.
Visitors are invited to enjoy winter brews from more than 60 unique craft breweries. Admission to the festival includes unlimited tastings of delicious craft beer.
Breweries from all over the country will be participating including Modern Times Beer (Portland, Oregon), Lawson's Finest Liquids (Wattsfield, Vermont), Blake's Hard Cider (Armada, Michigan) and Half Acre Beer (Chicago, Illinois).
The line-up of food trucks participating in Saturday's event are George & Sons Seafood, Dia Doce, Madi's on a Roll, Natalie's Fine Food, Southbound BBQ and A Taste of Puebla.
The long list of participating breweries includes 2SP Brewing, Kennett Brewing Co., Argilla Brewing, Animated Brewing, Artillery Brewing, Autumn Arch, Be Here Brewing, Bellefonte Brewing, McKenzie's Brew House, Big Oyster Brewing, Brew Gentlemen, Braeloch Brewing, Conshohocken Brewing, Rebel Seed Cider, Locust Lane Brewing, Rotunda Brewing, Stitch House Brewery, Stolen Sun, Zeroday Brewing, and Three 3's Brewing.
The roster also features Twisted Irons, Tonewood Brewing, Flying Fish Brewing Company, Iron Hill Brewery, Neshaminy Creek Brewing Company, Upper Reach Meadery, Troegs, Urban Village Brewing, Von C Brewing, Well Crafted Beer, Sly Fox Brewing Company, Wrong Crowd Brewing, Brothers Kershner, Cape May Brewing, Dew Point Brewing Company, Kennett Brewing Co., Ship Bottom Brewery, Singlecut Beersmiths, Zero Day Brewing, Levante Brewing, Hidden River, Artillery Brewing, Autumn Arch, Be Here Brewing, Dressler Estate Cider, and Eight & Sand Beer Co.
The lineup also includes Evil Genius Brewing, First State Brewing, Freewill Brewing, Funk Brewing, Hidden River Brewing, Hitchhiker Brewing, Imprint Beer, Wilmington Brew Works,Logyard Brewing, Mainstay Independent, Midnight Oil Brewing, Mud Hen Brewing, New Trail Brewing, Pilger Ruh Brewing, Rebel Hill Brewing, Workhorse Brewing Company, Tired Hands Brewing Company, Suburban Brewing Co., Dock Street, Double Nickel Brewing, and East Branch Brewing Company.
There will be live music performed by Dylan Zangwill.
The Kennett Winterfest is a fund-raising event for Kennett Collaborative (formerly Historic Kennett Square), a non-profit organization whose mission is to actively support and enrich the community vitality and pride, to help preserve the historic district and small town atmosphere, to promote economic stability and positive, productive relationships within Kennett Square and the surrounding townships.
The Kennett Brewfest is intended to be an opportunity to sample some of the best regional and national craft beers accompanied by great food, great music, and great people. Anyone displaying malicious, violent, or otherwise inappropriate behavior will be removed from the festival grounds without refund.
No one without a ticket and proper photo identification will be allowed to enter. No one under the age of 21will be admitted including babies. Pets are also on the "not welcome" list.
The Winterfest is a rain or shine event. Tickets are $60 general admission and $15 for designated drivers.
Adding to Kennett Square's "destination" status this weekend is a variety of special events at Longwood Gardens.
Visitors to Longwood Gardens (Route 1, Kennett Square, www.longwoodgardens.org) can immerse themselves in a winter wonderland. And they can also enjoy a special celebration this weekend at the Orchid House.
Now through March 27, Longwood Gardens will celebrate a winter wonderland with a special attraction called "Winter Wonder."
In the past, Longwood Gardens was always a great place to go from January to April to escape the harshness of winter. Guests could enjoy an amazing array of flowering plants inside the lush and nicely heated Conservatory.
That has stayed the same this year and "Winter Wonder" adds a new dimension.
Outdoors, winter's subdued beauty illustrates how plants can be used for both aesthetic and habitat benefit. Visitors can stroll among the serene landscape of the Hillside Garden or reflect among a symphony of copper and umber hues in the 86-acre Meadow Garden.
Although subdued colors reign, the occasional burst of bright yellow and orange of blooming witch-hazel dots the landscape, while winter grasses add a textural element.
Even though winter is a time of dormancy for many plants, it is also a time when plants' different characteristics are on display – characteristics such as bark patterns, seed pods and ornamental fruit.
Wintertime allows the clear details of the garden to come forward and highlights the harmony that a garden builds with its surrounding landscape. The clear light of winter enhances the finer details of the outdoor landscape, from deciduous trees holding onto their late winter leaves to the brown-toned structures of summer-flowering perennials set against a blue winter sky.
Indoors, there is always the Conservatory.
This winter, visitors can experience a warm, colorful oasis in Longwood's grand Conservatory. Vibrant Streptocarpus 'Concord Blue' baskets float above, pink and purple Saintpaulia (African-violets) delight, and tall Clerodendrum schmidtii (chains-of-glory) stun.
From beds of coral Cymbidium to a dedicated area showcasing highlights from the site's vast collection, guests will be able to find hundreds of orchids in spectacular bloom.
In early March, Longwood's famed blue poppy (Meconopsis 'Lingholm') returns to the Conservatory. These spectacular flowers—which are native to the high elevations of the Himalayan Mountains— are grown using precise techniques to force the blue-poppies to flower in March. The substantial petals are a mesmerizing sky-blue color.
A major attraction at Longwood Gardens this weekend will be "Opening Weekend: Orchid House at Longwood Gardens."
After a major restoration project, the Orchid House will reopen this weekend at Longwood Gardens.
The Orchid House, which has a history dating back more than a century, will come back to life with a brand-new glass roof and reimagined gallery-inspired space.
At the celebration, which will run from 10 a.m.-5 p.m. on February 26 and 27, visitors will have an opportunity to meet the brains behind the restoration and learn more about the Orchid Conservation Program.
"Meet the Curator" will feature Orchid Collection Curator Greg Griffis answering questions about the new Orchid House and Longwood's expansive orchid collection.
"Meet the Researchers" will feature Research Specialist Ashley Clayton and Associate Director of Conservation, Plant Breeding and Collections Peter Zale for an up-close look at the materials needed and process behind using orchid mycorrhizal fungi to improve terrestrial orchid propagation and production.
Three other special attractions this weekend will be "Behind the Beauty: Orchid House Preservation and Restoration,"
"Behind the Beauty: Orchid Conservation Programs with Impact," and "Behind the Beauty: Curating Our Orchid Collection." All three will take place in the Ballroom.
In other activity at the site this weekend, the "2022 Performance Series" will present a concert by Katelyn Emerson on February 25 at 8 p.m. Renowned for her accolades and performances, Emerson, who has been hailed as "one of the world's most promising organists," will showcase a repertoire spanning the 14th through 20th centuries.
Admission to Longwood Gardens is $25 for adults, $22 for seniors and college students, $18 for active military and $13 for youth..
Now through February 27, the town of Lititz is hosting its annual Fire & Ice Festival (lititzfireandice.com).
Featured attractions will be live ice carvings around town and sculptures out for view all over Broad Street and Main Street (which will be closed to vehicular traffic).
Food trucks will be located around town and retailers will be open late for shopping.
Ice sculptures are available for viewing from dawn to dusk in the Lititz Springs Park and throughout downtown Lititz.
Guests are invited to walk around downtown Lititz and enjoy the ice sculptures, dine at local restaurants, and shop at the local stores.
The Chaddsford Winery (632 Baltimore Pike, Chadds Ford, www.chaddsford.com) will host Wine & Chocolate Reserve Tastings every Saturday and Sunday in February.
Visitors can enjoy stops at stations featuring locally crafted artisan chocolates from Éclat Chocolate carefully paired with the winery's award-winning wines.
The pairing lineup is 2019 Sparkling White with Grapefruit Patê de Fruite, 2021 Artisan Series Dry Rosé with Lavender Truffle, 2019 Artisan Series Rise / Run paired with Coffee and Cardamom Bar, good vibes only with Tahitian Vanilla Truffle, and Niagara with Pear Caramel Truffle.
Sessions will be offered throughout the day at noon, 2 and 4 p.m.  During the session, Chaddsford Winery staff will lead guests through an educational pairing while providing interesting facts about the featured wines and chocolates.
Advanced tickets are $35 per person, and space is limited. Advanced reservations are required and are non-refundable.
Guests under 21 years old are not permitted to attend a Reserve Tasting. Outside food is not permitted during this program.
The "Wine and Chocolate Pairings" at Penns Wood Winery (124 Beaver Valley Road, Chadds Ford, http://www.pennswoodsevents.com) will be held every Saturday and Sunday in February.
In addition to its regular tastings, the winery is offering special tastings to celebrate February because February is the month of wine, chocolate, romance and fun.
Penns Wood is adding new and exciting items to its wine and chocolate pairings this year featuring its wines carefully paired with local chocolate treats.
Tickets cost $36 per person in advance and reservations are required.
West Chester's "Restaurant Week" for 2022 (www.downtownwestchester.com/event/west-chesters-restaurant-week) will start on February 27 and run through March 6.
This fun filled week is the perfect opportunity for area residents to support your favorite restaurants or explore something new.
West Chester's culinary masters will be creating special multi-course prix fixe menus that we will featured for one week only.  There will be dine-in and takeout options available.
Participating restaurants are Barnaby's of West Chester, Dolce Zola, Iron Hill Brewery & Restaurant, Kildare's Irish Pub, Mae's West Chester, Mas Mexicali Cantina, Meatball U, Pietro's Prime, Rams Head Bar & Grill, Saloon 151 Whiskey Bar & Grill,
Slow Hand Restaurant and Bar, Split Rail Tavern, Sterling Pig Brewery, Stove & Tap, Mediterranean, The Social, Sedona Taphouse, Side Bar & Restaurant, Spence Café, Ryan's Pub & Restaurant, Greystone Oyster Bar, Mercato Ristorante and Bar, Kooma Restaurant, and Opa Taverna.
There was never any doubt that the new exhibit at the Franklin Institute (271 North 21st Street, Philadelphia, 215-448-1200, www.fi.edu) would be a major attraction.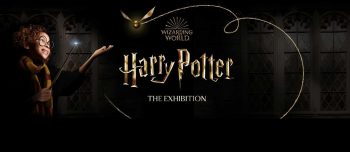 The attraction is "Harry Potter: The Exhibition,'' which opened last weekend. It is the world premiere for the exhibition which will call Philly home until September 18.
You can never underestimate the popularity of the Harry Potter franchise.
According to a recent YouGov America national survey, "According to our results, 18% of those surveyed had read all of the Harry Potter books—a whopping 4000 pages in total—and 31% had read at least one of the books. Among 18-34 years-olds, these percentages rose to respectively 32% and 48%. The movies posted even larger numbers than the books. 25% of Americans had seen all of the movies and 61% had seen at least one. Again among 18-34 year-olds, the percentages grew, to respectively 38% and 76%.
When almost two-thirds of the country's population have seen at least one Harry Potter movie, it's inconceivable that this exhibition could fail in any way.
This groundbreaking exhibition will celebrate the iconic moments, characters, settings, and beasts as seen in the films and stories of Harry Potter and the Wizarding World using best-in-class immersive design and technology.
From the mysteries of Hogwarts™ castle to the antics of its mischievous yet brilliant students; from daring duels to dragons and Dark Arts; from glittering Gringotts™ to the magnificent Ministry of Magic – the exhibition will bring magic to life, connect visitors with the larger global community of fans of the Wizarding World, and reveal the artistry and craftsmanship behind the blockbuster films.
Visitors will get an up-close look at authentic props and original costumes from the Harry Potter and Fantastic Beasts™ films as they engage with innovative, awe-inspiring, and magical environments and installations in this: the most comprehensive touring exhibition ever presented about the Wizarding World.
"Harry Potter: The Exhibition'' is open daily from 9:30 a.m. to 8 p.m. and requires special timed tickets. Advance reservations are strongly recommended.
Daytime tickets (9:30 a.m. to 5 p.m.) are $43 for adults and $39 for children. Evening tickets (5-8 p.m.) are $30 for adult and children. $30; child $30. All tickets include admission to The Franklin Institute.
Now through April 10, the Brandywine River Museum of Art (Route 1, Chadds Ford, www.brandywine.org) is presenting its latest exhibition, "Wayne Thiebaud 100: Paintings, Prints, and Drawings."
Highlighting the full range of this iconic American artist's work made over 70 years, the exhibition features a spectacular selection of his paintings, watercolors and prints.
Created on the occasion of Thiebaud's 100th birthday, the exhibition now also serves as a fitting tribute to his remarkable career following the artist's recent death on December 25, 2021. Drawn from the collection of the Thiebaud family and foundation, as well as from the Crocker Art Museum's rich holdings, the retrospective includes works from every period of the artist's long career — including many that have never been shown publicly.
The exhibition also includes the artist's newest body of work — circus clowns — revealing his extraordinary and expansive practice over seven decades.
Spanning two floors of galleries in the Museum's historic Mill, this exhibition at the Brandywine will allow visitors to appreciate the totality of Thiebaud's artistic vision and the rich sensations he infused into all his work.
The exhibition is accompanied by a richly illustrated catalogue chronicling the artist's visual journey and artistic influences.
The Brandywine River Museum of Art features an outstanding collection of American art housed in a 19th-century Mill building with a dramatic steel and glass addition overlooking the banks of the Brandywine.
Admission is $18 for adults, $15 for seniors ages 65 and over, $6 for students and children ages 6 and up; free for children 5 and younger.
Now through April 17, the Delaware Museum of Art (2301 Kentmere Parkway, Wilmington, Delaware, delart.org) is presenting "Delaware Women's Hall of Fame: Celebrating 40 Years," an exhibition of portraits of outstanding women from across the state.
To mark the 40th anniversary of the prestigious award, the Office of Women's Advancement and Advocacy commissioned Delaware artist Theresa Walton to create portraits of every woman inducted. The exhibition celebrates the tremendous achievement of women from across the state in a variety of professional fields.
Portraits of Hall of Fame inductees include, former Governor Ruth Ann Minner, U.S. Representative Lisa Blunt-Rochester, Delaware Children's Theatre founder Marie Swajeski, educators Dr. Jill Biden and Dr. Reba Hollingsworth, and community leader Maria Matos, among others.
Admission is $14 for adults, $7 for students, $6 for youth (ages 7-18) and free for children (6 and under).
Historic Odessa (Main Street, Odessa, Delaware, 302-378-4119, www.historicodessa.org) is both a scenic and an historic site in Delaware.
This year, March 1 will be an historic date for the historic site.
On March 1, Historic Odessa reopens for spring tours and celebrates the beginning of its 2022 season.
Known in the 18th-century as Cantwell's Bridge, Odessa played a vital role in commercial life along the Delaware River as a busy grain shipping port.
Today, visitors can stroll along tree-lined streets and admire examples of 18th- and 19th-century architecture in one of the best-preserved towns in Delaware. They can also tour a remarkable collection of antiques and Americana preserved in period room settings and quaint exhibits.
Historic Odessa is open to the public from March through December, Tuesday through Saturday from 10 a.m.4:30 p.m. and Sunday from 1-4 p.m.  The site is also open Monday by reservation.
March 6 is also a special day in Odessa for another reason.
Visitors are invited to celebrate Dr. Seuss's birthday with Historic Odessa Foundation.
Guests will have the opportunity to party with a reading of "Cat in Hat" followed by family friendly arts and crafts.
The celebration will run from 2-4 p.m. in the Bank Building (201 Main Street, Odessa).
Reservations are required by calling 302-378-4119. RSVP deadline is 4 p.m. on February 28.
This Saturday and every Saturday during the winter, the Kalmar Nyckel Shipyard (1124 East Seventh Street, Wilmington, Delaware, www.kalmarrnyckel.org) is hosting "Winter Ship Tours" of the Kalmar Nyckel.
Kalmar Nyckel deck tours are open during the winter "maintenance season" on Saturdays from 10 a.m.-4 p.m.
The $10 admission includes a self-guided tour of the Copeland Maritime Center.
Ship tours will cancel for inclement weather and safety issues due to heavy maintenance work.
The ship is a beautiful recreation of the original Kalmar Nyckel, which was built in Holland in the 1620s. Her mainmast is taller than a 10-story building and she carries 7,600 square feet of sail area and six miles of rigging.
The original Kalmar Nyckel was a Swedish-owned, three-masted armed pinnace that sailed from Goteborg, Sweden in November of 1637 and brought the first permanent European settlers to the Delaware Valley.
In 1986 a group of citizens established the Kalmar Nyckel Foundation to design, build and launch a replica of the Kalmar Nyckel at a shipyard adjacent to the original landing site.
The new Kalmar Nyckel was constructed there and was launched on September 28, 1997. She was commissioned on May 9, 1998 and now serves as Delaware's sea-going Ambassador of Good Will. She is a fully functional sail training vessel and has represented Delaware all over the country.
Another good destination in Delaware this weekend will be the 19th Annual Hockessin Art Festival. The event, which is scheduled for February 26 and 27, will be held at the Hockessin Memorial Hall, (606 Yorklyn Road, Hockessin, Delaware, 302-998-1930, www.wwrr.com).
The Wilmington & Western Railroad's Hockessin Art Festival is a fundraising effort to benefit the railroad, now entering its 56th year of tourist service. The W&WRR operates steam and diesel trains year-round on 10 miles of track through the scenic Red Clay Valley.
The festival features more than 20 artists who will be displaying and selling original works of art. Refreshments will be available and door prizes will be awarded.
On February 25, there will be a special "Friday Evening Preview" from 5-8 p.m. featuring light hors' doeuvres and a cash bar.
As an added attraction, the Wilmington & Western Railroad will be running its "Festival Express" on Saturday and Sunday. The railroad's vintage 1929 railcar will depart from the station behind Memorial Hall for 40-minute round trips through the towns of Yorklyn and Ashland.
The trains depart from behind the Hockessin Memorial Hall in Hockessin. Tickets are $10 for adults and $5 for children. Departure times are 11 a.m., noon, 1, 2 and 3 p.m. both days.
Admission to the festival is $5 for adults and free for children (under 12).
The Strasburg Rail Road (Route 741, Strasburg, 717-687-7522, www.strasburgrailroad.com) is running a special train on February 26 – the "Wine & Cheese Train."
Passengers can enjoy the luxurious, climate-controlled first-class accommodations and a tasting of select wine, cheese, and crackers as they travel in style down the tracks from Strasburg to Paradise and back. The train departs at 6 p.m. and the total trip time is 45 minutes.
"Wine & Cheese Train" boarding is 30 minutes before the scheduled departure. Riders must be 21 or older and have their photo ID ready when they board.
Featured wines are carefully selected from Waltz Vineyards, and cheeses are paired accordingly. Beer and select non-alcoholic beverages are also available for purchase upon request. Riders can purchase a souvenir wine glass on board the train if desired. Glasses are $7 each.
In accordance with Pennsylvania law, alcohol is only served during the train ride. We are not permitted to serve alcoholic beverages while the train is berthed in the station.
This popular train is available on select Friday and Saturday evenings throughout the season. Tickets are $50.
On February 26 and 27, the Lancaster County Park Environmental Center (1 Nature's Way, Lancaster, https://apm.activecommunities.com/LancasterCountyParks, 717-295-2055) will present a special program titled "Maple Sugaring."
Visitors can join County Park Naturalists for ongoing maple sugaring demonstrations in the sugar bush of Lancaster County Central Park. They will be able to see trees tapped, sap boiled to syrup, and candy made from the syrup. Maple products will be on sale. Guests can drop in anytime during the program hours for an educational tour of the maple syrup making process.
The Greater Philadelphia Expo Center (100 Station Avenue, Oaks, 484-754-3976, www.phillyexpocenter.com) is hosting Philly Home + Garden Show now through February 27.
There will be exhibitors in a wide range of topics including flooring, heating and cooling, home appliances, construction, financing, home décor, pools, windows and doors, roofing and automotive.
"Get Growing: Inspirational displays of gardens, planting ideas and floral trends for 2022" allows visitors to explore a full hall of gardens and outdoor exhibitors that are sure to inspire backyard creations. They can stroll through inspirational gardens showcasing new gardening techniques ideas and trends then stop by and relax in the Wine Garden brought to you by the Renegade Winery.
There will also be a flower shop, garden market, and succulent bar to take home some spring inspired goods.
Visitors to the show will be able to get tips live from Mina Starsiak Hawk, start of the hit series "Good Bones" on Saturday on the Main Stage. Other experts from gardening to home design will be presenting tips throughout the entire weekend.
Tickets are $11 with children (12 and under) admitted free.
If you want to enjoy a session of skating this season at the Blue Cross RiverRink Winterfest (Delaware Avenue at Walnut Street, Philadelphia, 215-925-RINK, http://www.delawareriverwaterfront.com/places/blue-cross-riverrink-winterfest), you better act quickly.
This is the penultimate weekend for the rink's 2021-2022 season. March 6 marks the season finale. When that Sunday's final session concludes, that's it – that's the end until next winter.
Unlike most of the suburban ice rinks, RiverRink features only public skating. Ice skating is the only use of the ice – no hockey leagues, no lessons, just public ice skating.
There will be a special "Disco Music Skate" on February 25 from 6-10 p.m.
RiverRink has taken the ice-skating experience on the Delaware River waterfront to another level by once again transforming the annual rink into a bona fide winter wonderland.
Open seven days a week, the Blue Cross RiverRink Winterfest is an immersive winter-themed experience with a popular bar and restaurant called The Lodge, winter beer garden-style landscaping, a brand-new light show, and a retail shopping experience from Art Star Gallery & Boutique.
The outdoor rink's hours this season are 1 p.m.-11 p.m. Monday-Thursday; 1 p.m.-1 a.m. Friday; 11 a.m.-1 a.m. on Saturday and 11 a.m.-11 p.m. on Sunday. Skating admission price is $4 and skate rental is $10.
On February 26, Elmwood Park Zoo (1661 Harding Boulevard, Norristown, www.elmwoodparkzoo.org) is hosting "Read Across America," its annual celebration that focuses on the joys of reading.
"Read Across America" is a nationally celebrated event that aims to motivate reading among children of all ages. In addition to having a selection of books available for purchase in the Book Fair, this year's event also includes an animal greet and an opportunity to meet local authors.
"Read Across America" will also serve as the kickoff to the new "One Book One Norristown" program. This community literacy and civic engagement initiative was developed by the Greater Norristown NAACP, Montgomery County-Norristown Public Library, and the Literacy Council of Norristown.
The event on Saturday will present author chats with Janet Zappala, Lorene Cary and Tre Hadrick and a recorded interview with Jerry Spinelli, the author of "Stargirl."
Elmwood Park Zoo's "Read Across America" is free to attend with regular zoo admission.
The family-friendly site in Norristown is also presenting several of its ultra-popular "Dog Days" over the next week.
The Zoo's "Dog Days" event will be held on February 25 and 27 from noon-4 p.m. each day.
All guests visiting the zoo with a furry friend must complete an online waiver and submit required documents before visiting the zoo. You must upload a copy of your most recent veterinary visit, including proof of vaccine and heartworm test here. All items will be required for you to attend "Dog Days."
Pricing is $10.95 per dog with each additional dog at $9.95. Regular zoo admission, which starts at $12.95, is required for all humans.
If you're looking for a fun family activity – an indoor activity unaffected by the weather — Linvilla Orchards (137 West Knowlton Road, Media, 610-876-7116, www.linvilla.com) has something just for you — the miniature golf course "Fore! the Planet."
Linvilla Orchard's "Fore! The Planet" is a highly interactive and playful museum exhibit created by the Academy of Natural Sciences in Philadelphia. This exhibition pairs important environmental issues with the fun of miniature golf.
It features 18 unique educational holes on a variety of topics — butterfly metamorphosis, a tropical rainforest, evolution, dinosaur extinction, food chains and more. Kids of all ages can enjoy playing miniature golf while learning about our environment on every hole.
The first hole is "Butterfly Life Cycle" and players must putt through each stage of the colorful insect's metamorphosis. The next five holes are titled "Seed Dispersal," "Bat Sonar," "Food Chain," "Evolution of a Golfer" and "Backyard Explorer" followed by "Natural Selection" and "Predators and Prey."
On the "Dinosaur Extinction" hole, players get to hit their balls toward the scientific theory of dinosaur extinction they find most plausible. The remainder of the thought-provoking holes are "Recycling," "Water Pollution," "Landfills," "Wild Corridors," "Bird Migration," "Spawning Salmon," "Alien Species," "Population Threats" and "Rainforest Threats."
The mini-course is open daily from 9 a.m. through March 27. Tickets are $7.
"Elmo's Furry Fun Fest" at Sesame Place (100 Sesame Road, Langhorne, www.sesameplace.com) is happening every weekend now through March 20.
Guests are invited to visit the park to enjoy an event series during "Elmo's Furry Fun Fest," a festive, family-friendly celebration with everyone's favorite Sesame Street friends live and in-person at the amusement park in Langhorne.
The current special attraction is "Mardi Gras Celebration" on February 26 and 27.
Every weekend through March, visitors can celebrate treat little loves to a fun day during the "My Fuzzy Valentine's Celebration," let the good times roll during the family-friendly "Mardi Gras Celebration," experience the park's "St. Patrick's Day Celebration," and wish Big Bird a Happy Birthday during his Birthday Weekend.
Activities include a riding on the Sunny Day Carousel, dancing and grooving during at the "Furry Friends Dance Party," watching "Elmo the Musical, LIVE!" and having fun at the always popular Mini Parades.
The schedule features "Mardi Gras Celebration" on February 26 and 27, "St. Patrick's Day Celebration" on March 5, 6, 12 and 13, and "Big Bird's Birthday Pajama Party" on March 19 and 20.
The park will be open from 10 a.m.-2 p.m. on Saturdays and Sundays now through March 20 along with February 21.
A good way to get out of the cold weather is to visit Wonderspaces.
Wonderspaces at the Fashion District (27 North 11th Street, Philadelphia, philadelphia.wonderspaces.com) is an experiential, interactive arts venue.
Building on the success of annual pop-up shows in San Diego, and its first permanent location in Scottsdale, Arizona, Wonderspaces opened a 24,000 square foot gallery space in Philly a year ago.
Wonderspaces features 14 art installations that all play with the idea of perspective. The artwork ranges from award-winning virtual reality short film about a dinner party-turned-alien abduction, to a room where visitors digitally paint the walls with the movement of their bodies.
New artworks rotate in every few months, creating an ever-evolving, year-round show.
Tickets are for entry at a specific date and time. Visitors are welcome to stay as long as they please during operating hours. The average time spent experiencing the show is 90 minutes.
A few installations contain flashing lights, images, and patterns that may trigger seizures for people with photosensitive epilepsy. All visitors must sign a waiver prior to being admitted into the space. Adult supervision is required for visitors under 16.
The installation is open from noon-10 p.m. on Thursdays and Fridays, 10 a.m.-10 p.m. on Saturdays and 10 a.m.-8 p.m. on Sundays.
Tickets are $24 for adults, $20 for seniors, teachers, healthcare workers, students and active military, and $15 for children (ages 3-12).
February is African American History Month and the National Constitution Center National Constitution Center (525 Arch Street, Independence Mall, Philadelphia, 215-409-6700,www.constitutioncenter.org) is honoring it with a number of special events and attractions that are running now through the end of February.
During the month of February, the National Constitution Center will pay tribute to the achievements and the courageous sacrifices made by African Americans throughout history as they strived to become recognized as an integral part of "We the People."
The National Constitution Center will honor that milestone all month long with special educational programs and performances in conjunction with the new Civil War and Reconstruction exhibit, including "The Road to Freedom" show.
Visitors can also take a self-guided tour of the museum's The Story of We the People exhibit to discover key milestones in African American history, and then test their knowledge at the Center's giant game board activity.
Activities at the Center will feature interactive programming designed for visitors of all ages, including "Decoding the Document: Emancipation Proclamation Document Workshop,"
Visitors can take a closer look at the museum's rare printing of the Emancipation Proclamation to learn more about its history, the history of the Civil War, and the background of the 13th, 14th, and 15th Amendments.
On the "Self-Guided African American History Tour", visitors can tour the Center's main exhibition "The Story of We the People" and discover important moments in African American history through historical artifacts.
Now through March 31, visitors can enjoy discounted admission of $10 for adults (usually $14.50) and $7.50 for youth ages 6-18 (usually $11).
Throughout the month of February, the Betsy Ross House (239 Arch Street, Philadelphia, historicphiladelphia.org) will offer free programming on weekends celebrating the contributions Black Americans have made throughout our nation's history.
The events on February 27 from 11 a.m.-4 p.m. will be "Once Upon A Nation Storytelling."
The Betsy Ross House's award-winning storytellers will share short, interactive and little-known tales about Black Americans through history.
On February 26, Laurel Hill Cemetery (3822 Ridge Avenue, Philadelphia, 215-228-8200, www.thelaurelhillcemetery.org) will present "Sacred Spaces and Storied Places" at 10 a.m.
The expansion of Fairmount Park in the 1860s prevented further growth of Laurel Hill, and in 1869 West Laurel Hill was established just across the river in Bala Cynwyd. This walking tour provides a wonderful overview of West Laurel Hill's long and colorful history, including its architectural artistry, stunning trees and horticulture, and the stories of residents that encompass diverse and fascinating Philadelphia history.
"Sacred Spaces and Storied Places" is the perfect introductory tour for anyone who wants to learn all that West Laurel Hill Cemetery has to offer. Experienced tour guides offer visitors a unique perspective and every Sacred Spaces tour is different.
The tour guide for this event is Nicole Tell.
Tickets, which must be purchased in advance, are: $12/General Admission, $10/Seniors (65 & up) and Students with ID, $6/Youth (6-12), and $0/Child (5 & Under). Youth and children must be accompanied by an adult.
Ghost Tour of Philadelphia (215-413-1997, www.ghosttour.com), Ghost Tour of Lancaster (717-687-6687, www.ghosttour.com) and Ghost Tour of Strasburg (717-687-6687, www.ghosttour.com) operate throughout the winter and offer an eerily entertaining evening of true ghost stories and real haunted houses.
The Ghost Tour of Philadelphia, which is based on the book, "Ghost Stories of Philadelphia, PA.," is a candlelight walking tour along the back streets and secret gardens of Independence Park, Society Hill, and Old City, where ghostly spirits, haunted houses, and eerie graveyards abound.
Participants can discover the ghost lore of America's most historic and most haunted city with stories from the founding of William Penn's colony to present-day hauntings.
The activity is open year-round – weekends, December-February; every night, March-November. Tickets are $24.
The Ghost Tour of Lancaster and the Ghost Tour of Strasburg are based on the book, "Ghost Stories of Lancaster, PA."
Participants in the Ghost Tour of Lancaster explore the long-forgotten mysteries of one of America's oldest cities, with haunting tales of otherworldly vigils, fatal curses, and star-crossed lovers. The tour provides the opportunity to experience 300 years of haunted history from the Red Rose City's thorny past. Tickets are $18.
The Ghost Tour of Strasburg is a candlelight walking tour of the quaint and historic town of Strasburg in the heart of Pennsylvania Dutch Country. Visitors will experience an entertaining evening with a costumed tour guide spinning tales of haunted mansions, eerie graveyards, and spirits that roam the night … in a town lost in time. Tickets are $18.