By Denny Dyroff, Entertainment Editor, The Times
After a two-year absence during the pandemic, art shows and antiques shows are starting to pop up like croci in March gardens.
The 73rd Annual Chadds Ford Art Sale & Show (http://cfes.ucfsd.org/artshow/) will be held March 18 and 19 at the Chadds Ford Elementary School. Founded in 1949 by Betsy Wyeth, the popular Chadds Ford Art Sale & Show features works by more than 65 professional artists from the Brandywine Valley and beyond.
Artists showcase a variety of works to satisfy every taste and budget. The popular art show will include more than 60 artists from the Brandywine Valley and beyond.
Many of the participating artists will be available to sign or personalize their work.
The "Art Exhibit & Sale" will run from 10 a.m.-4 p.m. on March 19. Special attractions include live music and a raffle drawing at 3 p.m. All proceeds support educational enrichment programs at Chadds Ford Elementary School.
The Antiques at Kimberton Show will be held on March 19 and 20 at the Kimberton Fire Company Hall (2276 Kimberton Road, Kimberton, 717-431-7322,http://antiquesatkimberton.vpweb.com) from 9 a.m.-5 p.m. on Saturday and 11 a.m.-4 p.m. on Sunday.
The show will feature more than 65 vetted dealers from all over the Mid-Atlantic region with exhibit booths filling over 10,000 sq. ft. of space. Every dealer is hand-selected to make sure that authentic, quality antiques are always showcased. Visitors will be able to browse and make selections from a wide array of top-quality antiques and collectibles.
The long list of featured categories includes furniture, primitives, art, collectibles, textiles, pottery, glassware and a variety of other items from the past. The show, which has been in existence since the 1960s, is known for its diversity and the willingness of the dealers to discuss the items they are selling.
Tickets are $7 and there is free parking. Additionally, there will be a variety of food available for purchase during show hours.
On March 19, Newtown Square Historical Society (3716 Goshen Rd, Newtown Square, nshistory.org) will host its annual "Taste of Ireland Tours" at the Square Tavern, Paper Mill House and Bartram Covered Bridge.
The Society is inviting visitors to experience the warm and charming experience of the period-decorated 1700's Historic Square Tavern. Costumed guides will explain Newtown's rich history, and visitors can enjoy samplings of Irish cakes, breads, cheeses, ales and Meade. The site will also feature a new local art exhibit and sale.
At the Paper Mill House, guests can experience Newtown's 1800's history and examine the life of mill workers along the Darby Creek. They can browse more than 10 rooms full of local history and 1800's decor. Costumed guides will be serving Irish cakes.
The Bartram Covered Bridge will be open to walk across – allowing guests to step into the past and admire the unique architecture and trusses spanning the Crum Creek.
The event is free, and donations are welcomed.
Whether you're a handyman, a home improvement fanatic or just a tinkerer who likes working on small projects around the house, you should check out the 38th Annual Philadelphia Home Show. The event is running March 18-20 and 25-27 at the Pennsylvania Convention Center (12th and Arch streets, Philadelphia, 215- 418-2003, www.phillyhomeshow.com).
The well-attended annual show features a large number of exhibits representing the home renovation and decorating industry. Showcased products and services include roofing, windows, flooring, decking, landscaping, spas, contractors, designers, water, swimming pools, doors, gutters security systems, cabinetry, entertainment systems, appliances, furniture, vacuums and more.
Tickets are $10 for adults and $3 for children (ages 6-12).
If you're looking for something fun to do on Sunday, you have several good options — "Be Happy" on the holiday devoted to happiness, celebrate the first day of spring or get a free Rita's water ice.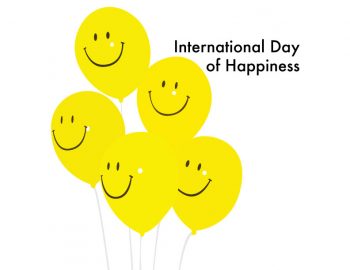 The International Day of Happiness is March 20 — every year — forever. The International Day of Happiness was introduced by the General Assembly of the United Nations during 2012 and was celebrated for the first time in 2013. Through seminars and educational tips and tools, the aim is to educate and increase public awareness of the benefits of happiness.
The original idea came from the Kingdom of Bhutan in the Himalayan region of Asia. There, the population is thought by many to be among the happiest in the world due to the holistic approach to life and the amount of importance which is placed on the well-being of people and communities, as much as material wealth.
For everyone, the day is a useful reminder that in general happiness does not necessarily come from buying and consuming, or from being famous or glamorous – but often from friends, family and emotional well-being. Internationally, there are many events and websites in which people may participate.
March 20 has been established as the annual International Day of Happiness and all 193 United Nations member states have adopted a resolution calling for happiness to be given greater priority. It is coordinated by Action for Happiness, a non-profit movement of people from 160 countries, supported by a partnership of like-minded organizations.
This year, the theme is 'Build Back Happier', which will focus on the global recovery from the Covid pandemic.
So, when March 20 arrives, smile, share, eat healthily, exercise, be grateful, give back, think positively, spend some time with friends and family, spend some time alone, be mindful, dream, listen to music, say "thank you" and mean it, compete, be charitable. Do what makes you happy – especially if it involves a cool dessert treat.
The spring equinox (also called the March equinox or vernal equinox) falls on March 20, 2022 at 11:33 a.m. This event marks the astronomical first day of spring in the Northern Hemisphere.
March 20 is more than just the first day of spring, it's the day of one of the area's annual traditions – "Celebrate the First Day of Spring with Free Ice."
That's right – a day of free water ice at Rita's.
On this special day each year, Rita's (ritasice.com ) is offering every guest who downloads the app a free Italian ice to celebrate arrival the arrival of spring – and the warm "water ice weather" it brings with it to the area.
One difference this year is that the offer isn't limited to March 20. Once you've downloaded the app, you have until March 27 to claim your treat.
On March 21, Dairy Queen locations (www.dairyqueen.com ) are celebrating their "Annual Free Cone Day."
In recognition of the first day of spring, Dairy Queen is offering a free small vanilla soft-serve cone to customers – while supplies last. There is a limit of one cone per customer.
Visitors to Longwood Gardens (Route 1, Kennett Square, www.longwoodgardens.org) can immerse themselves in a winter wonderland. And they can also enjoy special exhibits at the Orchid House.
This is the penultimate weekend for the winter exhibit.
Now through March 27, Longwood Gardens will celebrate a winter wonderland with a special attraction called "Winter Wonder."
In the past, Longwood Gardens was always a great place to go from January to April to escape the harshness of winter. Guests could enjoy an amazing array of flowering plants inside the lush and nicely heated Conservatory.
That has stayed the same this year and "Winter Wonder" adds a new dimension.
Outdoors, winter's subdued beauty illustrates how plants can be used for both aesthetic and habitat benefit. Visitors can stroll among the serene landscape of the Hillside Garden or reflect among a symphony of copper and umber hues in the 86-acre Meadow Garden.
Although subdued colors reign, the occasional burst of bright yellow and orange of blooming witch-hazel dots the landscape, while winter grasses add a textural element.
Even though winter is a time of dormancy for many plants, it is also a time when plants' different characteristics are on display – characteristics such as bark patterns, seed pods and ornamental fruit.
Wintertime allows the clear details of the garden to come forward and highlights the harmony that a garden builds with its surrounding landscape. The clear light of winter enhances the finer details of the outdoor landscape, from deciduous trees holding onto their late winter leaves to the brown-toned structures of summer-flowering perennials set against a blue winter sky.
Indoors, there is always the Conservatory.
This winter, visitors can experience a warm, colorful oasis in Longwood's grand Conservatory. Vibrant Streptocarpus 'Concord Blue' baskets float above, pink and purple Saintpaulia (African-violets) delight, and tall Clerodendrum schmidtii (chains-of-glory) stun.
From beds of coral Cymbidium to a dedicated area showcasing highlights from the site's vast collection, guests will be able to find hundreds of orchids in spectacular bloom.
In early March, Longwood's famed blue poppy (Meconopsis 'Lingholm') returns to the Conservatory. These spectacular flowers—which are native to the high elevations of the Himalayan Mountains— are grown using precise techniques to force the blue-poppies to flower in March. The substantial petals are a mesmerizing sky-blue color.
After a major restoration project, the Orchid House has reopened at Longwood Gardens.
The Orchid House, which has a history dating back more than a century, has come back to life with a brand-new glass roof and reimagined gallery-inspired space.
If you've been to Longwood Gardens before you've probably seen the historic Orchid House. But if you come to see it once it has reopened on February 26 as the first expression of "Longwood Reimagined," it will be an experience like never before.
The Orchid House has been completely restored in the same way founder Pierre S. du Pont would have done it himself — with excellence.
The original concrete aggregate was matched so well that you'd never even know it wasn't the original. The bronze window framing was cleaned, repaired, and replaced. The tunnels below the space were reworked and a brand-new floor poured.
The historic bronze cases, first added in 1929 and then restored in 1966 to display the orchid collection, have been returned to their original position at the north end of the house. Before they existed, there was a glass wall in their place, which has now been added to the top of the cases to create a vestibule on the north side of the house, creating the perfect transition from the Acacia Passage now, and the Waterlily Court and West Conservatory in the future.
The cases themselves have had all of their original pieces restored and are now double-sided. You're now able to see orchids on both sides of the gates — from the main view inside the Orchid House, and from the vestibule. The same wrought iron gates that have always been there stand in the middle of the cases, yet they've been completely restored, and their intricate details, once hidden under layers of paint, are appreciable once more.
Brand new gravity rings now hold our orchids in place, allowing the plants to be admired as always, but with better functionality and structural integrity.
Admission to Longwood Gardens is $25 for adults, $22 for seniors and college students, $18 for active military and $13 for youth.
Winterthur (5105 Kennett Pike, Wilmington, Delaware, 800-448-3883, www.winterthur.org) is fully open and has a healthy special event on its calendar for this weekend.
On March 19 and 20, Winterthur will host an event called "Take a Hike!"
The event, which allows participants to connect with the great outdoors, will start at 2:30 p.m. each day.
Hikers will be able to explore the site's trails with Winterthur estate guides. Winterthur's 1,000-acre estate features 25 miles of walking paths and trails and 10 miles of roads to discover. The walk is included with admission.
There is another good "Delaware destination" this weekend.
This Saturday and every Saturday during the winter, the Kalmar Nyckel Shipyard (1124 East Seventh Street, Wilmington, Delaware, www.kalmarrnyckel.org) is hosting "Winter Ship Tours" of the Kalmar Nyckel.
Kalmar Nyckel deck tours are open during the winter "maintenance season" on Saturdays from 10 a.m.-4 p.m.
The $10 admission includes a self-guided tour of the Copeland Maritime Center.
Ship tours will cancel for inclement weather and safety issues due to heavy maintenance work.
The ship is a beautiful recreation of the original Kalmar Nyckel, which was built in Holland in the 1620s. Her mainmast is taller than a 10-story building, and she carries 7,600 square feet of sail area and six miles of rigging.
The original Kalmar Nyckel was a Swedish-owned, three-masted armed pinnace that sailed from Goteborg, Sweden in November of 1637 and brought the first permanent European settlers to the Delaware Valley.
In 1986 a group of citizens established the Kalmar Nyckel Foundation to design, build and launch a replica of the Kalmar Nyckel at a shipyard adjacent to the original landing site.
The new Kalmar Nyckel was constructed there and was launched on September 28, 1997. She was commissioned on May 9, 1998, and now serves as Delaware's sea-going Ambassador of Good Will. She is a fully functional sail training vessel and has represented Delaware all over the country.
The Chaddsford Winery (632 Baltimore Pike, Chadds Ford, www.chaddsford.com) will host Cheese & Wine Reserve Tastings every Saturday and Sunday in March.
Visitors can enjoy stops at stations featuring locally crafted artisan cheeses from Birchrun Hills Farm carefully paired with the winery's award-winning wines.
The pairing lineup is Greeting Cocktail: Chaddsford White Gin Smash, 2019 Sparkling White with Lil Chardy and Apple Jam, 2019 Traminette with Sea Salt and Honey Spread, 2019 Merlot with Equinox and Niagara with Birchrun Blue.
Sessions will be offered throughout the day at noon, 2 and 4 p.m.  During the session, Chaddsford Winery staff will lead guests through an educational pairing while providing interesting facts about the featured wines and cheese.
Advanced tickets are $35 per person, and space is limited. Advanced reservations are required and are non-refundable.
Guests under 21 years old are not permitted to attend a Reserve Tasting. Outside food is not permitted during this program.
The "Wine and Cupcake Pairings" at Penns Wood Winery (124 Beaver Valley Road, Chadds Ford, http://www.pennswoodsevents.com) will host a "Wine & Cupcake Pairing" on March 19 and 20.
It will mark the 10th Annual Wine & Cupcake pairing and will be held each weekend in March.
This pairing includes a tasting of four premium wines paired perfectly with four delicious cupcakes from Dia Doce.
Tickets are $36 and reservations are required.
The Strasburg Rail Road (Route 741, Strasburg, 717-687-7522, www.strasburgrailroad.com) is running a special train on Friday and Saturdays in March – the "Wine & Cheese Train."
Passengers can enjoy the luxurious, climate-controlled first-class accommodations and a tasting of select wine, cheese, and crackers as they travel in style down the tracks from Strasburg to Paradise and back. The train departs at 6 p.m. and the total trip time is 45 minutes.
"Wine & Cheese Train" boarding is 30 minutes before the scheduled departure. Riders must be 21 or older and have their photo ID ready when they board.
Featured wines are carefully selected from Waltz Vineyards, and cheeses are paired accordingly. Beer and select non-alcoholic beverages are also available for purchase upon request. Riders can purchase a souvenir wine glass on board the train if desired. Glasses are $7 each.
In accordance with Pennsylvania law, alcohol is only served during the train ride. We are not permitted to serve alcoholic beverages while the train is berthed in the station.
This popular train is available on select Friday and Saturday evenings throughout the season. Tickets are $50.
Laurel Hill Cemetery (3822 Ridge Avenue, Philadelphia, 215-228-8200, www.thelaurelhillcemetery.org) will have one themed special event this weekend.
On March 20 from 1-3 p.m., there will be a Women's History Month themed event – "Classy Broads and Daring Dames Walking Tour."
The cemetery will celebrate Women's History Month with a walking tour that honors some fascinating ladies. Activists, influencers, and philanthropists; movers, shakers, and more than one Titanic survivor; each found her final resting place at Laurel Hill Cemetery. Participants can join the cemetery staff as they unearth their stories, along with those of other women whose contributions to society continue to resonate today.
The tour guide will be Colleen Hudson.
Tickets are $15/General Admission; $13/Seniors (65 & Up) & Students with ID, $10/Members
$7.50/Youth (6-12), and Free: Child (5 & Under). Youth and children must be accompanied by an adult.
Ghost Tour of Philadelphia (215-413-1997, www.ghosttour.com), Ghost Tour of Lancaster (717-687-6687, www.ghosttour.com) and Ghost Tour of Strasburg (717-687-6687, www.ghosttour.com) operate throughout the winter and offer an eerily entertaining evening of true ghost stories and real haunted houses.
The Ghost Tour of Philadelphia, which is based on the book, "Ghost Stories of Philadelphia, PA.," is a candlelight walking tour along the back streets and secret gardens of Independence Park, Society Hill, and Old City, where ghostly spirits, haunted houses, and eerie graveyards abound.
Participants can discover the ghost lore of America's most historic and most haunted city with stories from the founding of William Penn's colony to present-day hauntings.
The activity is open year-round – weekends, December-February; every night, March-November. Tickets are $24.
The Ghost Tour of Lancaster and the Ghost Tour of Strasburg are based on the book, "Ghost Stories of Lancaster, PA."
Participants in the Ghost Tour of Lancaster explore the long-forgotten mysteries of one of America's oldest cities, with haunting tales of otherworldly vigils, fatal curses, and star-crossed lovers. The tour provides the opportunity to experience 300 years of haunted history from the Red Rose City's thorny past. Tickets are $18.
The Ghost Tour of Strasburg is a candlelight walking tour of the quaint and historic town of Strasburg in the heart of Pennsylvania Dutch Country. Visitors will experience an entertaining evening with a costumed tour guide spinning tales of haunted mansions, eerie graveyards, and spirits that roam the night … in a town lost in time. Tickets are $18.
Wonderspaces at the Fashion District (27 North 11th Street, Philadelphia, philadelphia.wonderspaces.com) is an experiential, interactive arts venue.
Building on the success of annual pop-up shows in San Diego, and its first permanent location in Scottsdale, Arizona, Wonderspaces opened a 24,000 square foot gallery space in Philly a year ago.
Wonderspaces features 14 art installations that all play with the idea of perspective. The artwork ranges from award-winning virtual reality short film about a dinner party-turned-alien abduction, to a room where visitors digitally paint the walls with the movement of their bodies.
New artworks rotate in every few months, creating an ever-evolving, year-round show.
Tickets are for entry at a specific date and time. Visitors are welcome to stay as long as they please during operating hours. The average time spent experiencing the show is 90 minutes.
A few installations contain flashing lights, images, and patterns that may trigger seizures for people with photosensitive epilepsy. All visitors must sign a waiver prior to being admitted into the space. Adult supervision is required for visitors under 16.
The installation is open from noon-10 p.m. on Thursdays and Fridays, 10 a.m.-10 p.m. on Saturdays and 10 a.m.-8 p.m. on Sundays.
Tickets are $24 for adults, $20 for seniors, teachers, healthcare workers, students and active military, and $15 for children (ages 3-12).
If you're looking for a fun family activity – an indoor activity unaffected by the weather — Linvilla Orchards (137 West Knowlton Road, Media, 610-876-7116, www.linvilla.com) has something just for you — the miniature golf course "Fore! the Planet."
Linvilla Orchard's "Fore! The Planet" is a highly interactive and playful museum exhibit created by the Academy of Natural Sciences in Philadelphia. This exhibition pairs important environmental issues with the fun of miniature golf.
It features 18 unique educational holes on a variety of topics — butterfly metamorphosis, a tropical rainforest, evolution, dinosaur extinction, food chains and more. Kids of all ages can enjoy playing miniature golf while learning about our environment on every hole.
The first hole is "Butterfly Life Cycle" and players must putt through each stage of the colorful insect's metamorphosis. The next five holes are titled "Seed Dispersal," "Bat Sonar," "Food Chain," "Evolution of a Golfer" and "Backyard Explorer" followed by "Natural Selection" and "Predators and Prey."
On the "Dinosaur Extinction" hole, players get to hit their balls toward the scientific theory of dinosaur extinction they find most plausible. The remainder of the thought-provoking holes are "Recycling," "Water Pollution," "Landfills," "Wild Corridors," "Bird Migration," "Spawning Salmon," "Alien Species," "Population Threats" and "Rainforest Threats."
The mini-course is open daily from 9 a.m. through March 27. Tickets are $7.
This will be your final chance to checkout "Elmo's Furry Fun Fest" at Sesame Place (100 Sesame Road, Langhorne, www.sesameplace.com). The popular annual event is happening every weekend through March 20.
Guests are invited to visit the park to enjoy an event series during "Elmo's Furry Fun Fest," a festive, family-friendly celebration with everyone's favorite Sesame Street friends live and in-person at the amusement park in Langhorne.
The current special attraction is "St. Patrick's Day Celebration" on March 12 and 13.
Every weekend through March, visitors can celebrate treat little loves to a fun day and wish Big Bird a Happy Birthday during his Birthday Weekend.
Activities include a riding on the Sunny Day Carousel, dancing and grooving during at the "Furry Friends Dance Party," watching "Elmo the Musical, LIVE!" and having fun at the always popular Mini Parades.
The schedule features "Big Bird's Birthday Pajama Party" on March 19 and 20.
The park will be open from 10 a.m.-2 p.m. on Saturdays and Sundays now through March 20.