By Denny Dyroff, Entertainment Editor, The Times
This is Fourth of July Weekend and that means it is time for parties, festivals, picnics and a lot of fireworks displays.
The "Wawa Welcome America Festival" (www.welcomeamerica.com), which is running through July 4, is a festival of free events in Philadelphia in celebration of our nation's birthday — a huge party that hits its peak with an abundance of festivities on Independence Day Weekend.
Activities this weekend include "Free Museum Day" at many Philadelphia museums and "POPS on Independence @ the Mann" on July 3 from 7-9 p.m. at the Mann Center (5201 Parkside Avenue, Philadelphia).
Featured events on July 1 are "Fireworks on the Riverfront" at 9 p.m. on the Cherry Street Pier and "Our America Now: Expressions of Freedom" from 5-8"30 p.m. on Eakins Oval.
July 2 activities include "Pershing's Own Concert & Waterfront Fireworks" at the Great Plaza, "Celebration of Community & Culture" at Esperanza Arts Center (4261 North Fifth Street) and "Fireworks On The Waterfront" at Penn's Landing.
July 3 will feature "POPS on Independence" at Independence Hall.
Special events on July 4 are "Celebration of Freedom Ceremony" at Independence Hall, "Salute to America Independence Day" on East Market Street,
and "Wawa Welcome America July 4th Concert" from 7-10 p.m. on the Benjamin Franklin Parkway starring Ava Max, Jason Derulo and Tori Kelly.
The grand finale will be the "Wawa Welcome America Fireworks Spectacular" on the Ben Franklin Parkway starting a 9:45 p.m.
The 42nd Annual Downingtown Good Neighbor Day will be held on July 4 at Kerr Park in Downingtown from 6:30 a.m.-10 p.m. Activities will get underway with a "Prayer and Flag Ceremony" at 7:40 a.m. and then it will be time for the races.
The 42nd Annual Run for Life (5K, 10K & 15K) and the 25th Annual 5K Freedom Walk are scheduled for 8 a.m. while the 25th Annual Kids-K Fun Run starts at 10 a.m.
The large array of crafts, food and vendors' booths will open at 8 a.m. Carnival rides, amusement games and festival food will be available from 10 a.m. until closing.
Other activities scheduled for the pre-noon hours are the Kayak and Canoe Race at 10 a.m., the Annual Bicycle Decorating Contest at 10:30 a.m., the Big Wheel Race at 11 a.m. At noon, it will be time for the Annual Duck Race and music by Walt Kinsey & Friends Band.
A number of other music acts are scheduled throughout the day, including the Pennsylvania Surfers from 2-3 p.m., the Jeff Dominick Duo from 3-4 p.m., and the Moondawgs at 4 p.m.
The Philly Balloon & Music Festival will touch down and go up from July 1-4 at the Ludwig's Corner Horse Show Grounds (1326 Pottstown Pike, Glenmoore, phillyballoonfest.com).
From the air or from the ground, the Philly Balloon & Music Festival is one an exciting event with something fun for everyone to enjoy.
The festival gates open at 3 p.m. on July 1 and stage entertainment gets underway – along with hayrides, bounce houses, kids' tent, food and drinks, and tethered rides.
There will be a "Mass Ascension Balloon Launch" at 6 p.m. and a "Balloon Glow" starting at 9 p.m.
From July 2-4, the gates will open at noon.
There will be a "Mass Ascension Balloon Launch" at 6 p.m. on Saturday, Sunday and Monday and a "Balloon Glow" at 9 p.m. on Saturday and Sunday. There will also be a fireworks display on Sunday at 9:20 p.m.
Entertainers at the Festival will be Moe Blues, Lippy Brothers, Garrett Schultz, JD Willis Band, Ben Garner, Willie & Smith, Jac Connor, Dylan Zangwell & Stolen Sun, "American Heros Show w/ Spiderman, Captain America, Superman & WonderWoman," "Jolly Holidays w/ Mary Poppins & Bert" and comedy juggler Neils Dunker.
Tredyffrin Township Fireworks (www.tredyffrin.org/services/parks-recreation/community-events-/fourth-of-july-celebration ) are scheduled for July 4 at 7:15 p.m.
The free, all-ages event will be held at Wilson Farm Park, which is located at 500 Lee Road in Wayne.
Families can gather to celebrate the Fourth of July at Wilson Farm Park starting with music by the Chester County Concert Band at 7:15 p.m. The fireworks display begins at dusk.
It is important to bring lawn chairs or blankets. Picnic dinners and lawn games can be brought along as well.
There will be a "July 4th Celebration" at Tubman-Garrett Riverfront Park (80 Rosa Parks Drive,
Wilmington, Delaware, riverfrontwilm.com) from 2-9:30 p.m. on July 4.
The City of Wilmington residents and beyond are invited to celebrate this annual 4th of July tradition sponsored by Cityfest.
This popular event brings thousands of excited spectators to enjoy an incredible array of family festivities, food, games and entertainment. After the daytime activities, attendees can enjoy a spectacular 4th of July fireworks show launched from Tubman Garrett Riverfront.
On Monday, there will be "July 4th Tall Ship Tours" of the Kalmar Nyckel (kalmarnyckel.org) at Tubman Garrett Riverfront Park in downtown Wilmington, Delaware. The free tours will be offered from 2-6 p.m.
In addition to tours of the Kalmar Nyckel, there will be live music; a Creative Art-making tent; a petting zoo and pony rides; mini-train rides; sports games; gardening and flowerpot-making; balloon art and face painting. Food and merchandise vendors will also be onsite throughout the afternoon and evening.
A popular event in Delaware this weekend is "Steamin' Days" at Auburn Heights Preserve (3000 Creek Road, Yorklyn, Delaware, 302-239-2385, http://auburnheights.org) on July 3.
The theme this weekend is "Stars, Stripes and Steam."
Visitors are encouraged to climb into an antique automobile or board one of the trains and experience what it was like to travel at the turn of the 20th century. They can also tour the magnificent 1897 mansion that was home to three generations of the Marshall family.
Also included is entry to the Marshall Steam Museum, which features the world's largest operating collection of Stanley steam cars along with a 1930s working Lionel electric train display, a hands-on engine display, kids' activities and exhibits and the Museum Gift Shop. Self-guided experiences will be available along a designated route to ensure one-way paths and proper spacing.
Free popcorn may be enjoyed by all visitors during Steamin' Day events and Woodside Farm Creamery will be on-site with delicious ice cream available for purchase. A food truck — Dixie's Down Home Cooking — will also be on-site at Steamin' Day.
Activities run from 12:30-4:30 p.m.
The Colonial Pennsylvania Plantation at Ridley Creek State Park (3900 North Sandy Flash Drive, Newtown Square, http://www.colonialplantation.org/) gets into the spirit of the holiday with a reading of the Declaration of Independence, followed by reenactors portraying the colonial and loyalist reactions.
On July 4, visitors can enjoy a picnic at the farm and celebrate our nation's birthday by hearing the Declaration of Independence and witnessing the crowd's reaction. They can also watch the colonials make a demonstration against the king by burning him in effigy and see the loyalist reaction to this treasonous act.
Other activities at the farm include hearth cooking, textile demonstrations, long rifle, garden and animal talks. Visitors are welcome to bring a picnic basket lunch, a comfortable chair or blanket and enjoy the Fourth as it was celebrated years ago on a true colonial farm in Chester County.
Admission is $12 for adults and $8 for children. Site is open from 11 a.m.-4 p.m. with last admission at 3 p.m.
Fort Mifflin (Fort Mifflin and Hog Island roads, Philadelphia, 215-685-4167, www.fortmifflin.us) will host two special events to celebrate the Independence Day holiday – "Patriots vs. Loyalists" and "The 4th at the Fort."
"Patriots vs. Loyalists" will be held on July 2 from noon-7 p.m.
Many people think that the Civil War was the first war dividing Americans, but this is far from true. The Revolutionary War was not just fought between Americans and the British Empire, but Patriots and Loyalists as well, from the 13 Colonies to Canada.
At the event at Fort Mifflin, you can choose a side and swear an oath of loyalty, declare your independence from or allegiance to the Crown and have some fun with Musket drills, hands-on Living History activities, guided tours, cannon demonstrations and games like tug of war and sack races.
"The 4th at the Fort" will be held on July 4 from 10 a.m.-4 p.m.
Visitors can celebrate American Independence at an intact Revolutionary War battlefield.
They will be able to learn the story of the greatest bombardment of the American Revolution during guided tours and enjoy musket and cannon demonstrations and Revolutionary War Soldier Life display.
Hagley Museum and Library (Buck Road East entrance via Route 100, Wilmington, Delaware, 302-658-2400, www.hagley.org) is celebrating the Fourth of July holiday with "Cannon Firings" on July 4.
Visitors can have a blast during their visit to Hagley with a demonstration of the site's signal cannon. The cannon may look small but it really packs a punch.
Demonstrations take place at 1, 2, and 3 p.m.
Additional "Cannon Firings" will be staged on July 31, August 28, September 25, October 30 and November 11.
Admission to Hagley is: $15, Adults; $12, Seniors (62+) and Students; and $8, Children 6-14.
Hagley will also host "Bike & Hike & Brews" on July 6 from 5-8 p.m. – and every Wednesday evening through August 31.
Visitors to Hagley can enjoy an after-work hike or a picnic along the Brandywine's most beautiful mile on summer Wednesday evenings from June through August.
It isa a family event featuring summer fun in a beautiful outdoor setting. Guests can bring a picnic to enjoy at Hagley's picnic pavilion on Workers' Hill or at a picnic table along the Brandywine.
Dogfish Head craft beer and Woodside Farm Creamery ice cream are also available for purchase. You are welcome to bring your own food to "Bike & Hike & Brews," but outside alcohol is strictly prohibited.
Admission is $5 per person and free for Hagley members and children five and under. Please note that this event is weather-dependent.
The "Food Trucks" schedule is: June 29: Natalie's Fine Foods; July 6: Uncle John's BBQ; July 13: All Hands BBQ; July 20: Zaikka on Wheels; July 27: TBA; August 3: Natalie's Fine Foods; August 10: All Hands BBQ; August 17: Mojo Loco; August 24: Zaikka on Wheels; and August 31: Army of 2.
"Bike & Hike & Brews" will also offer "Dog Days" on July 27 and August 31. On "Dog Days," leashed canine companions are welcome at "Bike & Hike & Brews."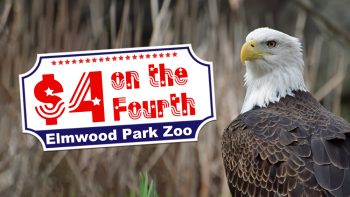 The Elmwood Park Zoo (1661 Harding Boulevard, Norristown, www.elmwoodparkzoo.org) is celebrating Independence Day with a special event – "$4 on the Fourth."
Visitors to the Zoo can kick off their Fourth of July festivities with $4 children admission (3-12 years old) on Monday, July 4.
Tickets are available online or at the zoo's admission booth.
Regular admission is usually $15.95 for children and seniors, $19.95 for adults and $17.95 for students.
On July 4, the Wilmington & Western Railroad will run a special "Fireworks Express." Passengers will board at Greenbank Station and the train will depart at 7 p.m. for Hockessin, which is presenting a festive Fourth of July fireworks extravaganza.
Tickets are $25 for adults, $23 for seniors, and $18 for children (ages 2-12). Children under 2 can ride for free.
The Northern Central Railway (2 West Main Street, New Freedom, www.northerncentralrailway.com) is running its "$17.76 Happy Independence Day" on July 2 at 11 a.m. and 1 and 3 p.m. and July 3 at 11 a.m. and 1 p.m.
It's "All Aboard" at the special price of just $17.76 for the train ride to Glen Rock on the William H. Simpson No. 17, the rail line's authentic replica steam locomotive.
The ride follows the route of the original Northern Central Railroad through the scenic Heritage Rail Trail County Park. This excursion is a one-hour round trip ride.
Tickets are $17.76 (age 13+) and $10 Child (age 2-12).
Sesame Place (100 Sesame Road, Langhorne, www.sesameplace.com) is presenting its "Summer Fun Fest" now through September 4.
There's something special about summer at Sesame Place. It's a great time to cool off with refreshing water attractions for all ages — from Big Bird's Rambling River to The Count's Splash Castle. Fun for everyone can also be found with family rides like Captain Cookie's High C's Adventure and Oscar's Wacky Taxi Roller Coaster.
Summer is perfect for meeting your favorite furry friends and taking bright, beautiful pictures with them. The park also has exciting shows, special events, parades, dance parties, character dining experiences, and other surprises lined up to give visitors even more ways to connect.
The amusement park will host its "July 4th Fest" now through July 4.
There will be "Patriotic Elmo Meet & Greets," where guests can get a photo and a hug with Elmo who will be all dressed up in his patriotic red, white & blue outfit.
The park will also present "Fourth of July Fireworks" on July 4 at 9 p.m.
Peddler's Village (Routes 202 and 263, Lahaska, 215-794-4000, www.peddlersvillage.com) is presenting a "Red, White & Blue BBQ Bash" from July 2-4.
For three days this weekend, Peddler's Village will be serving up all-American grilled favorites and featuring family entertainment, and kids' activities.
There will be live patriotic music performed by Galena Brass all three days.
Guests can stroll the Village and check out the eight exquisite sand sculptures, which are part of the site's "Bucks County Beach Days: Sand Sculptures in the Village."
The Museum of the American Revolution (101 South Third Street, Philadelphia, www.amrevmuseum.org) is hosting a multi-day Fourth of July celebration that will run through July 4.
The Museum will have an array of special exhibits, events, and activities for all ages — including the summer special exhibition Flags and Founding Documents, 1776-Today, which is on view now as part of the Museum's Revolutionary Summer.
Another highlight can be found on the Museum's outdoor plaza featuring giant flags replicating those that were flown by ships during the Revolutionary War, as part of the True Colours Flag Project.
In the Museum's core galleries, visitors can view a rare 1777 broadside of the Declaration of Independence printed by Maryland postmaster and printer Mary Katharine Goddard. Goddard's printing was the first to include the names of the signers of the document. Her own name, as printer, also appears at the bottom of the page.
In a pocket theater that evokes the interior of Independence Hall, visitors can watch a film about the tumultuous weeks leading up to the adoption of the Declaration. Through a touchscreen installation, visitors learn about the 88 local declarations of support for independence that preceded the one issued by the Continental Congress. Galleries also explore what "the promise of equality" meant for all people, including women, native people, and enslaved people.
Admission to the museum is $21 for adults, $18 for seniors and $13 for youth (ages 6-17).
The 2022 "Pottstown GoFourth!" (Downtown Pottstown, www.pottstowngofourth.com) will be held July 4 starting with the Rotary Club of Pottstown Parade on High Street at 10:15 a.m.
From 11- a.m-5 p.m., the "Pottstown GoFourth! Street Fest" will take place on High Street from Charlotte to York streets in the heart of Downtown Pottstown. The festival will feature local restaurants, brew pubs and beer gardens, live music, kids' activities, vendors and artisans.
At 9:30 p.m., there will be a spectacular fireworks show at Memorial Park, sponsored by Precision Polymer Products.
Historic Skippack Village (Skippack Pike, Skippack) we will be staging its "Annual 4th of July Parade" during the day – from 11 a.m.-6 p.m..
At dusk, there will be a fireworks display at Palmer Park, located next to Skippack Elementary School with parking areas off Heckler Road.
Area minor league baseball teams are onboard for July 4 fireworks displays.
An "Independence Day Weekend Fireworks Extravaganza" is slated for July 3 starting at 5 p.m. at Clipper Magazine Stadium (650 North Prince Street, Lancaster, https://www.lancasterbarnstormers.com/23460-2/)
Guests can enjoy a fireworks display at Clipper Magazine Stadium. There will be live music, craft beer served at the Broken Bat, food, lawn games, and the kids park will be open.
Earlier in the day, the Barnstormers will be playing the Staten Island FerryHawks at 1PM. The 1PM game is a ticketed event. Following the game the stadium will be closed and the gates will reopen at 5PM for the free Independence Day Fireworks event.
On July 1 and 2, the Wilmington Blue Rocks (Frawley Stadium, 801 Shipyard Drive, Wilmington, Delaware, 302-888-2015, http://www.milb.com) will play the Jersey Shore Blue Claws and then present a fireworks extravaganza after each game.
Game time is 6:35 each night.
The Reading Fightin' Phillies (First Energy Stadium, 1900 Centre Avenue, Reading, http://www.milb.com) will play the Somerset Patriots on July 2 and 3 at 6:45 p.m. each night. Both games will be followed by "Stars & Stripes Mega Blast."
Fans can enjoy watching the R-Phils take on the New York Yankees affiliate – Somerset Patriots and then viewing the post-game aerial display which is billed as the largest fireworks show in the stadium's history.
The Lehigh Valley Iron Pigs (Coca-Cola Park, 1050 Ironpigs Way, Allentown, https://www.milb.com/lehigh-valley) will have a big-time celebration on July 2.
IronPigs fans can celebrate Independence Day weekend at Coca-Cola Park on July 2 at 6 p.m. with the Great American Blast presented by TD Bank. The popular annual event features a variety of food options, family fun, and music, as well as the season's biggest and most spectacular fireworks show.
For the first time ever at Great American Blast, the fireworks will be shot off from inside Coca-Cola Park. Guests may be on the field leading up to the show to enjoy all the festivities of Great American Blast, but will have to be in the seating bowl by 8:45 p.m. Fireworks will get underway shortly after 9 p.m.
Tickets are now available for just $7. Children two and under will receive free admission. Parking is priced at just $5 per vehicle.
This is the weekend that one of the summer's most popular annual Pennsylvania events gets underway.
The Annual Kutztown Folk Festival (Kutztown Fairgrounds, off Route 222, Kutztown, 888-674-6136,www.kutztownfestival.com) opens on July 2 and runs through July 10.
Settlers from Germany played a major role in the early history of Pennsylvania and their influence is still being felt. These pioneers and their customs are honored each summer at a Pennsylvania German folk festival in Kutztown — an event that has been around for more than a half-century and is still growing.
The popular annual event, which is billed as a celebration of Pennsylvania Dutch culture, features traditional crafts, food, music and folk life.
The festival features country auctions, parades and bands, fiddling, live music and dancing, comedy, storytelling and historical seminars. Daily activities include displays of farming and gardening, churches and weddings, folk life, Pennsylvania Dutch dialect and folklore, furniture, spinning and weaving, country cooks and candle making.
The festival also offers non-stop entertainment with country auctions, parades and bands, fiddling, live music and dancing, comedy, storytelling and historical seminars. Additionally, over 200 juried folk artists and traditional American craftsmen will be participating with both sales and demonstrations.
For the first time, the Kutztown Folk Festival will host an authentic Harvest Home celebration at the Union Church. Visitors can step back in time and witness this fascinating Pennsylvania Dutch tradition of adorning the local church with harvest decorations, fruits, and vegetables in celebration of a successful harvest and safe storage of food before winter.
There will also be a lot of attractions for children including puppet shows, make-and-take crafts sessions, real-life haystacks, story time sessions, a hay maze, sing-alongs and a variety of hands-on activities.
As always, there will be plenty of booths featuring Pennsylvania Dutch food treats and beverages, including family style feasts, shoo-fly pies, sausage sandwiches, pastries, country chicken dinners, strawberry shortcake, funnel cakes, ox roasts, sarsaparilla and chicken potpie.
The festival will open its gates each day at 10 a.m. and run until 8 p.m. Admission to the festival is $16 for adults and $6 for students (13-17) with children (12 and under) admitted free.
Downtown Oxford's "First Friday Summer Block Party" will be held on July 1 starting at 5 p.m.
The businesses of Third Street (AKA Main Street) in the tiny Chester County borough swing their doors open and set up outside, welcoming strollers and shoppers ready to support small businesses.
The promoters of the event will have a firetruck, an ambulance and a police car available for an up-close look. Guest will also have the opportunity to meet our first responders this First Friday.
Food will be available from six area vendors — 22BBQ, Burgers by Wildwich, Lions Club of Oxford, Townhall Provisions, Kona Ice, and Rita's Ice.
The "Kid's Bike Parade" will start on East Locust Street and go all the way down South Third Street. Kids are invited to bring on the bikes decorated with bows, ribbons, and glitter.
There will also be a photo booth sponsored by Forever Photo Booths US.
Lancaster has a lively First Friday celebration very month. This month's edition of First Friday Lancaster (http://www.firstfridaylancaster.com) will run from 5-9 p.m. on July 2 in downtown Lancaster.
The event will feature attractive exhibitions at art galleries, artisan studios and museums. There will also be live performances presented in a variety of genres — professional theater, symphony orchestra and performing groups.
The Rose Tree Summer Festival (Rose Tree Park, Route 252, Media, www.delcopa.gov/departments/parks) returns with a summer-long series of free outdoor shows at the scenic park just north of Media.
The schedule of upcoming shows in the next week is: July 1, Minas: Bossa Nova Beatles; July 2, James Day & The Fish Fry; July 3, Gold Dust Woman; July 6, Sensational Soul Cruisers; and July 7 Melissa Martin & The Mighty Rhythm Kings.
Chaddsford Winery (Route 1, Chdds Ford, 610-388-6221, www.chaddsford.com) will be presenting "Taste of Summer – Reserve Tastings" on select Saturdays and Sundays through August 28.
Guests are invited to participate in an intimate and educational 60-minute experience in the Barrel Room.
The Winery's trained staff will guide participants through a pre-selected tasting of five widely diverse and award-winning wines from across its portfolio. The selections will be paired alongside seasonal local cheeses and other accoutrements to enhance the tasting experience.
They will also discuss topics such as grape growing conditions at partner vineyards and the onsite winemaking process from production to aging and bottling.
Reserve Tastings are $35 per person and offered only on select Saturdays and Sundays. There will be three seatings per day at noon, 2 and 4 p.m. Advanced reservations are required and are non-refundable.
The "Pairing Line Up" features Greeting Wine: 2019 Sparkling White; 2021 Vidal Blanc with Yellow Springs Farm's Lil Chardy; 2020 Harbinger with Smoked Gouda Chip; 2021 Vignoles with Covina Dorada chili lime tortilla chips and fresh guacamole; and Sunset Blush with Gemelli Gelato's rosé infused sorbetto.
Penns Wood Winery (124 Beaver Valley Road, Chadds Ford, http://www.pennswoodsevents.com) will present "Live Music on the Lawn" every weekend in July.
The schedule for July 1 has Mark Tigue from 5-7 p.m.
The schedule for July 2 at Penns Wood Winery features Ashley Sweetman Duo from Jerry Lee Watkins from 2-5 p.m.
The schedule for July 3 feature Pete Marziano from 2-5 p.m. and the July 4 schedule has Adam McCue from 2-5 p.m.
A prime location to check out flowers in bloom is Tyler Arboretum (515 Painter Road, Media, 610-566-9134, www.tylerarboretum.org).
The arboretum's schedule for this weekend features "Saturday Evening Wildflower Walk," and "Bluebird Nesting Box Tour."
"Saturday Evening Wildflower Walk, which runs from 5-7 p.m. on July 2, features wildflower expert Dick Cloud on an informative two-hour hike that will take guests through meadows, woods, and occasionally streamside. These walks are for those who have a love of plants, their role in ecology, or for those who want to learn more.
Although the focus is on plants, Cloud will also talk about whatever else is seen on the tour. Walkers should wear comfortable hiking shoes and bring a camera and/or a wildflower guide, for this botanical-filled walk.
The "Bluebird Nesting Box Tour," which is slated for 1-2 p.m. on July 3, will have its focus on bluebirds.
For the past 50 years, volunteers at Tyler Arboretum have been monitoring the nesting activities of the Eastern Bluebird. Tour participants can join in this "Bluebird Nesting Box Tour" to share this tradition.
The staff and guests will walk the succession field and check on quite a few bluebird boxes where they expect to see bluebirds, active nests of bluebirds and other cavity-nesting birds, eggs, and young nestlings. This family-friendly program ends by providing you with a chance to catch up on the progress of our new nest box live camera program.
Admission to Tyler Arboretum is $15 for adults (ages 18-64), $13 for Seniors (65+) and $9 for children (ages 3-17) and Military with valid ID.
Morris Arboretum (100 Northwestern Avenue, Chestnut Hill, www.morrisarboretum.org) is opening a new season exhibit  – "Bloomin' Bubbles."
Every Tuesday through August, Morris Arboretum is presenting "Bloomin' Bubbles" from 11 a.m.-noon starting at the Azalea Meadow – weather permitting.
There are more than flowers in bloom this spring and summer at the Morris Arboretum. Visitoors are invited to join the arboretum staff for "Bloomin' Bubbles," when the Azalea Meadow is transformed into a magical flurry of bubbles for children to play with, play in and pop before lunch.
Guests can celebrate opening day of "Bloomin' Bubbles" with a "Fairy Parade on the Meadow."
The parade will begin at the Visitor Center and work its way down to the Azalea Meadow where, if everyone sings loud enough, they might encounter a new Arboretum phenomenon — a flurry of bubbles coming seemingly out of nowhere. This year, the Arboretum has a new bubble-machine.
Participants are encouraged to come dressed as an enchanted woodland creature to dance and play, and then join Melissa in crafting their very own magical wand. They are reminded to not forget your fairy wings, gnome hats, dragon scales, and whatever else they might need to be their most magical selves.
The Brandywine Valley has quite a few museums and tourist sites that provide residents and tourists ideal opportunities to spend leisure time — and you can maximize your effort if you take advantage of the 2022 Brandywine Treasure Trail Passport.
The cost is $49 for an individual pass and $99 for a family pass (for up to five family members).
The Brandywine Treasure Trail Passport is good for one-time admission to Wilmington and the Brandywine Valley's top attractions now through October 31.
A family pass, which includes one-day admission to each of 12 sites, can bring a savings of over $200 for the holders — especially since many of the participating institutions have regular admission fees in double figures.
The list of locations covered by the Brandywine Treasure Trail Passport includes Longwood Gardens, Delaware Museum of Nature and Science, Brandywine River Museum, Delaware Art Museum, Delaware History Museum, Hagley Museum and Library, Delaware Center for Contemporary Arts, Nemours Mansion & Gardens, Read House and Garden, Mt. Cuba Center, Rockwood Museum and Winterthur Museum, Garden & Library.
For more information, call (800) 489-6664 or visit www.visitwilmingtonde.com/bmga/.
Longwood Gardens (Route 1, Kennett Square, www.longwoodgardens.org) is inviting visitors to enjoy the beauty of late spring.
The biggest attraction at Longwood right now is the "Festival of Fountains," which is running through September 29.
With fountains that jet as high as 175 feet, gardens filled with colorful summer blooms, shade-friendly trees, exotic day- and night-blooming waterlilies, and live music outdoors, Longwood Gardens has something for everyone.
The "Festival of Fountains" began in May and all the popular attractions are going full swing – include in Longwood Gardens' Open Air Theatre, Italian Water Garden Square Fountain, Round Fountain (Flower Garden Walk), Sylvan Fountain (Peirce's Park), and Children's Corner fountains.
The season of renewal and growth has started.
As the season unfolds, flowering trees delightfully punctuate the landscape, radiant tulips stretch toward the sun, and the delicious fragrance of wisteria floats along the breeze.
Visitors can also enjoy special exhibits at the Orchid House.
Admission to Longwood Gardens is $25 for adults, $22 for seniors and college students, $18 for active military and $13 for youth.
For a fun and educational day for you and your children, consider a visit to the Brandywine River Museum (Route 1, Chadds Ford, 610-388-2700, http://www.brandywinemuseum.org).
The Museum will be open from 9:30 a.m.-4:30 p.m. with admission to the galleries including two featured exhibitions, "Gatecrashers: The Rise of the Self-Taught Artist in America" and "Dawoud Bey: Night Coming Tenderly, Black."
"Gatecrashers: The Rise of the Self-Taught Artist in America," which is running now through September 5, examines how, after World War I, artists without formal training "crashed the gates" of major museums in the United States, diversifying the art world across lines of race, ethnicity, class, ability, and gender.
Included are over 50 works by celebrated painters such as Horace Pippin, Anna Mary Robertson "Grandma" Moses and John Kane, as well as by fifteen artists who are lesser known now but were recognized in their day, including Josephine Joy, Morris Hirshfield, Lawrence Lebduska, Patrick Sullivan, and others.
"Dawoud Bey: Night Coming Tenderly, Black," which is running through August 31, is a selection of photographs from Bey's critically acclaimed series from 2017.
Regarded as one of the most important photographers working today, Dawoud Bey (b. 1953) is recognized for his compelling, large-scale portraits and street photographs of marginalized people and communities that he began in the 1970s. Inspired by artist Roy DeCarava (1919—2009), Bey has been photographing the Black community in Harlem where he was born, and Queens where he grew up, for over four decades.
Winterthur Museum, Garden & Library (5105 Kennett Pike, Wilmington, Delaware, 800-448-3883, www.winterthur.org) is featuring a Guided Exhibition Tour – "Jacqueline Kennedy and Henry Francis du Pont: From Winterthur to the White House" – now through January 8, 2023.
Visitors can explore the friendship between the First Lady and H. F. du Pont and their work to restore the White House in this guided tour of the special exhibition.
In 1961, an unusual partnership was formed when the youngest First Lady in American history, Jacqueline Kennedy, appointed a reserved octogenarian collector from Delaware, Henry Francis du Pont, to lead her project to restore the White House interiors. Du Pont brought credibility to Kennedy's efforts and vision, and her enormous popularity lifted him onto the national stage and validated his life's work.
Together, they transformed the White House from a mere public residence into a museum, and along the way, they engaged with some of the most celebrated interior designers of the 20th century.
For the first time, the story of this historic partnership will be told at Winterthur, the inspiration for Mrs. Kennedy's project. Through artifacts, archives, and images, this exhibition will invite visitors to experience the behind-the-scenes collaboration between the two during this captivating period in American history.
Their partnership culminated in a televised tour of the White House, led by Jacqueline Kennedy, which became the most watched program in American history. The former First Lady will forever be remembered as the person who restored history and beauty to the White House.
Their "restoration" of America's most famous house became a history lesson for the country and awakened an interest in preservation and interior design that is still felt today.
A related event will be "Terrific Tuesdays" – a special activity that is running every Tuesday through the end of August.
Visitors are invited to drop in for crafts, games, and demonstrations inspired by Jacqueline Kennedy's White House restoration in the 1960s. Activities will introduce design, history, art, cultural conservation, and architectural preservation to kids ages 3–10 and the adults they bring with them.
The schedule for "Terrific Tuesdays" is: July 5, State Dining Room: Historical Hosting; July 12, Green Room: Wooden Wonders; July 19, China Room: Dynamic Ceramics; July 26, Rose Garden: Flower Power; August 2, Children's Rooms: Pets and Play; August 9, Red Room: Fantastic Fabrics; August 16, Blue Room: Contrasting Compositions; August 23, East Room: Entertainment Extravaganza; and August 30, Diplomatic Reception Room: Parley and Printmaking.
Admission to Winterthur is $22 for adults, $20 for seniors and students and $8 for children.
The Delaware Art Museum (2301 Kentmere Parkway, Wilmington, Delaware, www.delart.org) has a new exhibit that will open on June 25 and run through September 11 – "Stan Smokler: Steel in Flux."
The Delaware Art Museum celebrates the career of Stan Smokler with this Distinguished Artist exhibition. His celebrated found object, steel sculptures continue the trajectory of modernist abstraction.
Smokler completed his Master of Fine Arts degree at Pratt Institute in 1975, and he continued to work in New York on his own sculpture as well as in art conservation and interior design before relocating to the Brandywine Valley in 1999. Smokler taught at the Delaware College of Art and Design from 1998 until his retirement in 2016, served on the Board of the Delaware Contemporary, and participated in Delaware Division of the Arts' Artist in Residence program from 1996–1999.
In addition to participating in numerous solo and group exhibitions throughout the Mid-Atlantic and Northeast United States, Smokler established his Marshall Bridge Workshop in 2004. The Workshop is an immersive training opportunity for artists of all levels interested in working with welded steel, and Smokler has been praised for his supportive approach to teaching.
"Stan Smokler: Steel in Flux" includes work from the late 1970s through 2020 along with several of the artist's charcoal and pastel drawings of his completed sculptures. Examples of Smokler's largescale work will be on view in the Museum's Copeland Sculpture Garden with an extended showing through October 30, 2022.
The Distinguished Artist Series is a celebration of those artists who have impacted contemporary art in the greater Brandywine Valley through their artistic practices, teaching, and support of the community and its various institutions. Through unique exhibitions, this series surveys artists' legacies as they relate to local, national, and international trends. With his commitment to exploring the possibilities of steel and mentoring students through his numerous Marshall Bridge workshops and years at the Delaware College of Art and Design, Smokler has guided the trajectory of contemporary abstract sculpture.
Admission to the Delaware Art Museum is $14 for adults, $7 for students, and $6 for youth (ages 7-18).
The Historic Odessa Foundation (Main Street, Odessa, Delaware, www.historicodessa.org)  is now presenting its newest exhibition of acrylic paintings — "Color Secrets: Paintings by Jan Crooker."
The exhibit of colorful acrylics by the talented Kutztown artist is on display now through August 28 in the Historic Odessa Visitor Center Gallery.
For Crooker, who is well-known for her vibrant images of still life, flowers and local scenes and landscapes, color has always been a focus of her artistic expression.
According to Crooker, "I think my love of color harkens back to my early exposure to art at the children's classes at the Toledo Museum of Art in Ohio. While some kids had favorite stars or athletes, I had favorite artists. My first favorite artist was Vincent Van Gogh."
Crooker researched the master colorist's use of color and read his thoughts on the subject. Although she admires other colorist artists, Van Gogh has been the greatest influence on her color use.
Crooker earned a bachelor's degree in art education from Toledo University, and a Master of Fine Arts from Penn State University.
Laurel Hill Cemetery (3822 Ridge Avenue, Philadelphia, 215-228-8200, www.thelaurelhillcemetery.org) will present "Battle of Gettysburg Walking Tour" on July 2.
The themed tour on Saturday will run from 10 a.m.-noon at Laurel Hill Cemetery with Russ Dodge as the Tour Guide.
The most bloody and pivotal moment in the history of the American Civil War was the decisive Battle of Gettysburg, fought from July 1-3, 1863 — and only 120 miles away from the home front of Philadelphia.
Many prominent Philadelphians were engaged at Gettysburg with some losing their lives for the nation. The Union commander at the battle, General Meade, Division Commander General Crawford, many officers, and enlisted men who participated now rest at Laurel Hill. The tour will highlight them and others who played important roles in the battle and who likewise lie under Laurel Hill's perpetual care.
Tickets, which must be purchased in advance, are: $15/General Admission, $13/Seniors (65 & up) and Students with ID, $7.50/Youth (6-12), and $0/Child (5 & Under). Youth and children must be accompanied by an adult.
Grim Philly's "Dark Philly History Tour" (www.grimphilly.com) will be held every evening throughout the summer.
Participants can walk with tour guides from the grounds of America's first White House, Congress, and Liberty Bell to homes and sites of Hamilton, Washington, Franklin, Adams, Jefferson, Madison, Monroe, and more than 10 other Founding-Fathers. The surprising dirt of espionage, murder, sexual license and blackmail highlight the secrets of 1776 with a ghost story or two along the way. This tour is highly researched. And your guide is a historian.
Grim Philly will also be presenting "Serial Killers & Cemetery Tour" every Saturday at 2 p.m.
Participants will have the opportunity to experience unconventional sightseeing off the beaten path. They can enjoy Betsy Ross House, Christ Church, Elfreth's Alley, and Benjamin Franklin's Grave, together with tales of serial slayings and psychopathic killers like the Corpse Collector, Frankfort Slasher, and H.H. Holmes.
Ghost Tour of Philadelphia (215-413-1997, www.ghosttour.com), Ghost Tour of Lancaster (717-687-6687, www.ghosttour.com) and Ghost Tour of Strasburg (717-687-6687, www.ghosttour.com) operate throughout the winter and offer an eerily entertaining evening of true ghost stories and real haunted houses.
The Ghost Tour of Philadelphia, which is based on the book, "Ghost Stories of Philadelphia, PA.," is a candlelight walking tour along the back streets and secret gardens of Independence Park, Society Hill, and Old City, where ghostly spirits, haunted houses, and eerie graveyards abound.
Participants can discover the ghost lore of America's most historic and most haunted city with stories from the founding of William Penn's colony to present-day hauntings.
The activity is open year-round – weekends, December-February; every night, March-November. Tickets are $24.
The Ghost Tour of Lancaster and the Ghost Tour of Strasburg are based on the book, "Ghost Stories of Lancaster, PA."
Participants in the Ghost Tour of Lancaster explore the long-forgotten mysteries of one of America's oldest cities, with haunting tales of otherworldly vigils, fatal curses, and star-crossed lovers. The tour provides the opportunity to experience 300 years of haunted history from the Red Rose City's thorny past. Tickets are $18.
The Ghost Tour of Strasburg is a candlelight walking tour of the quaint and historic town of Strasburg in the heart of Pennsylvania Dutch Country. Visitors will experience an entertaining evening with a costumed tour guide spinning tales of haunted mansions, eerie graveyards, and spirits that roam the night … in a town lost in time. Tickets are $18.
As part of Historic Philadelphia's anniversary celebration at Franklin Square (200 Sixth Street, Philadelphia, www.historicphiladelphia.org), the organization is illuminating the park with its annual Chinese Lantern Festival.
Now through August 7, Franklin Square (http://historicphiladelphia.org/chineselanternfestival/) will come alive every night with its Chinese Lantern Festival featuring more than two dozen illuminated lanterns – all constructed by lantern artisans from China.
Chinese-inspired performances will take place in Franklin Square twice nightly. Performances, which celebrate Chinese performance art and entertainment, are 30-minutes long and are scheduled for 7 and 9 p.m.
Festival hours are 6-10 p.m. Sunday through Thursday and 6-11 p.m. on Friday and Saturday. Admission is $20 for adults, $18 for youth, seniors and military, and $12 for children (ages 3-12).
Several tourist rail lines offering special excursions this weekend.
The West Chester Railroad (610-430-2233, www.westchesterrr.net) is running its "Summer Picnic Specials" every Sunday now through Sept 18. There will be one excursion each day at noon.
Passengers can enjoy a 90-minute round trip train ride from West Chester to Glen Mills and return on a warm summer afternoon. Riders are invited to pack a lunch to have during excursion's stop at the Glen Mills train station picnic grove.
Tickets are $17 for adults, $15 for children (2-12) and free for children (under two).
The Colebrookdale Railroad (South Washington Street, Boyertown, www.colebrookdalerailroad.com) is running its "Secret Valley Expedition" on July 2 at 6 p.m. and July 3 at 1 p.m.
The tourist rail line's two-hour expedition into the Secret Valley features rides on meticulously restored century-old rail cars and visits one of the most scenic and historic regions in the northeast.
The railroad will be offering meals aboard the Secret Valley Expedition to all dining class passengers.
First Class Parlor and Lounge Car fares include one complementary beverage served in a commemorative glass, an hors d'oeuvre plate that includes a fine selection of cheeses, meats, cranberries, and mixed nuts, and a cheesecake dessert as part of the ticket price.
Additionally, and a la carte menu is available in all cars and all passengers have access to our open car for near 360-degree views of the Secret Valley.
The tourist rail line is also running "July 4th Fireworks Express" at 7 p.m. on July 4.
The New Hope Railroad (32 Bridge Street, New Hope, 215-862-2332, www.newhoperailroad.com) is running its "Grapevine Express," which features "Wine & Cheese Tasting" on from July 1 through July 4 at 5 p.m. each night.
Riders are invited to take part in a romantic "Wine and Cheese Excursion" and enjoy fine gourmet cheese, artisan crackers, meats, fruit, and our featured local wines. Additional Alcoholic and Non-Alcoholic beverages are also available onboard.
Wine and cheese will be served to passengers as they travel along the same railroad line passengers did when it was built in 1891 connecting New Hope with Philadelphia. The journey travels through the beautiful hills and valleys of Bucks County, along once vital waterways and streams and across numerous trestle bridges.
The excursions will take place aboard one of the railroads lavishly appointed early 1900's first-class parlor cars.
Tickets are $102.58 (Ages 21 and older only).
This weekend, the Strasburg Railroad (Route 741, Strasburg, 717-687-7522, www.strasburgrailroad.com) is running its "Wine & Cheese Train" on July 1 and 2 a 7 p.m. each night.
Passengers can enjoy the luxurious, climate-controlled first-class accommodations and a tasting of select wine, cheese, and crackers as they travel in style down the tracks from Strasburg to Paradise and back. The train departs at 7 p.m. and the total trip time is 45 minutes.
"Wine & Cheese Train" boarding is 30 minutes before the scheduled departure. Riders must be 21 or older and have their photo ID ready when they board.
Featured wines are carefully selected from Waltz Vineyards, and cheeses are paired accordingly. Beer and select non-alcoholic beverages are also available for purchase upon request. Riders can purchase a souvenir wine glass on board the train if desired. Glasses are $7 each.
In accordance with Pennsylvania law, alcohol is only served during the train ride. The rail line is not permitted to serve alcoholic beverages while the train is berthed in the station.
This popular train is available on select Friday and Saturday evenings throughout the season. Tickets are $50.
Wonderspaces at the Fashion District (27 North 11th Street, Philadelphia, philadelphia.wonderspaces.com) is an experiential, interactive arts venue.
Building on the success of annual pop-up shows in San Diego, and its first permanent location in Scottsdale, Arizona, Wonderspaces opened a 24,000 square foot gallery space in Philly a year ago.
Wonderspaces features 14 art installations that all play with the idea of perspective.  The artwork ranges from award-winning virtual reality short film about a dinner party-turned-alien abduction, to a room where visitors digitally paint the walls with the movement of their bodies.
New artworks rotate in every few months, creating an ever-evolving, year-round show.
Tickets are for entry at a specific date and time. Visitors are welcome to stay as long as they please during operating hours. The average time spent experiencing the show is 90 minutes.
A few installations contain flashing lights, images, and patterns that may trigger seizures for people with photosensitive epilepsy. All visitors must sign a waiver prior to being admitted into the space. Adult supervision is required for visitors under 16.