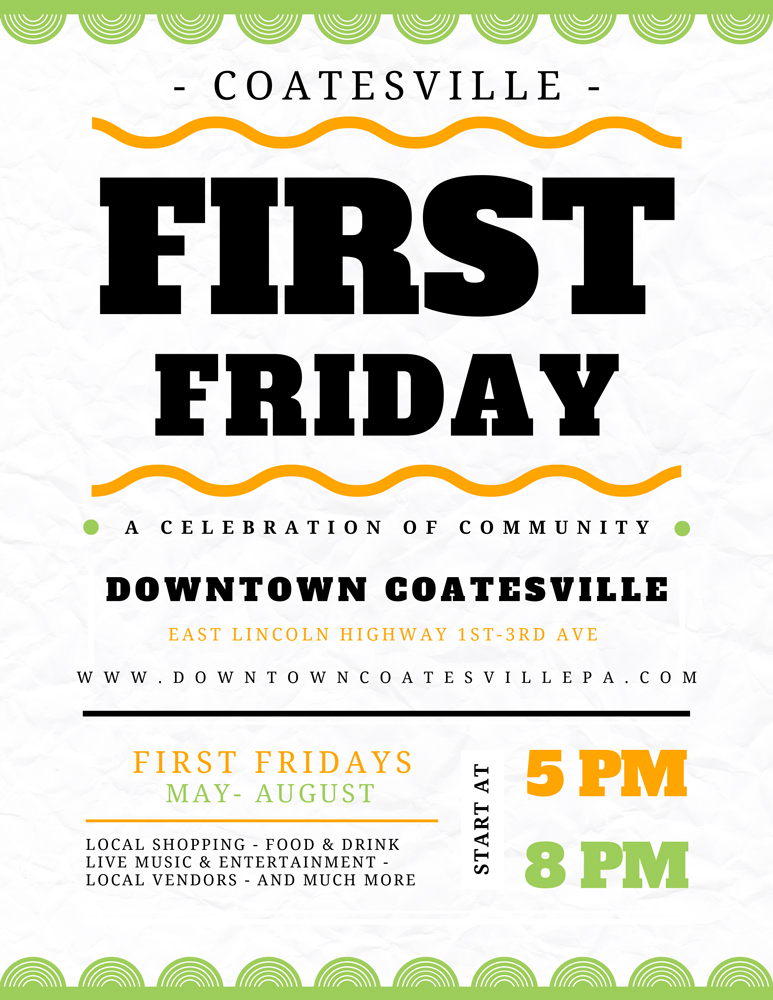 This week, the Coatesville 2nd Century Alliance announced a new event: First Fridays in Downtown Coatesville.
Beginning in May this year and running through August, the monthly special event will be a celebration of Downtown Coatesville's shops, restaurants, and rich cultural heritage.
From 5:00 to 8:00pm on the First Friday of each month, downtown businesses will host special events, offer refreshments and promotions, and sponsor live entertainment.
First Fridays began in the late 1980's and spread across the country as downtown commercial districts worked to revitalize.  They are a localized celebration of a community's culture and are designed to draw patrons into the downtown retail district.  The monthly event has met with success in many downtowns across Pennsylvania.
"We are so excited to be able to coordinate these monthly events as a way to showcase not only the new businesses that are opening in downtown, but introduce our neighbors to the businesses that have been here for years." says Amber Little-Turner, Downtown Manager for the Coatesville 2nd Century Alliance.  "Downtown Coatesville is experiencing a renaissance and these monthly events will help us share the great changes with the community."
Three new restaurants have opened in the last few months and two more are slated to open this year.  Record Kitchen + Bar is located at 206 East Lincoln Highway, Iron Eagle is at 143 East Lincoln Highway, and Richie's Water Ice is at 332 East Lincoln Highway. "It's important that we promote our new businesses opening downtown, but it's equally important to celebrate the ones that have been here for years, such as Deysi's Pizza, JamRock Jamaican, and Tortuguida Mexican," says Little-Turner.
In addition to the restaurants, downtown Coatesville's small business incubator and Midway Arts are host to more than 40 small retail and service businesses.
Downtown Coatesville is indeed experiencing an economic resurgence and First Fridays are a natural way to showcase what's new in the City's commercial corridor.
The 2nd Century Alliance was founded in 2015 when the City celebrated 100 years of incorporation, to ensure Coatesville's "second century" is economically prosperous. A public/private partnership funded in part by the Chester County Commissioners and private sector contributions, the organization's mission is to drive economic development in the City of Coatesville that enables the community to thrive.
For more information on visit DowntownCoatesvillePA.com.