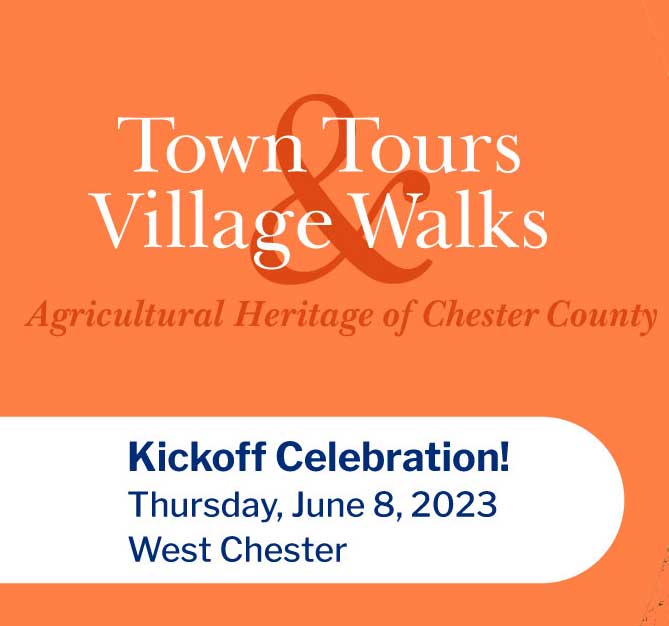 Chester County Commissioners Marian Moskowitz, Josh Maxwell and Michelle Kichline are pleased to announce the 2023 Town Tours & Village Walks program "Our Agricultural Heritage," kicking-off at the West Chester United Methodist Church on Thursday, June 8.
This highly anticipated program, now in its 29th year, offers residents and visitors the opportunity to explore Chester County's rich history, architecture, and cultural heritage through a series of informative lectures and strolls on Thursday evenings, from June 8 to August 17, 2023.
The June 8 kick-off event will showcase the remnants of West Chester's Quaker farms, as well as some of the agri-businesses that followed – including ESCO, United Dairy, Yearsley's, and the Fruit Growers. Doors for this first event will open at 5:00 p.m. for registration, with the program beginning at 5:30 p.m. and tours beginning immediately afterwards.
Additional tours for the 2023 season include:
June 15 – Westtown School, Westtown Township
June 22 – Thornbury Farm, Thornbury Township
June 29 – Paoli Battlefield, Malvern Borough
July 13 – Kennett Square's Agricultural Past: It's Not All About Mushrooms!
July 20 – Spackman-Davis Farm, Caln Township
July 27 – Grove United Methodist Church, West Whiteland Township
August 3 – Upper Uwchlan Township (advanced registration required)
August 10 – Yeager's Farm & Market, East Pikeland Township
August 17 – Historic Yellow Springs, West Pikeland Township
All Chester County Town Tours & Village Walks events are free to attend and begin at 5:30 p.m.  Each tour lasts approximately 50 minutes, with the last tour leaving at 7:00 p.m. – except for the August 17 tour of Historic Yellow Springs which begins at 6:00 p.m. (doors open at 5:00 p.m.). The August 3 tour in Upper Uwchlan Township is the only tour that requires pre-registration.
The Town Tours & Village Walks program is made possible through a partnership between the Chester County Board of Commissioners, the Chester County Planning Commission, the Chester County History Center, the Chester County Historic Preservation Network, Chester County Tourism, and many dedicated volunteers.
For full details on the 2023 Town Tours & Village Walks program, visit www.chesco.org/towntours.