By Denny Dyroff, Entertainment Editor, The Times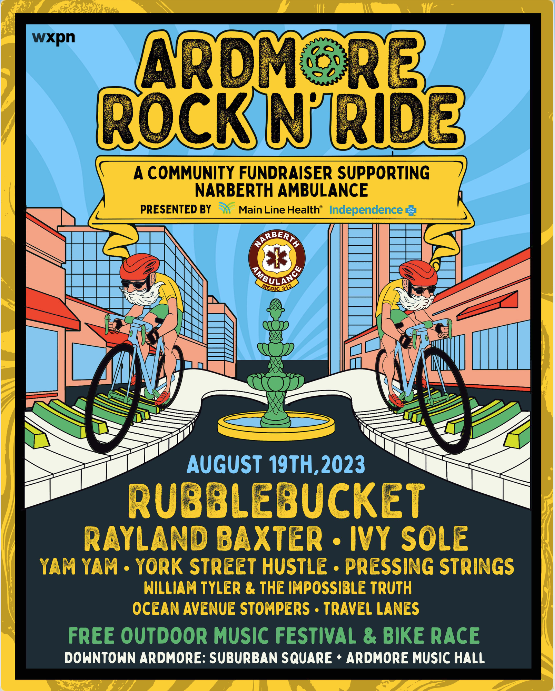 On August 19, Narberth Ambulance, Rising Sun Presents and Suburban Square are teaming up to present the Third Annual "Ardmore Rock N' Ride" — an all-day music festival and competitive bike race in downtown Ardmore, presented by Main Line Health and Independence Blue Cross. The free community fundraiser combines an official US Cycling bike race with two outdoor stages of music.
As in previous years, 100 percent of net proceeds raised by the event will benefit Narberth Ambulance. Rising Sun Presents, the production and promoter team behind Ardmore Music Hall and regional outdoor events including Manayunk's Sing Us Home festival, King of Prussia's Concerts Under the Stars and Wayne Music Festival, will curate and produce two stages of live music from 1-9 p.m.
Indie-dance pop band Rubblebucket will be the event's headline act at the Suburban Square stage. Other acts on that stage will be fiery Americana/alternative bandleader Rayland Baxter and up-and-coming Philly rapper Ivy Sole. The acts at the Schauffele Plaza will be jammers and funksters Yam Yam, York Street Hustle and a host of other exciting acts.
Rubblebucket is a band that was formed in 2007 by Alex Toth (trumpet, band leader) and Kalmia Traver (vocals, saxophone) who first met at the University of Vermont where they were both enrolled as music majors.
Upon graduating in 2006, they began touring the United States as members of different projects. The band began performing primarily in the Northeast, in major cities and college towns, earning a reputation for their raucous energy.
Toth had been developing a dance band that merges psychedelic indie rock, upbeat dance, and left field arrangements. In June 2007, the pair met percussionist Craig Myers; the improvised music they made at a party was arranged and elaborated on to become the first contribution to the band's repertoire.
In March 2008, Rubblebucket self-released their debut album, "Rose's Dream," under the name Rubblebucket Orchestra and began to tour full-time. They were chosen by Spin magazine as a "Must-hear artist from the 2009 CMJs." In October 2008, they released their self-titled second studio album, and officially changed their name to Rubblebucket. In December, they won a Boston Music Award for Live Act of the Year.
Late last year, they released their sixth album, "Earth Worship." The previous LP release was "Sun Machine" in 2018. They also have released five EPs over the last decade-and-a-half.
"Next year is going to be our 15th year," said Traver, during a phone interview from her apartment in Brooklyn. "I can't believe we've become an institution.
"It was a little less than five years between 'Sun Machine' and 'Earth Worship.' At the beginning of the pandemic, we were at the tail end of the 'Sun Machine' tour cycle – make an album, tour ourselves into the ground and hit a wall.
"We both had side projects. I had Kalbells in 2020 and Alex had Tōth. Still, we knew we wanted to make another Rubblebucket record.
"We started recording 'Earth Worship' at the beginning of 2021. Then, we took a huge break. We wanted to figure out a better plan. We wanted to write love songs to earth."
Traver and Toth were bandmates and a couple in a relationship for many years but that changed in 2017.
According to Toth, "Kal and I were together for a long time and then we broke up. It was a lot for us to try to keep the band and the relationship going at the same time. It was consciously uncoupling."
The two highly creative musicians share a special bond.
"Alex and I met when we were at the University of Vermont," said Traver. "We played together in John Brown's Body for two-and-a-half years. Then, we moved to Boston. After that, we moved to Brooklyn."
Back in 2013, Traver underwent surgery to remove what doctors expected to be a benign ovarian cyst. Instead, they discovered that Traver was in the early stages of ovarian cancer. Two surgeries and nine weeks of chemotherapy treatments later, Traver and her Rubblebucket band mates were back on the road — within a week, in fact, of her final treatment.
"My cancer had an effect on Alex too," said Traver. "The shock wave hit my people.
"Alex and I were life partners but now are just musical partners. We learned how to evolve pretty well. We're on a journey. That's for sure. I think the universe has a plan for us.
"For me, I took cancer as a message to smooth out my energy channels — inside and outside. I found out the need for true healing. It was terrifying and scary. That's where it was at for us at the time. Music is always cathartic. Music in general is my number one therapy."
Whatever path Traver decided to take, it worked.
"This year – 2023 – is my 10th anniversary of being cancer-free," said Traver. "They say that if you pass 10 years, you're cured."
Sustainability is a part of their lives. Toth communes with nature as part of his morning routine, and Traver is adept at foraging in the band's adopted home of New York City. Traver was interested in writing love songs for and from the natural world, and both were inspired by their parents' work in ecology and community facilitation, from which they saw a throughline to music's communal healing.
Traver suggested "earth worship" as a lyrical prompt for their sixth record, and with this concept at its core, the duo began writing an album titled after that very theme.
"We went through personal stuff and took an eight-month break," said Traver. "Then, we took part in "song-a-day" workshops.
"Alex wanted to focus on a genre. He decided that genre should be disco.
"We've always had disco influences – that's for sure – high energy 'burnin' down the house music. Even early in our career, we were influenced by Afrobeat. The groove is where we come together.
"We had been participating in a lot of Black Lives Matter events. Some of the parties were so incredible. We wanted to pay homage to dance music."
Rubblebucket recorded a significant portion of "Earth Worship" at their homes, tracking Juno 60, Yamaha DX7, flugelhorn, trumpet and saxophones—all atop an electric bass and percussion-heavy production template Toth devised to evoke his vision of disco.
In March 2021, the group moved to the Catskills' Spillway Sound alongside their live band: bassist Ryan Dugre, trumpeter and keyboardist Sean Smith, and drummer Jeremy Gustin, who incorporated chopsticks into his playing to produce otherworldly beats.
"We used a new studio for this record," said Traver. "We worked with Eli Crews. He's so amazing – and so much fun to work with.
"We love working at home. We've always worked at home. Alex and I have come so far as producers, so it was good to work with other people.
"We recorded drums, bass, guitar and some horns in the studio with ProTools and then finished them at home. Then, we sent the tracks to Claudius Mittendorfer for him to do the mixing. It's been an awesome journey."
Rubblebucket fans can join in on that journey at Saturday's show.
"With our set list, we want to play a lot of the new music," said Traver. "We also want to play a lot of the older songs that fans want to hear. We have a 75-minute set, so we'll be able to do a lot."
Video link for Rubblebucket — https://youtu.be/9d8rvk8ON1g
The bike race is scheduled to begin Saturday morning at 10 a.m. This year's course will ride through Suburban Square with the US Cycling sanctioned racecourse traveling down the center of the shopping district strip. An indoor disco-themed after party at Ardmore Music Hall presented by Philly dance party mainstays, Riot Nerd, will follow the event.
Jamey's House of Music (32 South Lansdowne Avenue, Lansdowne, 215-477-9985, www.jameyshouseofmusic.com) continues its tradition of presenting top quality blues music this weekend.
Area music fans know that Jamey's House of Music is a primo spot to hear folk, jazz and blues music every Thursday through Sunday.
On August 17, Jamey's will host award-winning vocalist, instrumentalist and songwriter Curtis Salgado, the man NPR calls "an icon with a huge voice."
Salgado's latest Alligator Records release, "Damage Control," which was released mid-2020, is being hailed as the best of his long career. Produced by Salgado, "Damage Control" is packed with soul-searching, street-smart, vividly detailed, instantly memorable songs.
"I started making the album several years ago and finished in February 2020," said Salgado, during a phone interview. "It should have come out in 2020. Then, COVID-19 crawled onto the shores of Everett."
Everett, which is Salgado's hometown, is the county seat of and the largest city in Snohomish County, Washington.
On January 19, 2020, a man who had returned home to Snohomish County after traveling to Wuhan, checked into an urgent care clinic after seeing reports about the outbreak. The Centers for Disease Control announced on January 21 that the man had tested positive for COVID-19.
With "Damage Control," Salgado has created what he calls "a rock 'n' roll record with lyrics that hit." The album was produced by Salgado and recorded in studios in Tennessee and California with three different groups of world-class, road-tested blues and roots musicians. The LP has 13 songs — 12 originals and a raucous cover of Larry Williams' "Slow Down" (famously covered by The Beatles).
"I used three different studios with four songs each except for five in Nashville," said Salgado. "I also did some work with Wayne Toups in New Orleans. All the vocals were done in L.A. and the horns were done in Portland (Oregon).
"When I write songs, I first get bones – the chord changes – and then it's the sidemen. I have an idea. Then, I give these guys the bone and they put in the meat and the muscle.
"We made a great album. The songs were all written by me – some with friends. My strength is that I know how to put together what I have in my head.
"I'm always writing. I now have 16 finished songs – enough for a new record. Maybe I'll write a few more. I'm a blues soul singer – singer/songwriter, R&B, rock, soul, blues, gospel."
With a career spanning 40 years, Salgado is a one-of-a-kind talent whose music is as compelling as his story.
From co-fronting The Robert Cray Band to leading his own band (and recording nine solo albums) to helping transform John Belushi into "Joliet" Jake Blues to touring the country with Steve Miller and Santana, he is a true musical giant. NPR calls him "a blues icon" with a "huge voice."
Salgado earned a reputation for high-intensity performances and a repertoire inspired by his encyclopedic knowledge of soul, blues and R&B music. He won the 2010 Blues Music Award (BMA) for Soul Blues Artist of the Year and went on to win the award again in 2012 and 2013. In 2013 he also won the coveted BMA for B.B. King Entertainer of The Year and also won Soul Blues Album of the Year for his Alligator debut, Soul Shot."
Just like the old blues and R&B artists that provide inspiration for Salgado, the hard-working musician spends a lot of time on tour.
"With the road, nowadays we're a rolling record store," said Salgado. "There are no record shops anymore — except for a few little mom-and-pop shops.  I'm signed with Alligator Records and that helps a lot to get my music out there.
"I'm 69 now and I've been doing this my whole life. It's funny. When you're on the road, you want to get off the road. Then, when you get off the road, you want to go out again. It's a hard job but it's a job I love to do."
Music has been a big part of Salgado's life ever since he was really young.
"I was really blessed with a mother, father, older brother and sister who were all into music," said Salgado. "My mom and pop were into jazz music. My mother could play a pretty wicked stride piano.
"The music they were listening to — Count Basie, Fats Waller, Earl 'Fatha' Hines, Ray Charles, Fletcher Henderson, Joe Williams — was stuff that really caught my auditory nerve. I was so immersed into it. I was doing sixth-grade book reports on the history of jazz, and I'd bring 78s into play along with them.
"In kindergarten, it was also pinned to my chest that I could sing. I took to singing like a duck to water. Then, I discovered Little Walter and that completely blew me away. His music was what inspired me to learn to play harmonica."
Salgado must have some feline characteristics in his DNA – at least the "nine lives" part.
Salgado has always lived life to the fullest, but he's also faced adversity and had to overcome multiple health challenges. He battled back from liver cancer in 2006 and lung cancer in 2008 and 2012. In March 2017 he underwent quadruple bypass surgery.
"I've had cancer four times," said Salgado. "It's a non-aggressive cancer that can't be killed. It went from my liver to my lung. It seems to come back every five years. I've also had Hepatitis C, a heart attack and bypass surgery because the major arteries were gone."
Like the Energizer Bunny, Salgado just keeps going and going. From a cat standpoint, he still has three or four lives still in the bank.
"It's all about survival," said Salgado. "And I'm a survivor."
Fittingly, one of his recent videos is for a song titled "The Longer That I Live" with the recurring line, "The longer that I live, the older I want to get."
Video link for Curtis Salgado — https://youtu.be/ikRzUBWoUIY.
On August 18, Jamey's will host a concert by Montgomery Blues.
Montgomery Blues is a female-fronted band of skilled and experienced players dedicated to providing the ultimate crowd-pleasing blues listening experience. They blend standards with newer artists to keep it lively.
This is contemporary electric blues at a top level. A Montgomery Blues show will take you to Texas, Florida, Kansas City and Chicago with a stopover in the Mississippi Delta and a side trip to Seattle.
The show on August 18 will start at 8 p.m.
Tickets are $20 in advance and $25 at the door.
On August 18, the stage at Jamey's will belong to the Skyla Burrell Blues Band.
Burrell was born in Los Angeles and raised in Orange County, California. She formed her first band at the age of 13 and has been a working musician ever since.
Burrell played with several bands as a teenager and young adult, working her way up and down Southern California.
She relocated to the East Coast in her early 20's where she continued learning and growing from her musical experiences and eventually co-forming the Skyla Burrell Band. In addition to her singing, writing and guitar duties, Burrell also plays the piano.
The show on August 19 will start at 8 p.m.
Tickets are $25 in advance and $0 at the door.
The "Sunday Blues Brunch & Jam" is scheduled for every Sunday from noon-3 p.m. with the host band's set from noon-1 p.m. followed by an open mic from 1-3 p.m.
The first, third, fourth and fifth Sunday sessions are hosted by the Philly Blues Kings while the hosts for second Sunday sessions are the Girke-Davis Project.
Disney Theatrical Productions, along with the Kimmel Cultural Campus and The Shubert Organization, celebrates the eagerly awaited return engagement of Disney's "The Lion King" for a four-week summer engagement at the Academy of Music on the Kimmel Cultural Campus.
The musical, which features music by Elton John and lyrics by Tim Rice, opened on August 16 and is running now through September 10 at the Academy of Music (Broad and Locust streets, Philadelphia, 215-731-3333, www.kimmelculturalcampus.org), as part of the Kimmel Center's "Broadway Series."
"The Lion King" is a stage musical with a book by Roger Allers and Irene Mecchi, with additional music and lyrics by Lebo M, Mark Mancina, Jay Rifkin, Julie Taymor, and Hans Zimmer. It is based on the 1994 Walt Disney Animation Studios' film of the same name. Directed by Taymor, the musical features actors in animal costumes as well as giant, hollow puppets. The show is produced by Disney Theatrical Productions.
After 25 landmark years on Broadway, "The Lion King" continues its ascent as one of the most popular stage musicals in the world. Since its premiere on November 13, 1997, 27 global productions have been seen by more than 112 million people. Produced by Disney Theatrical Productions (under the direction of Thomas Schumacher), "The Lion King" has made theatrical history with six productions worldwide running 15 or more years, with four of those running 20 or more years.
The show, which is set in the jungle somewhere in Africa, tells the story of the lion Simba from his days as a newborn cub through his adult years and is filled with sub-plots and unexpected twists. The hyenas – Shenzi, Banzai and Ed – provide a bit of comic relief.
With "The Lion King", the animated feature came first and then the Broadway show. The stage production is very similar to the movie. The story and the characters are exactly the same and so is a lot of the dialogue.  The stage version "The Lion King" is known for its elaborate costumes — outfits that transform human actors into jungle animals. It also wins over audiences with its lively, exotic music.
"The Lion King" won six 1998 Tony Awards — Best Musical, Best Scenic Design, Best Costume Design, Best Lighting Design, Best Choreography and Best Direction of a Musical.  It has also earned more than 70 major arts awards including the 1998 NY Drama Critics Circle Award for Best Musical and the 1999 Grammy for Best Musical Show Album.
One of the key players in the touring show is Gugwana Dlamini, who performs the role of Rafiki, a Sangoma.
Philadelphians can look forward to seeing two local cast members appearing on Pride Rock — Nick LaMedica, who plays the role of Zazu, is a native of Newark, Delaware. Ensemble member Eric Bean, Jr. is a graduate of Philadelphia's University of the Arts.
The production features Peter Hargrave as "Scar," Gerald Ramsey as "Mufasa," Nick Cordileone as "Timon," Nick LaMedica as "Zazu," John E. Brady as "Pumbaa," Darian Sanders as "Simba," Forest VanDyke as "Banzai," Martina Sykes as "Shenzi" and Robbie Swift as "Ed."
Khalifa White will play "Nala" from August 16 – 20 and Syndee Winters will play the role from August 22 – September 10.
The role of "Young Simba" is alternated between Jackson Hayes and Mason Lawson and the role of "Young Nala" is alternated between Jaxyn Damasco and Aniya Simone.
Video link for "The Lion King" — https://youtu.be/awqwdi1xakU.
Tickets for "The Lion King" range in price from $29-$189.
"The Sound of Music" features many great songs and this month you can hear them performed in a live setting.
On Fridays, Saturdays and Sundays now through August 27, the Candlelight Dinner Theater (2208 Millers Road, Arden, Delaware, 302- 475-2313, www.candlelighttheatredelaware.org) will be presenting its latest offering of the 2022-2023 season  – "The Sound of Music."
When it comes to sheer volume of songs that have lodged in everyone's subconscious, no show can come close to "The Sound of Music."
Is there anyone out there who doesn't recognize at least one of these songs — "The Sound of Music," "Maria," "My Favorite Things," "Do-Re-Mi," "Sixteen Going on Seventeen," "Climb Ev'ry Mountain," "Edelweiss," and "So Long, Farewell"?
The Candlelight Dinner Theater's production of "The Sound of Music" runs through the last Sunday of the month. The show stars Sophie Jones as Maria Rainer and Paul McElwee as Captain Georg von Trapp.
"The Sound of Music" is a musical with music by Richard Rodgers, lyrics by Oscar Hammerstein II, and a book by Howard Lindsay and Russel Crouse. It is based on the 1949 memoir of Maria von Trapp, "The Story of the Trapp Family Singers."
Set in Austria on the eve of the Anschluss in 1938, the musical tells the story of Maria, who takes a job as governess to a large family while she decides whether to become a nun. She falls in love with the children, and eventually their widowed father, Captain von Trapp.
He is ordered to accept a commission in the German navy, but he opposes the Nazis. He and Maria decide on a plan to flee Austria with the children.
The original Broadway production, starring Mary Martin and Theodore Bikel, opened in 1959 and won five Tony Awards, including Best Musical. The first London production opened at the Palace Theatre in 1961. The show has enjoyed numerous productions and revivals since then. It was adapted as a 1965 film musical starring Julie Andrews and Christopher Plummer, which won five Academy Awards, including Best Picture.
Performances of "The Sound of Music" are scheduled for Friday and Saturday evenings (doors 6 p.m./show, 8 p.m.) and Sunday afternoons (doors, 1 p.m./show, 3 p.m.). Tickets, which include dinner and the show, are $69 for adults and $33 for children (ages 4-12).
This month, the theater is also hosting "Candlelight Quizzo" on August 21 at 6:30 p.m. and "Candlelight Comedy Club" on August 17 at 7:30 p.m. featuring Sheba Mason with Allan Fuks and Joe Murdock.
Now through July 13, Malvern-based theatre People's Light (39 Conestoga Road, Malvern, www.peopleslight.org) is presenting the regional premiere of "Lettie," which was written by Boo Killebrew.
Parx Casino (2999 Street Road, Bensalem, https://parxcasino.com) is on a winniong streak this month with stellar shows at the Xcite Center at Parx Casino.
After last week's pair of shows featuring Dave Koz and Marlon Wayons, the venue is presenting En Vogue on August 19 and Wayne Newton on August 26.
Kennett Flash (102 Sycamore Alley, Kennett Square, 484-732-8295, http://www.kennettflash.org) is hosting Total Mass Refrain, a Yes tribute band, on August 19.