By Denny Dyroff, Entertainment Editor, The Times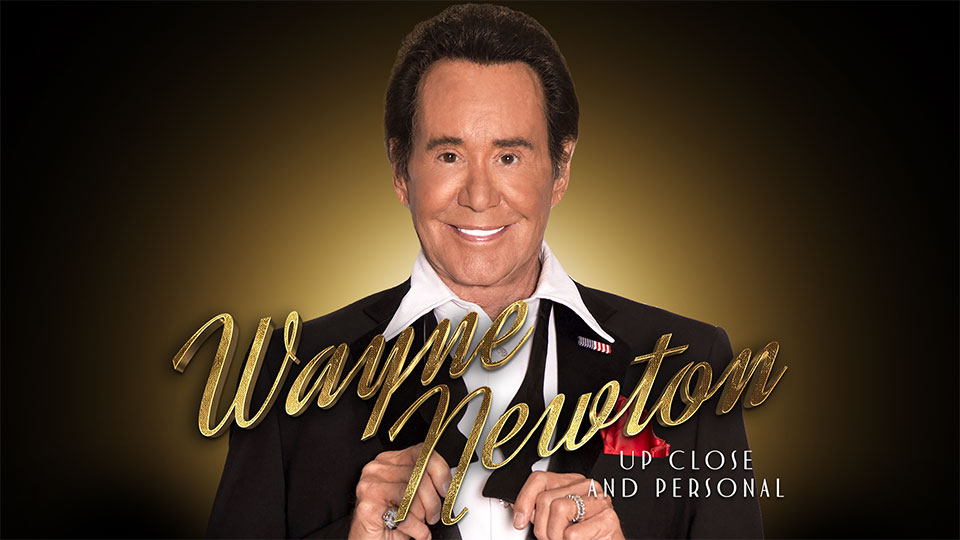 Fans and journalists make a big deal about the age of some of the singers and musicians who are still performing live – acts such as Jimmy Page, Keith Richards, Roger Daltrey (79), Ray Davies, Rod Stewart, Stephen Stills (78) and Van Morrison, Debbie Harry, Bryan Ferry, Pete Townshend, Eric Clapton (77).
However, when it comes to longevity, few can match up with Wayne Newton.
Newton, who will bring his "Wayne Newton Up Close and Personal Tour" to the Xcite Center at Parx Casino (2999 Street Road, Bensalem, https://parxcasino.com) on August 26, turned 81 in April and has been performing professionally since his early teen years.
The versatile singer, who is known as "Mr. Las Vegas" and "Mr. Entertainment," has become synonymous with Las Vegas. Newton celebrated his 60th year on stage with a show entitled "Mr. Las Vegas" at Caesars Palace that ran from January through May in 2019.
This summer, Newton is getting out of town with East Cast shows scheduled in Massachusetts, New York, New Jersey, Delaware and Bensalem.
"I play 42 weeks a year in Las Vegas," said Newton, during a phone interview last week from his home-away-from-Vegas near Kalispell, Montana.
"I come to my home in Montana when Las Vegas gets really hot.
"As soon as my wife and I go over the shows for next year, we'' be playing at least as many as this year and last year.
"I've performed at least 30,000 shows in Las Vegas. I started here when I was 15 at the Fremont Hotel – six shows a night for six nights a week for five years."
With that many shows a week, Newton had to find creative ways to keep the workload from taking its toll on his voice.
"I kept learning to play new instruments simply to give me some vocal relief," said Newton.
He developed into a talented multi-instrumentalist who plays 13 instruments, many of which are worked into his shows.
Newton was invited to national TV when Jackie Gleason, for whom he performed at a Phoenix luncheon, took him to New York for an appearance on his network television show. He then performed on Gleason's show 12 times during the next two years.
"Jackie Gleason gave me my national break on TV," said Newton. "And he got me a job at the Copacabana. That's where Bobby Darin saw me."
Some of Newton's signature songs are "Danke Schoen," "Red Roses For A Blue Lady," "Years" and "Daddy, Don't You Walk So Fast," a gold record in 1972.
Bobby Darin produced and engineered his first recorded hits – "Heart," "Danke Schoen," "Red Roses For A Blue Lady," "Summer Wind" and "Dreams Of The Everyday Housewife."
Newton's mega-hit "Danke Schoen" was originally written for Darin to sing. However, Darin was intent on Newton having a hit song of his own and gave it to him. Newton's version of the song was a huge success and reached No. 13 on the Hot 100.
"The guy who really got my recording career was Bobby Darin, who was an incredible talent, Bobby Darin," said Newton. "He had 'Mack The Knife' and so many other great songs. I found out about a year after I had recorded 'Danke Schoen' that the song had been written for Bobby Darin to record, but he was so intent on making sure it got me a hit record that he gave me the song."
It didn't take long for Newton to establish a stellar career as recording artist – and as a performer.
"After years at the Fremont, I was the first headliner at the Flamingo," said Newton. "Kirk Kerkorian built it when I was there. Then I signed with the Frontier Hotel which got bought by Howard Hughes. I spent many years with him headlining at his hotel.
"I bought the Aladdin Hotel in 1980 and performed there for five or six years. I was not happy with owning a hotel. I didn't want to deal with the problems. So, I sold the hotel and then went over to Caesars Palace."
Newton, who has played almost every major room in Las Vegas, occasionally plays shows away from "Sin City."
"This tour is my first tour in years," said Newton, whose television and film credits are huge — including an episode of "Roseanne," occasional roles on "Ally McNeal" and "Bonanza" and spots in "Vegas Vacation" and the James Bond film "License to Kill."
"I'm really looking forward to these shows on the East Coast. It's fun to perform in different places.
"When you play Las Vegas, you never know where the people are from. They're from all over the world. Everybody in that room is from a different place, so they don't have the camaraderie. Las Vegas audiences are so different. When you play a show in the Philadelphia area, most of the audience is from that part of Pennsylvania.
Whether he's playing a show on the Las Vegas strip or a concert at a suburban Philly casino, Newton is a master of reading the audience.
"The set list is an improvisation," said Newton. "To judge the audience, I start the show with three different types of songs – a ballad, an up-tempo song and a standard. The reaction of the crowd to those three songs shows me what it is they want to hear."
Video link for Wayne Newton – https://youtu.be/U5EESSLuzqA.
The "Wayne Newton – Up Close and Personal" show at the Xcite Center on August 26 will start at 8 p.m.
Ticket prices range from $35-$75.
After playing a series of shows in the U.K. and the "Rough Cut Diamonds Tour" in British Columbia in western Canada, Willie Nile has returned to the states to his home turf on the East Cast – including the Delaware Valley.
Willie Nile loves the Philadelphia area – and, without a doubt, the Philly area loves him back.
Around two years ago, Nile — much to his relief and much to his delight — started playing live shows for live audiences again after a year-and-a-half of pandemic restrictions.
Since mid-2021, Nile has come down from New York to perform concerts at the Ardmore Music Hall, 118 North, City Winery and the Sellersville Theater.
Now, the veteran rocker is coming back again for a return date at the Sellersville Theater (24 West Temple Avenue, Sellersville, 215-257-5808, www.st94.com) on August 25.
"I've been playing a lot since March 2021," said Nile, during a recent phone interview. "We started playing in April in New York and did a Midwest tour in the middle of October. People are coming out. Not as much as normal but we're still playing to good audiences."
Nile is not out on an album support tour. But he is celebrating a new release – a single titled, "Wake Up America."
The song might but one of the top three most poignant songs the lauded singer/songwriter has ever composed. And the accompanying video delivers the message with the power of a sledgehammer and the compassion of a Tibetan monk.
The track features guest vocals by gavel-throated rocker Steve Earle and an all-star studio cast that includes Stewart Lerman, James Frazee, Greg Calbi, Jimi K. Bones, Johnny Pisano, Jon Weber, Waddy Wachtel, Andy Burton, James Maddock, Frankie Lee and Nile's band.
The song is a call for our nation to get itself together and move in the right direction.
The video features more than a hundred Americans – all ages, all races, all genders, all religions – looking at the camera and looking for a path of hope.
Many of them carry signs with messages such as "Stop Hate," "Defend Democracy," "No More," "No Racism," "We Are Stronger Than Hate," "Make It Stop," "Fight Today for a Better Tomorrow," "Enough," "Love Is Never Wrong," "Stop Plastic Pollution," "Disarm Hate," and "Stop the Lies."
Throughout the song, Nile sings, "Wake Up, America…rise and shine…the sun is going down…and it's all on the line."
According to Nile, "I wrote this song because I still believe in the dream that is America. Even though our history is riddled with pain and injustice and the divisions between us are greater than ever, I know we can do better than this.
"There's a lot of wrongs that need to be righted and we can do that if we work together, neighbor to neighbor, and make our voices heard at the polls.
"There's been a lot of hurt and there will be more hurt to come if we don't do the right thing and start treating each other with respect. We're bigger and better than this and we need to get out there and vote and prove it."
Nile, who is in his mid-70s, comes from an era when music pushed boundaries. It was also an era when bands like The Who and the Kinks showed the world how to rock.
Nile has his own special connection to The Who.
In 1980, Nile was doing support gigs for his debut album, "Willie Nile." That same year, The Who were touring the world in support of their most recent album, "Who Are You."
At the personal request of The Who's guitarist Pete Townshend, Nile was invited to be the opening for the "Second North American Leg" of the British band's world tour.
On May 28 this year, The Who were performing at Bethel Woods Center for the Arts in Bethel, New York as part of "The Who Hits Back" tour. Once again, they enlisted Nile's services as the opening act for a concert featuring the two older and (maybe) wiser legendary acts.
"That was a great night," said Nile. "The Who sounded great. Pete's guitar work was great, and Roger's vocals were powerful. They still put on a great show."
The show in May was also a "full circle" event for The Who.
The show marked The Who's return to the Woodstock site nearly 53 years after they performed at the famous gathering in Bethel, Sullivan County. That night, they started the show in darkness, played a few numbers and then played "Tommy" in its entirety as the sun rose behind the stage. It was and still is one of their most iconic concerts.
Nile, who turned 75 in June, is still rocking hard and still playing a lot of live shows.
Nile has also performed at several Bob Dylan Celebration shows — Bob's birthday celebrations at City Winery in New York City and the Dylan Festival in Warwick, NY. The Dylan shows were a natural fit for Nile who released an album of Dylan songs – "Positively Bob" in 2017.
"I've done the Dylan Festival in Warwick two times," said Nile. "I played Dylan songs and some of my own.
"When Dylan turned 75, I got a phone call from City Winery in New York. They asked me to close the show with four songs. I played 'Hard Rain Gonna Fall,' 'Love Minus Zero,' 'Rainy Day Woman,' and 'You Ain't Goin' Nowhere.'
"When I was young and first went to New York to play, I never thought about doing cover songs. With my Dylan album, I decided to do songs and put them out there. I made the album in two days. All the vocals were live. I recorded the album at His House Studio which is owned by Spin Doctors' drummer Aaron Comess."
Nile is a rocker who loves to perform live.
Nile has tapped into his own lockdown experience as a source of inspiration for the set of haunting new songs that comprise his emotion-charged latest album, "The Day the Earth Stood Still." The album was inspired by the sight of Nile's beloved hometown temporarily turned into a desolate ghost town, thanks to COVID-19 safety precautions.
"For more than a year, New York was like a ghost town," said Nile, "I have a storage space near the Holland Tunnel, and normally on a Friday night at rush hour, it can take an hour to move five blocks. One night at 6 p.m., I was on Varick Street. I looked in both directions and there wasn't a car in sight. I could have laid down in the middle of the street without anyone noticing. It was like a science fiction movie."
Nile's debut album, "Willie Nile," was released by Arista Records in early 1980 to critical praise. Now, more than 40 years later, Nile is still going strong.
"We recorded 'The Day the Earth Stood Still' album in January 2021," said Nile. "We all wore masks the whole time and did our best to keep things safe. In the studio, if someone was singing in a room, we couldn't go in until an hour after they finished singing.
"The whole band, except me, had actually caught COVID on our last gig before the pandemic hit — February 29, 2020 at the South Orange Performing Arts Center. Everyone recovered and, for some reason, I never got it."
Co-produced by Nile and Grammy-winner and longtime collaborator Stewart Lerman (Elvis Costello/Patti Smith/Norah Jones), the album features such timely compositions as "Sanctuary," "Expect Change" "Way of the Heart," "Off My Medication" and "Where There's a Willie There's a Way," "Blood on Your Hands," and "The Justice Bell" (which was inspired by Nile's encounter with civil rights icon and U.S. Congressman John Lewis).
"We recorded the album in New Jersey at the same studio we've used several times in the past — Hobo Sound in Weehawken," said Nile, who plays acoustic and electric guitars and piano. We cut it in January. We spent three days doing the basic tracks and a few days doing overdubbing. 'The Day the Earth Stood Still' is not a concept album, but it is clearly inspired by New York in the pandemic shutdown."
Video link for Willie Nile — https://youtu.be/LCM1QyWM-3M.
The show in Sellersville on August 25 will start at 8 p.m.
Tickets are priced from $25-$39.50.
Other upcoming shows at the Sellersville Theater are Paula Poundstone on August 26, Shinyribs on August 22 and Get the Led Out on August 31.
Dar Williams visited the area back in June for a show at the Colonial Theatre in Phoenixville. Now, she is coming back again to perform at Bryn Mawr Twilight Concerts (9 South Bryn Mawr Avenue, Bryn Mawr, brynmawrtwilightconcerts.com).
The veteran singer/songwriter/author recently has been out on a support tour – but not a tour in support of a new album.
Williams has been touring in support of a newly released book, "How To Write A Song That Matters," which was released in September 2022 via Hachette Books.
But she also has been out on the road playing her music at venues around the East Coast.
"Mostly just touring," said Williams, during a recent phone interview from her home in New York's Hudson Valley.
"I've been home a lot. I've been involved in community issues because of a book I wrote – trying to harmonize things in the community.
"I had a really busy fall. I was all over the country. I put out my latest book in September and then did a book tour all fall. I did concerts because it's a book about songwriting. A big theme of the book is that we all have a song we could write. I did three-hour workshops in four or five cities."
Williams' normal schedule was thrown off by the pandemic.
"A lot of musicians had a very different time during COVID because we're travelers," said Williams. "I'm a traveler by trade.
"The last time I was in the studio was 2020 and I put the album out in 2021. I don't think I'll be going back in the studio for a while. I don't have an album yet. But I'm always courting inspiration."
Williams, who has recorded more than 20 albums, released her most recent album, "I'll Meet You Here," in October 2021 on BMG's recently launched Renew label. Her most recent album prior to this was "Emerald," which came out in 2015.
"There was a gap between albums because I did a book," said Williams, a well-respected speaker/author/singer-songwriter.
"After I released 'Emerald' in 2015, I stopped writing songs for a while. I didn't start writing songs again until 2017. Then, I recorded 'I'll Meet You Here' in 2019.
"I was going to release it in 2020. But because of the pandemic, I moved the entire release up a year. It was just a year off and now it's really full out.
"I recorded the album in North Jersey at a studio near Weehawken with producer Stewart Lerman. The core of the recording was done in a couple weeks in November 2019. Then, I did an intensive week in January 2020 with Stuart Smith, who plays with the Eagles.
"I sent a scratch track of the title song to Larry Campbell in Woodstock. I wanted to do it as a duet with bassist Gail Ann Dorsey and Larry Campbell."
Campbell produced the track and played guitars, pedal steel and twangy baritone guitar. Later, they had to postpone a mid-March mixing date because Campbell said he wasn't feeling well anyway which turned into a serious case of COVID-19.
"I had a schedule conflict, so we had to postpone the mixing date with Larry for day," said Williams. "He was getting really sick and then found out he had COVID. He got very sick with COVID. We were very lucky because if we had done the mixing session, a lot of people could have contracted the disease."
Despite encountering some speed bumps along the way, Williams was finally able to put the album out.
"The album officially came out on October 1," said Williams. "We had a few singles that came out prior to the album release and that helped."
The album has 10 songs including nine originals.
Even when Williams isn't focusing on music, she still stays very busy.
"I'm working on a novel," said Williams, who also handles the duty of being a mother to a young child. "I've also been writing songs. They're not all written. I try to be disciplined and not go into the studio until I reach 80 per cent.
"I just taught a college course at Wesleyan University. Teaching at a university was great. I've also done some songwriting retreats and that's been great too. I like to have different avenues rather than just recording and touring."
One of those avenues has been writing books. Williams published two young-adult novels with Scholastic in the mid-2000s, along with a green blog for Huffpost, before she tackled her urban-planning study, published in 2017 – "What I Found in a Thousand Towns: A Traveling Musician's Guide to Rebuilding America's Communities — One Coffee Shop, Dog Run & Open-Mike Night at a Time."
In that book, Williams muses on why some towns flourish while others fail, examining elements from the significance of history and nature to the uniting power of public spaces and food. Drawing on her own travels and the work of urban theorists, Williams offers real solutions to rebuild declining communities.
"What I Found in a Thousand Towns" is more than a love letter to America's small towns, it's a deeply personal and hopeful message about the potential of America's lively and resilient communities.
"It's not a memoir," said Williams. "It's what I had seen from tours in my travels at towns that had found a way to be resilient – hometown pride and a world welcome. I followed that thread and tried to figure out what it was.
"I call it 'positive proximity' – a state of being in a town where people know that living side-by-side is beneficial…that the more they follow that proximity, the better life can be.
"I wrote about how to build positive proximity, how to maintain the benefits of positive proximity and how to sustain positive proximity."
In her book, Williams looks at two area towns – Phoenixville and Wilmington.
"The Phoenixville chapter is about what happens when a town digs into its history and builds on that," said Williams. "It is a town that has become a vibrant place because of that. The Wilmington chapter is about waterfronts – about how towns can come back to life by developing their waterfront areas with parks, restaurants and public spaces."
Williams headed in an entirely different direction on her new book, "How To Write A Song That Matters."
"I wanted to write a book that was written by a performing songwriter," said Williams. "There is a broad and magical way that songs live in the world. Songs bring people back to times in their lives with new eyes."
Video link for Dar Williams – https://youtu.be/4-0tPKPbypk.
The show, which is produced by Rising Sun Presents in association with Lower Merion Township Parks & Recreation, has Crys Matthews as the opening act.
The concert will start at 7 p.m. Tickets are $10.
Other upcoming shows in the Bryn Mawr Twilight Concerts are Carsie Blanton & Marielle Kraft on September 1 and Jon McLaughlin on September 8.
Uptown! Knauer Performing Arts Center (226 North High Street, West Chester, www.uptownwestchester.org) will present "Nunsense" from August 25-27.
The hit musical is a laugh-a-minute spoof that is fun for everyone — even for those whose younger years did not include the experience of surviving school days with nuns in charge.
"Nunsense," which features book, lyrics, and music by Dan Goggin, won four Outer Circle Awards, including Best Off-Broadway Musical. The original Off-Broadway production opened December 12, 1985, ran for 3,672 performances and became the second-longest-running Off-Broadway show in history.
The story features five of the 19 surviving Little Sisters of Hoboken, a one-time missionary order that ran a leper colony on an island south of France. The nuns discover that their cook, Sister Julia, Child of God, accidentally killed the other 52 of the convent's nuns with one of her dishes.
Sister Mary Regina, the Mother Superior, started a greeting card company to raise funds for the burials. The greeting cards were an enormous success and, thinking there was plenty of money, the Reverend Mother bought a Smart TV for the convent.
Financial miscalculations resulted in the convent having insufficient funds to pay for the last four burials. With the dead stashed in the freezer, the five nuns decide to stage a variety show in the Mount Saint Helen's School auditorium to raise the necessary amount.
Despite its very definite Catholic story, "Nunsense" is a show with universal appeal — a funny show that has a real human feel.
"Nunsense" has become a timeless classic of comedic theater. The show has since been adapted for television, starring Rue McClanahan, and has spawned six sequels and three spin-offs.
Performances are Friday and Saturday evenings at 7:30 p.m.), Saturday afternoon at 2 p.m. and Sunday afternoon at 3 p.m. Ticket prices start at $37.
Jamey's House of Music (32 South Lansdowne Avenue, Lansdowne, 215-477-9985, www.jameyshouseofmusic.com) continues its tradition of presenting top quality blues music this weekend.
Area music fans know that Jamey's House of Music is a primo spot to hear folk, jazz and blues music every Thursday through Sunday.
On August 25, Jamey's will host BLUESTIME at 8 p.m.
BLUESTIME is billed as "house rockin', juke joint jumpin' electric blues played by folks that grew up listening, watching and learning from the Golden Age Blues Masters."
On August 26, Jamey's will present Children of Adam Band.
Children of Adam Band is a 14-member "New World Music" band performing its own original "PMB Music" (PMB=Positive Message Bearing Music). The music is a hybrid fusion of
jazz, funk, R&B, soul, Latin, African, Middle Eastern and Spoken Word.
The "Jazz at Jamey's Series' will showcase on August 24.
Epps will perform from 7-8 p.m. and then there will be an Open Mic Jazz Jam from 8-10 p.m.
The "Sunday Blues Brunch & Jam" is scheduled for every Sunday from noon-3 p.m. with the host band's set from noon-1 p.m. followed by an open mic from 1-3 p.m.
The first, third, fourth and fifth Sunday sessions are hosted by the Philly Blues Kings while the hosts for second Sunday sessions are the Girke-Davis Project.
On August 24, Kennett Flash (102 Sycamore Alley, Kennett Square, 484-732-8295, http://www.kennettflash.org) is presenting "Better Than Bacon Improv: Bacon Gives Back," a charity fundraiser for Kennett Area Community Service. Showtime is 7 p.m. with tickets priced at $20.
The Eagleview Summer Concerts on the Square at Eagleview Town Center (Wharton Boulevard, Exton, www.ineagleview.com) will present Mellow Fever on August 29.
King Of Prussia's live outdoor music series Concerts Under the Stars (Upper Merion Township Building Park, West Valley Forge Road, King of Prussia, concertsunderthestarskop.com) has Al Stewart & The Empty Pockets on August 26, Splintered Sunlight (Grateful Dead Tribute) on September 2, and Easy Star All‐Stars on September 16.
Disney Theatrical Productions, along with the Kimmel Cultural Campus and The Shubert Organization, has welcomed Disney's "The Lion King" for a four-week summer engagement on the Kimmel Cultural Campus.
The musical, which features music by Elton John and lyrics by Tim Rice, is running now through September 10 at the Academy of Music (Broad and Locust streets, Philadelphia, 215-731-3333, www.kimmelculturalcampus.org), as part of the Kimmel Center's "Broadway Series."
"The Lion King" is a stage musical with a book by Roger Allers and Irene Mecchi, with additional music and lyrics by Lebo M, Mark Mancina, Jay Rifkin, Julie Taymor, and Hans Zimmer. It is based on the 1994 Walt Disney Animation Studios' film of the same name. Directed by Taymor, the musical features actors in animal costumes as well as giant, hollow puppets. The show is produced by Disney Theatrical Productions.
After 25 landmark years on Broadway, "The Lion King" continues its ascent as one of the most popular stage musicals in the world. Since its premiere on November 13, 1997, 27 global productions have been seen by more than 112 million people. Produced by Disney Theatrical Productions (under the direction of Thomas Schumacher), "The Lion King" has made theatrical history with six productions worldwide running 15 or more years, with four of those running 20 or more years.
The show, which is set in the jungle somewhere in Africa, tells the story of the lion Simba from his days as a newborn cub through his adult years and is filled with sub-plots and unexpected twists. The hyenas – Shenzi, Banzai and Ed – provide a bit of comic relief.
With "The Lion King", the animated feature came first and then the Broadway show. The stage production is very similar to the movie. The story and the characters are exactly the same and so is a lot of the dialogue.  The stage version "The Lion King" is known for its elaborate costumes — outfits that transform human actors into jungle animals. It also wins over audiences with its lively, exotic music.
"The Lion King" won six 1998 Tony Awards — Best Musical, Best Scenic Design, Best Costume Design, Best Lighting Design, Best Choreography and Best Direction of a Musical.  It has also earned more than 70 major arts awards including the 1998 NY Drama Critics Circle Award for Best Musical and the 1999 Grammy for Best Musical Show Album.
One of the key players in the touring show is Gugwana Dlamini, who performs the role of Rafiki, a Sangoma.
Philadelphians can look forward to seeing two local cast members appearing on Pride Rock — Nick LaMedica, who plays the role of Zazu, is a native of Newark, Delaware. Ensemble member Eric Bean, Jr. is a graduate of Philadelphia's University of the Arts.
The production features Peter Hargrave as "Scar," Gerald Ramsey as "Mufasa," Nick Cordileone as "Timon," Nick LaMedica as "Zazu," John E. Brady as "Pumbaa," Darian Sanders as "Simba," Forest VanDyke as "Banzai," Martina Sykes as "Shenzi" and Robbie Swift as "Ed."
Khalifa White will play "Nala" from August 16 – 20 and Syndee Winters will play the role from August 22 – September 10.
The role of "Young Simba" is alternated between Jackson Hayes and Mason Lawson and the role of "Young Nala" is alternated between Jaxyn Damasco and Aniya Simone.
Video link for "The Lion King" — https://youtu.be/awqwdi1xakU.
Tickets for "The Lion King" range in price from $29-$189.
If you want to attend "The Sound of Music" in a comfortable dinner theater setting, you have just a few more days.
From August 25-27, the Candlelight Dinner Theater (2208 Millers Road, Arden, Delaware, 302- 475-2313, www.candlelighttheatredelaware.org) will be presenting its latest offering of the 2022-2023 season  – "The Sound of Music."
When it comes to sheer volume of songs that have lodged in everyone's subconscious, no show can come close to "The Sound of Music."
Is there anyone out there who doesn't recognize at least one of these songs — "The Sound of Music," "Maria," "My Favorite Things," "Do-Re-Mi," "Sixteen Going on Seventeen," "Climb Ev'ry Mountain," "Edelweiss," and "So Long, Farewell"?
The Candlelight Dinner Theater's production of "The Sound of Music" runs through the last Sunday of the month. The show stars Sophie Jones as Maria Rainer and Paul McElwee as Captain Georg von Trapp.
"The Sound of Music" is a musical with music by Richard Rodgers, lyrics by Oscar Hammerstein II, and a book by Howard Lindsay and Russel Crouse. It is based on the 1949 memoir of Maria von Trapp, "The Story of the Trapp Family Singers."
Set in Austria on the eve of the Anschluss in 1938, the musical tells the story of Maria, who takes a job as governess to a large family while she decides whether to become a nun. She falls in love with the children, and eventually their widowed father, Captain von Trapp.
He is ordered to accept a commission in the German navy, but he opposes the Nazis. He and Maria decide on a plan to flee Austria with the children.
The original Broadway production, starring Mary Martin and Theodore Bikel, opened in 1959 and won five Tony Awards, including Best Musical. The first London production opened at the Palace Theatre in 1961. The show has enjoyed numerous productions and revivals since then. It was adapted as a 1965 film musical starring Julie Andrews and Christopher Plummer, which won five Academy Awards, including Best Picture.
Performances of "The Sound of Music" are scheduled for Friday and Saturday evenings (doors 6 p.m./show, 8 p.m.) and Sunday afternoons (doors, 1 p.m./show, 3 p.m.). Tickets, which include dinner and the show, are $69 for adults and $33 for children (ages 4-12).