By Denny Dyroff, Entertainment Editor, The Times
There are quite a few legendary "Southern Rock" bands that have defined the genre – bands such as the Allman Brothers Band, Lynyrd Skynyrd, Molly Hatchet, 38 Special, Atlanta Rhythm Section and Black Oak Arkansas.
One of the oldest and most durable is the Marshall Tucker Band, a band from Spartanburg, South Carolina that was formed in 1972. More than a half-century has passed, and the hard-rocking group just keeps going and going. On August 27, the veteran band will visit the area for a show at American Music Theatre (2425 Lincoln Highway East, Lancaster, www.AMTshows.com).
The Marshall Tucker Band is an American Southern rock/country rock band originally from Spartanburg, South Carolina. The band's blend of rock, rhythm and blues, jazz, country, and gospel helped establish the Southern rock genre in the early 1970s.
The original lineup of the Marshall Tucker Band, formed in 1972, included lead guitarist, vocalist, and primary songwriter Toy Caldwell; lead vocalist Doug Gray; keyboard player, saxophone player, and flautist Jerry Eubanks; rhythm guitarist George McCorkle; drummer Paul Riddle; and bassist Tommy Caldwell. They signed with Capricorn Records and in 1973 released their first LP, "The Marshall Tucker Band."
"Back then, there was no way in the world any of us thought the Marshall Tucker Band would be around more than 50 years later," said Gray, during a phone interview last week from his home in Myrtle Beach, South Carolina.
"Toy wrote some great songs. Now, younger bands are talking about being influenced by the Marshall Tucker Band.
"Toy and I went to Vietnam. Our intention was to come back from Vietnam and play music. We started making music together again in 1967. Back then, there weren't many places to play.
"We worked during the day and rehearsed at night. He worked with his dad as a master plumber. I worked for a bank. Then, I got my own bank on the same day as an offer from Capricorn.
"A friend of ours took our tape to Phil Walden (co-founder of Capricorn Records) and he signed us a few days later. Our first single was 'Can't You See.'
"The first eight or nine years, MTB created a lot of memories. We were going out on the road with the Allman Brothers and Lynyrd Skynyrd."
Back then, the Marshall Tucker Band was also creating hits such as "Can't You See," "Heard It in A Love Song," "Fire On The Mountain," and "24 Hours At A Time."
The five-time-gold and three-time-platinum band has sold millions of albums worldwide and has had songs featured in major motion picture films and television shows such as "Breaking Bad," "Half Nelson," "My Name Is Earl," and "Cold Case Files."
CMT (Country Music Television) named the MTB's "Can't You See" as the Number 4 Greatest Southern Rock Song.
"We were never considered a country band," said Gray. "But country is more accepting and respectful now. They're playing our music. Even to this day, Zac Brown is playing one of our songs."
The Marshall Tucker Band has released more than 25 albums since its eponymous debut LP in 1973. The most recent was "The Next Adventure" in 2007 and there is no new album on the horizon.
"With regard to a new studio album, there is no reason in putting out something that doesn't stand the test of time," said Gray, who is 75 and the last original member in the band.
"When Toy left the band in 1983, he came up and shook my hand and said – run with it. I'm the last man.
"We've recorded most of our shows. We have over 3,000 shows on tape. That's why every so often we put out a live album from years ago. Some are so good – they're unbelievable. We never play the same show every night.
"We're not going to stop playing until I stop playing. I put my heart into it every night. The band members are 20 years younger, but they respect the music."
The Marshall Tucker Band is a true working band.
"We've done over 190 shows since last June," said Gray. "COVID threw us down for a little while, but we keep going. I know that we've played more than 10,000 shows since we started.
"People ask me – how can you still be going at 75. Playing music is what I do, and I'll keep coming back."
Video link for the Marshall Tucker Band – https://youtu.be/3M6Zgs1fv9I.
The show at the American Music Theater, which starts at 7 p.m. on August 27, features Blackhawk as the opening act.
Tickets are $64, $74 and $84.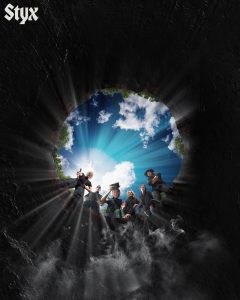 Styx and gold go together like peanut butter-and-jelly. The band has reached golden status or better on nine of its albums. Now, Styx is touring to celebrate its golden anniversary.
The tour, which is also a support tour for its most recent album, "Crash of the Crown," visits the area on August 30 when Styx headlines a shoe with REO Speedwagon on the Grand Stage at the Allentown Fair (17th and Chew Street, Allentown, www.allentownfairpa.org).
Legendary and multi-Platinum rockers Styx — Tommy Shaw (vocals, guitars), James "JY" Young (vocals, guitars), Lawrence Gowan (vocals, keyboards), Todd Sucherman (drums) and Ricky Phillips (bass), along with the occasional surprise appearance by original bassist Chuck Panozzo– are rested, healthy, and back on the road.
Shaw, Panozzo and Young have been with the band since its early days in Chicago at the start of the 1970s while Gowan and Sucherman joined the group prior to the turn of the century. Phillips is the "new" member having joined 20 years ago in 2003.
Finally, they have a new album to promote along the way — their highly anticipated 17th album, "Crash of the Crown." Shortly before the album came out, Styx released an EP, "The Same Stardust" as part of Record Store Day (June 12, 2021).
If you're a classic rock fan and you have a preference for bands that rock hard and put out a 100 per cent effort every time they step onstage, then you need to make the short drive to Allentown this weekend.
Styx's long list of hit singles includes "Lady," "Come Sail Away," "Babe," "The Best of Times," "Too Much Time on My Hands," "Show Me the Way," "Renegade," "Boat on the River" and, of course, "Mr. Roboto." "Babe" reached Number 1 in the charts while "Show Me the Way," "Mr. Roboto" and "The Best of Times" topped out at Number 3.
"I've been there since the beginning," said Young, during a phone interview Tuesday afternoon. "February 22, 1972 – I signed 50 years ago.
"Every musician dreams of having a recording contract. We got together in Chicago at the start of the 70s. There were quite a few good bands in Chicago –The Shadows of Knight, the Cryin' Shames, the Buckinghams.
"Bill Traut signed us to Wooden Nickel Records for a four-album deal. Then, we went to A&M. Herb Alpert and Jerry Moss (A&M owners) loved the band and really got behind us.
The band's first album for A&M was "Equinox" in 1975. The group went on to record seven more albums for the Los Angeles based label ending with "Edge of the Century" in 1990.
STYX followed with Brave New World in 1999 on CMC International, "Cyclorama" in 2023 on Sanctuary Records, and "Big Bang Theory" in 2005 on New Door Records. 2017's "The Mission" and "Crash of the Crown" were both released via Universal Music Enterprises.
Their sophomore album "Styx II" (1973) broke through with their first radio hit, the power ballad "Lady."
The song began to earn some radio time, first on WLS in Chicago in 1974 and then nationwide. In the spring of 1975, nearly two years after the album had been released, "Lady" broke into the Top10 in the U.S., and "Styx II' went gold soon after. "Lady" is considered by many classic rock critics as being the first power ballad.
"'Lady' was our first hit single," said Young. "It was poorly promoted in 1973 when we put it out. Later, it was Top 10 in every major city in the states.
"Then, 'The Grand Illusion' album sold seven million copies in 1977. A few years later, our 'Paradise Theatre' album went to Number 1 in the states."
Both albums went triple-platinum – as did "Pieces of Eight" in 1978 and "Cornerstone" in 1979.
"The fact that we're still relevant is a surprise to me," said Young. "The pedigree of the band has always been there. We kept climbing the ladder of success."
At each tour stop, as they have been in the past years, Rock to the Rescue—spearheaded by Tommy Shaw's daughter, Hannah and is a 501(c)3 nonprofit organization founded by the band, whose mission is to build strong, healthy communities through the support of grassroots organizations across the country—will continue to research local nonprofit organizations and pick one to see if they are interested in volunteering to help the band sell $10 tickets for a drawing to win a signed Styx guitar at the shows. They give these organizations a percentage of the sales as their way of supporting their cause and thanking them for supporting the band's cause. 
Rock to the Rescue originally started in 2001 as a result of the 9/11 terrorist attacks and is the brainchild of Styx singer/guitarist Tommy Shaw and REO Speedwagon singer/keyboardist/guitarist Kevin Cronin.  The two musicians brought together bands and artists such as Bad Company, Journey, Survivor, Kansas, Lynyrd Skynyrd and many others to be part of "Volunteers For America" concert events in Dallas and Atlanta that ultimately raised over $775,000 for victims of 9/11, as well as the Port Authority police department in New York City.  
In 2014, Rock To The Rescue raised $10,000 for the Philadelphia Fire Department Local #22 Widows Fund at the "Soundtrack of Summer" show (with Foreigner and former Eagles guitarist Don Felder) in Camden, NJ on July 3, as a thank you to the local fire department for cooling down STYX's burning crew bus the day before.  And in 2013, Rock To The Rescue hosted a sold-out concert with Styx, REO Speedwagon, Ted Nugent, Survivor, Richard Marx and Larry The Cable Guy, in Bloomington, IL at the U.S. Cellular Coliseum that raised $450,000 for victims of the horrible storms in Illinois.  Also in 2013, Rock To The Rescue presented the Boston One Fund with a check for $108,000 for victims of the Boston marathon bombings as a result of funds raised during the "The Midwest Rock 'N Roll Express" tour with Styx, REO Speedwagon and Ted Nugent. 
Many of Styx's band contemporaries that are still around are touring with set lists based almost exclusively on their classic hits. Few even try to stay contemporary. Even fewer attempt to make new music.
Obviously, Styx is different. Just listen to "Crash of the Crown" and you'll understand.
Video link for Styx – https://youtu.be/2FcurI8WOuY.
The show at the Allentown Fair, which has REO Speedwagon as the opening act, will start at 7 p.m.
Tickets start at $69.
Paula Poundstone, one of today's most successful comedians, is on the road a lot – but never for long.
"I do around 90 shows a year – but usually just on weekends," said Poundstone, during a phone interview last week from her home in Santa Monica, California.
"I don't like to go out any longer than a weekend at a time. I'm away for a few days and then I go back home."
This weekend, Poundstone is on a two-show trip to the East Coast with a show in Nashville on August 25 and a show on August 26 at the Sellersville Theater (24 West Temple Avenue, Sellersville, 215-257-5808, www.st94.com).
Poundstone is an American stand-up comedian, author, actor, interviewer, and commentator. Beginning in the late 1980s, she performed a series of one-hour HBO comedy specials. She provided backstage commentary during the 1992 presidential election on "The Tonight Show with Jay Leno."
She is the host of the podcast "Nobody Listens to Paula Poundstone," which is the successor to the National Public Radio program, "Live from the Poundstone Institute."
Poundstone is a frequent panelist on NPR's weekly news quiz show "Wait Wait… Don't Tell Me" and was a recurring guest on the network's "A Prairie Home Companion" variety program during Garrison Keillor's years as host.
Poundstone is known for her smart, observational humor and legendary spontaneous wit. She is the star of several HBO specials, including "Cats, Cops and Stuff," and "Paula Poundstone Goes to Harvard."  She is heard weekly on her successful comedy podcast, "Nobody Listens to Paula Poundstone.
Poundstone has also had success as an author.
Her second book, "The Totally Unscientific Study Of The Search For Human Happiness" (Algonquin), was one of eight semi-finalists for The Thurber Prize for American Humor, the highest recognition of the art of humor writing in the United States. The audiobook was one of five finalists in all genres for the Audio Book of the Year AUDIE award.
"I work a lot in theaters around the country," said Poundstone, who was the first female comic in its then 73rd year to perform standup at the White House Correspondents Dinner.  "Most of my life is work."
Her live shows are a combination of prepared routines and off-the-cuff segments.
"I've been doing this for 44 years, so I have a lot of material that's in a big rolodex in my head," said Poundstone, whose HBO special, "Cats, Cops and Stuff," marked the first time a female comedian won Best Comedy Special in the then fifth year of the Cable Ace Awards.
"It's a little bit like being at a cocktail party – arrive at the party, talk about current events, tell old stories. The part that is improvised is maybe one-third.
"I talk to audience members and ask them things like where they're from and what they do for a living. I love talking to them and getting these little biographies of people. That's a lot of the joy of it.
"We are all inter-connected. There is kind of this big circle that we're all a part of. Sometime during the evening, that circle shows itself – and gets a little smaller. That drives part of the night."
Poundstone started doing stand-up comedy at open-mic nights in Boston in 1979. In the ensuing four decades, she has established herself as one of America's premier comics.
"I did the grubs for years – M.C., middle act, headline," said Poundstone. "I happened to have had really great audiences—and I've been lucky enough to sustain that. I really do have the best audiences.
"I love my job. I revel in it. I know how lucky I am. I talk about situations in life and people can relate because of similar experiences. I just love what I do – which is entertaining people."
Video link for Paula Poundstone — https://youtu.be/16l0lKuxMEI.
The show in Sellersville on August 26 will start at 8 p.m.
Tickets are priced from $55-$79.50.
Other upcoming shows at the Sellersville Theater are Shinyribs on August 22 and Get the Led Out on August 31.
Maci Miller just released her new album, "NINE," on August 25 and is celebrating the event with a CD Release show at South Restaurant and Jazz Club (600 North Broad Street, Philadelphia, www.southjazzkitchen.com) on August 27.
It would seem apparent that "NINE" is Miller's ninth album – but such is not the case.
The new disc is actually her fifth album – and first post-COVID release.
Why then is the new LP titled "NINE?"
"The album has nine musicians and nine songs," said Miller, during a phone interview Thursday night from her home in Bucks County.
Six of the nine tracks were written by Miller and her co-writer/ producer, Aaron Graves, plus she brings new life to Cedar Walton's "Firm Roots" with beautiful lyrics about life, love, and connection.
The album is stacked with a who's who of the vibrant Philadelphia jazz scene. Joining Miller and Graves are bassist Mike Boone, living legend Larry McKenna, Victor North, Byron Landham, Leon Jordan, Sr, Josh Orlando, and very special guest Jeremy Pelt, courtesy of High Note.
"I recorded it with Aaron Graves at his studio in Philadelphia," said Miller. "He co-writes the songs, plays piano and is the producer. There is no guitar which is funny because my last album was a guitar album.
"We began working on the album during the pandemic in the summer of 2021. We just finished it a few months ago and got it mixed by the end of June.
"It's been the best musical journey of my life. All the musicians have become dear friends."
In the liner notes for the album, Miller wrote, "In the field of numerology, the number nine is connected to wisdom and experience. The number nine is significant because it's closely connected with the spirit, with spiritual growth, inner awakening and self-realization.
"It symbolizes a lifetime of learning and is the universal number for love and hope. It represents patience, harmony, friendship, strength and unity."
That's why Miller recorded album number five and titled it "NINE."
"Nine is a special number," said Miller. "It's a number about endings and beginnings – about spiritual growth. For me, there was a lot of growth in the past few years.
"The album is really heartfelt. I'm proud of my writing."
Because of her varied musical background, Miller is equally comfortable singing an Ella Fitzgerald classic like "Lullaby of Birdland," a standard blues tune, "Moje Zlato" (a Croatian wedding song) or one of her many melodic original compositions.
"I was singing into a hairbrush ever since I was able to talk," said Miller.
As a young girl, Miller discovered her grandparents' vast collection of vinyl, and after studying every great artist from Ella to Ellington, she honed her vocal skills and made her debut in local clubs and at special events.
"There were a lot of musicians on my mother's side," said Miller. "I had a lot of talented uncles who were writers, producers and sound guys. On my dad's side, there was the Croatian influence. There was always Croatian music being played.
"When I was growing up, I was always singing in choirs and performing at local shows. When I was 20, I got into dinner theater in Harrisburg. Then I joined a funk band named Smooth – a pop/funk band."
Miller grew up in the Harrisburg area in a small town called Enhaut (which means "skin" in German) and then graduated from Central Dauphin East High School.
"I was in a lot of bands that did wedding gigs," said Miller. "Then, I did a lot of modeling and acting when I moved to Philadelphia. I also worked in New York. After a while, I stopped all the other things and focused on music. It was later that I got into jazz."
Miller has worked with several music greats including trumpeter Steve Jankowski (Nile Rodgers, Chicago), saxophonist Larry McKenna (Woody Herman, Buddy DeFranco), Dean Schneider (music director for Diahann Carroll), Demitrious Pappas (Smokey Robinson's music director), and the late George Mesterhazy (Shirley Horn).
She has sung in legendary rooms such as the The Jazz Standard and Danny's Skylight Room in New York City, Ortliebs and Chris's Jazz Cafe in Philadelphia, Caesar's Palace in Las Vegas, and Bally's, Harrah's and the Claridge in Atlantic City. Her travels have also taken her to the iconic Bamboo Bar in Bangkok, Thailand for several extended runs.
"Playing at South is special," said Miller. "I'm definitely excited that my CD release show is there. It's an intimate space and I'll be sharing a lot of new music."
The arrival of a baby girl marked a career shift for Miller.
"I didn't sing for about eight years so I could focus on being a mom," said Miller. "A few years ago, my friend David O'Rourke said – you should sing again.
"So, I decided to dip my toe back in and an album came out of it – 'Round Midnight.'"
On "Round Midnight," Miller sings 15 favorite standards in an intimate duet format with guitarist David O'Rourke.
"I recorded 'Round Midnight' and released it just before the pandemic," said Miller. "I was four gigs into my comeback and the world shut down.
"So, I got equipment and did my own gigs. I had livestream shows in my backyard throughout the pandemic. I've been fortunate to be able to do live shows at different places including here at the farmhouse."
Miller released her debut album, "A Very Good Night," in 2001.
"My first album was a big band album," said Miller. "It was all originals written in '40s style. My second album, which came out in 2004 was 'Take A Closer Look.' It was a pop/jazz fusion album."
Miller's third album was written for a very specific audience.
"The third album was 'Butterfly Moon'," said Miller. "It was a lullaby album for my baby girl. We adopted her from Thailand. I made the album so she could get used to my voice before we went to Thailand to get her."
Miller's other creative endeavors as an actor, model, and spokesperson have afforded her numerous appearances on film (The Sixth Sense), print (Modern Bride, Women's World Magazine), and television (Law and Order).
Her charitable contributions include a lullaby entitled "Butterfly Moon", originally composed for her daughter, which she contributed to a CD for The Mercy Center in Bangkok, which gives aid to orphans and children living with HIV.
Now, the focus is on "NINE."
If Miller tapped into her Croatian roots, she would call the album, "DEVET," which is Croatian for nine. And anyone listening to her new music would say, "Vrlo dobro," which is how they say, "very good," in Zagreb.
Video link for Maci Miller – https://youtu.be/H-cVOsmJXPw.
The show on August 27 at South will start at 6:30 p.m.
Tickets are $20.