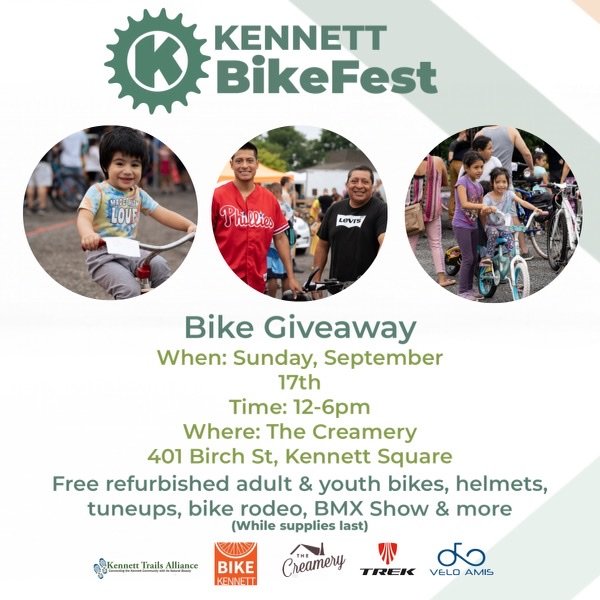 This weekend, Kennett Trails Alliance and Square Roots Collective are teaming up with a variety of community partners to present a full weekend of events to celebrate Hispanic heritage and a more bike/pedestrian-friendly Kennett Square. The Creamery of Kennett Square will play host to two distinct events to bring together the community around a shared vision of inclusivity.
"Last year, we were able to give away over 100 refurbished bikes to the community for our first Bike Fest," said Christina Norland, Executive Director of Kennett Trails Alliance. "This year, we hope to go even bigger and give away more than 150 refurbished bikes. We are beyond excited to be able to celebrate and combine our love of outdoor recreation with the rich Hispanic heritage of our community in what promises to be a jam-packed weekend of events at The Creamery."
On Saturday September 16, join Square Roots Collective and Casa Guanajuato for an after-party at The Creamery immediately following the Hispanic Heritage Festival in Anson B. Nixon Park. Festival ticket holders can enjoy ½ price beverages, with the other ½ of proceeds donated to Casa Guanajuato to support community programming. Live music and a food truck will round out the evening.
Sunday, September 17 will bring together Kennett Trails Alliance, Bike Kennett, Trek Newark, and other community stakeholders to host the 2nd Annual Kennett Bike Fest. More than 150 free refurbished bicycles and new bike helmets will be distributed to local community members on a first-come, first-serve basis. Attendees are encouraged to bring your own bicycle for free tune ups and minor repairs. There will also be a bike rodeo area for attendees to sharpen their bike skills, as well as a BMX showcase held in the parking lot. Attendees can enjoy live salsa music and food trucks, and will find a variety of community partners with additional resources.
Bike helmets were donated by Nemours Children's Hospital, through their "bike-safe" initiative.
More information about Kennett Bike Fest can be found at: https://www.kennectivity.com/events/kennett-bike-fest