Replacing street lamps with LEDs expected to save money, enhance view
By Kathleen Brady Shea, Managing Editor, The Times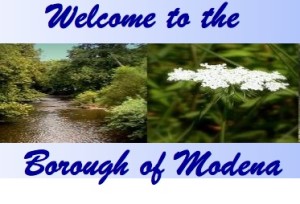 The future – at least at nighttime – got brighter for Modena residents when the Chester County Commissioners on Wednesday approved a $52,000 grant for street lamp improvements.
The Community Revitalization Program (CRP) grant represented one of seven awards to county boroughs, totaling $2.75 million, the commissioners said.
"For more than 10 years, these CRP grants have helped to improve communities across Chester County, focusing on urban areas," said Commissioners' Chairman Ryan Costello. "Not only do they help to improve the public health and safety of our community, but over the years, the CRP funds have helped to significantly increase the taxable assessments of our urban centers, in some cases, by more than 15 percent."
In Modena, the grant will fund the replacement of 51 high pressure sodium (HPS) vapor street lights with light-emitting diode (LED) fixtures and the addition of an LED light within the borough. The switch will improve night lighting and energy efficiency while reducing electrical costs, the commissioners said.
"CRP grants have contributed greatly to the success of community revitalization in Chester County, helping to spur additional economic development along our main streets," said Commissioner Kathi Cozzone. "This year's list of grants is no exception, with many streetscape and infrastructure upgrades that will help encourage more commercial and residential growth in our boroughs.
In addition to the Modena award, West Grove Borough is receiving $1,111,000 for infrastructure improvements on, and surrounding the area of Willow Street and South Guernsey Road; Spring City is receiving $125,000 for storm water improvements and ADA improvements; the Borough of Downingtown is receiving $450,000 for the rehabilitation of a drinking water storage tank; Malvern is being awarded $500,000 for streetscape improvements on South Warren Avenue, Channing Avenue and West First Avenue; Oxford is receiving $225,000 for Market Street streetscape improvements; and West Chester Borough is receiving $293,000 for recycling improvements in the Business Improvement District.
"The CRP grants are structured to help our 16 urban centers undertake infrastructure improvements through direct funds that have, over the years, leveraged millions more in investment," added Commissioner Terence Farrell. It is an efficient program that encourages the urban centers to review the needs of the community and develop plans to make the changes happen. Often these changes are the slightly-less-glamorous, but very important upgrades to water, storm water and sewer systems, and with every completion, residents and businesses really benefit."