Back-to-school vaccines will be available Thursday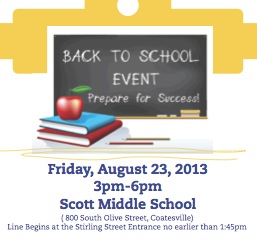 Free book bags filled with supplies will be distributed to kids of all ages from pre-K through 12th grade on Friday from 3 to 6 p.m. at Scott Middle School.
Sponsored by a host of health care and social services agencies, the Back-to-School Event will include information on issues such health and wellness, dental screenings, after-school programs, volunteer and college programs, library card sign-up, and YMCA Activan activities. Hotdogs and and sno-cones will also be available.  The line will begin forming at the Stirling Street entrance no earlier than 1:45 p.m.
Free back-to-school vaccines will be provided on Thursday from 9 a.m. to noon by the Chester County Health Department at the Coatesville Center For Community Health for those who are uninsured or underinsured.  To register, call 610-383-4612 or email Kathryn@coatesvillecenter.org.
Scott Middle School is located at 800 South Olive Street; the Coatesville Center for Community Health is located at 1001 E. Lincoln Highway.