Eagles' 'Story Man' will read to second-grade classes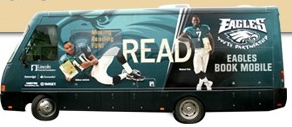 Thanks in part to the Philadelphia Eagles, a book blitz will occur on Tuesday, Dec. 17, in the Coatesville Area School District.
The Eagles Book Mobile will visit three elementary schools. The event is sponsored by the Pennsylvania State Education Association (PSEA) and Coatesville Area School District, a PSEA news release said.
Every summer and fall, the Eagles Book Mobile travels to hundreds of Philadelphia area schools, shelters, libraries, recreation centers and summer camps. At each site the "Storybook Man" reads aloud to children and distributes a free, new book to each child, most of whom have never owned a book.
The Eagles Book Mobile is scheduled to visit Reeceville Elementary School, 248 Reeceville Road, Coatesville, at 9:30 a.m.; Caln Elementary School, 3609 E. Lincoln Highway, Thorndale, at 11 a.m.; and Rainbow Elementary School, 1113 W. Lincoln Highway, Coatesville, at 1:15 p.m.
Storybook Man will read to several second-grade classes and provide free books to all second-grade students in each school. The Eagles Book Mobile is a partnership between Eagles Youth Partnership, Lincoln Financial Foundation, Santander Bank (formerly Sovereign), Target Stores, and AMETEK Foundation, the release said.
"PSEA members know that when teachers, schools, and families work together to help children develop love and enthusiasm for reading at an early age, they are more likely to become successful students for their entire K-12 education," said PSEA President Michael J. Crossey, a special education teacher in the Keystone Oaks School District.
"In Coatesville, we believe that by working together with community members we can do great things for our children," said Audra Ritter, president of the Coatesville Area Teachers Association.   "Developing a joy and an appreciation for reading at an early age pays life-long dividends and our teachers and education professionals know that.  We are excited about this partnership and hope this is the first of many events in our community that showcases how our children benefit when we all work together."
A state affiliate of the National Education Association (NEA), PSEA represents approximately 182,000 future, active and retired teachers and school employees, and health care workers in Pennsylvania.