Senator Dinniman and rescue poodle, Jagger, with Melissa Falvo, mother of the late Justin Hayes, for whom Justin's Foundation for Kindness is named. WEST BRANDYWINE –  State Senator Andy Dinniman recently discussed his efforts to strengthen animal welfare laws and end puppy mills in Pennsylvania at the 3rd Annual Kindness Festival at West Brandywine Park. The festival, organized by Justin's...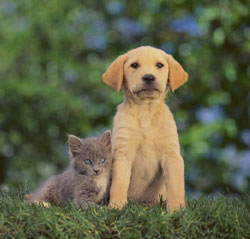 WEST BRANDYWINE — DogsHome is hosting a free pet vaccine clinic Saturday, Sept. 26 from 10 a.m. to 2 p.m. in Hibernia Park, Coatesville. Free dog and cat food will also be handed out while supplies last. Dogs and cats will receive free rabies and distemper/parvo vaccines, as well as dewormers.  
A volunteer shares a little puppy love during a recent vaccination event. The Chester County SPCA (CCSPCA) will provide free vaccinations to 300 owned pets during a community outreach event in Coatesville this weekend. In partnership with the City of Coatesville Police Department, the CCSPCA will host a free vaccination clinic on Sunday, August 30 from 10am to 2pm at Coatesville City Hall, 1 City Hall...