Home
Posts Tagged "Social services"
By Kathi Cozzone, Chester County Commissioner Kathi Cozzone President Trump has presented his first budget proposal, a document containing many surprises, and quite a few points that have alarmed various groups of people from housing advocates to environmentalists to diplomats. Count me among the alarmed. In Pennsylvania, Counties are on the front lines of spending on human services. We leverage a...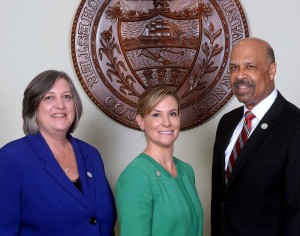 Local human service agencies found ways to keep on serving without state money By Terence Farrell, Kathi Cozzone & Michelle Kichline, Commissioners, Chester County Chester County Commissioners (from left) Kathi Cozzone, Michelle Kichline and Terence Farrell. When Gov. Tom Wolf and the State Legislature were unable to reach a state budget agreement by July 1, 2015, the Commonwealth of Pennsylvania...