By Denny Dyroff, Staff Writer, The Times
Summer is almost here. The weather is warm, pools are open and school is almost done. Another sure sign is the arrival of the annual Brandywine Health Foundation's Strawberry Festival.
This weekend, the 45th Annual Strawberry Festival will take place on the grounds of the Brandywine Hospital (201 Reeceville Road, Coatesville, 610-380-9080,www.brandywinestrawberryfestival.com).
The free event, which is running now through June 4, features a variety of food vendors, a run and a family fun walk, amusement rides, live entertainment, an arts-and-crafts show, children's games and, of course, strawberry shortcake.
The list of attractions also includes "Strawberryland," an international food fair, a "Craft, Artist and Business Vendor Fair," a used book sale, the "Strawberriest Kid Contest" and raffle drawings.
"Strawberryland" features a wide array of activities for young kids, including a Moon Bounce, an inflatable obstacle course, inflatable slides, carnival games and the "Strawberry Train." This area is recommended for kids 7 and younger and features an all-inclusive price of $10 a day.
Other popular attractions at the festival include Monster Truck rides, pony rides, zip line rides, laser tag, a free throw shootout, mechanical bull rides and performances by Jonathan the Juggler, magician Robert Francis, a.k.a. "Dork of Deception," and "Hoopster, the 8-foot-tall Stilt-walking Ref,"
The entertainment schedule features Fulvio & Sal, Jean Therapy,
Exit Strategy, DJ Dre Money, The Lukens Band, 74/75 Band, Kindred Cross, Project X, and School of Rock.
The festival also features a spectacular fireworks display on June 2 at 9:45 p.m.
This weekend, it's also time for the annual Strawberry Festival at Linvilla Orchards (137 West Knowlton Road, Media, 610-876-7116, www.linvilla.com). The festival will be held Saturday June 3 from 10 a.m.-4 p.m. on Linvilla's grounds in Media.
The festive event will feature children's entertainment, hayrides, pony rides, face painting, costumed characters, children's games and contests, live music, ice cream sundaes, giant strawberry shortcake and strawberry treats.
Other special attractions will be demonstrations of how to make strawberry jam, a hula hoop contest, a photo booth, the Delaware Valley's largest Strawberry Shortcake, special appearances by Strawberry Dog, Little Yellow One-Eyed Dude and Bouncing Tiger and live music — Strawberry Jammin' with Judi and Makin' Music.
The Brandywine Valley has quite a few museums and tourist sites that provide residents and tourists ideal opportunities to spend leisure time — and you can maximize your effort if you take advantage of the 2017 Brandywine Treasure Trail Passport.
The cost is $45 for an individual pass and $95 for a family pass (for up to five family members).
The Brandywine Treasure Trail Passport is good for one-time admission to Wilmington and the Brandywine Valley's top attractions now through September 4.
A family pass, which includes one-day admission to each of 11 sites, can bring a savings of over $200 for the holders — especially since many of the participating institutions have regular admission fees in double figures.
The list of locations covered by the Brandywine Treasure Trail Passport includes Longwood Gardens, Delaware Museum of Natural History, Brandywine River Museum, Delaware Art Museum, Delaware History Museum, Hagley Museum and Library, Delaware Center for Contemporary Arts, Nemours Mansion & Gardens, Read House and Garden, Mt. Cuba Center, Rockwood Museum and Winterthur Museum, Garden & Library.
For more information, call (800) 489-6664 or visit www.visitwilmingtonde.com/bmga/.
For a fun and educational day for you and your children, consider a visit to the Brandywine River Museum (Route 1, Chadds Ford, 610-388-2700,http://www.brandywinemuseum.org) on June 4 from 11 a.m.-2 p.m.
On the first Sunday of each month, the museum joins with PNC to present a special event for children called "PNC Arts Alive First Sundays for Families."
In addition to a variety of activities geared for kids, the event will also feature a musical performance by singer-songwriter Dana Lyons designed especially for families with younger children, and a beginner bird walk with naturalist Kevin Fryberger.
There is usually a special theme each year for the annual Bayard Taylor Memorial Library Home & Garden Day Tour (various locations in southern Chester County, 610-444-2702, www.bayardtaylor.org).
In recent years, some of the themes have been gardens and historical authenticity. This year marks the 26th anniversary of the Library's Home & Garden Day Tour.
This year's tour, "It's All About the View," will explore the Unionville area known for its horse farms, equestrian sports and stunning views of the rolling hills of Chester County.
Among houses on this year's tour are two 'sister houses' of local legend Nancy Penn Smith Hannum and her sister, Averell Penn Smith Walker.
For 58 years, Mrs. Hannum served as the Master of Mr. Stewart's Cheshire Foxhounds. Both houses are still owned by family members and are full of memorabilia of the Hunt.
At another location visitors can visit the Unionville Academy, once attended by Kennett Library namesake, Bayard Taylor.
Other historic homes open for viewing have been updated to accommodate modern lifestyles while retaining an English countryside feel.
Visitors will also be able to sample food and beverages from local restaurants and merchants.  In addition, local plein air artists will be painting in some of the gardens.
Tickets for the tour are $40.
This weekend, collectors of comics, toys, gaming or non-sport trading cards will be making their annual pilgrimage to Philadelphia to attend the (air-conditioned) Wizard World Philadelphia Comic Con at the Pennsylvania Convention Center (1101 Arch Street, Philadelphia, 215-418-4700, www.wizardworld.com).
One of the country's top pop culture conventions, the annual event, which is running now through June 4, is the largest event of its type on the East Coast and is expected to draw a crowd of over 25,000 fans.
Wizard World Philadelphia Comic Con will feature movies, comics, toys, video gaming, television, anime, manga, horror, sports, original art, collectibles, contests and movie screenings — along with more than 150 celebrities who will be greeting fans and autographing items and industry professionals representing the best in today's pop culture.
Some of the top names on the long list of special guests are Gene Simmons, Rob Liefield, Jon Cusack, Chuck Norris, Kristy Swanson, Ralph Macchio, C. Thomas Howell, Lou Ferrigno and Paul Bettany.
Other special attractions include comics-themed panels, portfolio reviews, costume contests and "Kids Day" on Sunday with an array of panels and events designed especially for children. Children and adult attendees are encouraged to come dressed as their favorite villain, superhero or pop culture personality for the chance to win special prizes in daily costume contests.
The show also will host hundreds of exhibitors who will be displaying and selling action figures, Anime, movie posters, trading cards, clothing, memorabilia, original artwork and comics.
Tickets are $55 on Friday and Sunday and $55 on Saturday. Show hours are Friday, June 3, noon-7 p.m.; Saturday, June 4, 10 a.m.-7 p.m.; Sunday, June 5, 10 a.m.-4 p.m.
When the first Sunday in June arrives, downtown West Chester becomes a huge block party as the borough hosts Super Sunday. This year, the 25th Annual Super Sunday (610-692-7574, http://www.west-chester.com) will be held on June 4 from 11 a.m.-5 p.m.
Sponsored by West Chester Parks & Recreation, Super Sunday is a giant street festival taking place in downtown West Chester on Gay Street between Matlack and Darlington.
The free event features approximately 100 crafts exhibitor booths, a variety of food vendors, amusement rides, jugglers, clowns, Fairman's Skate Zone, an antique car display and children's fun zone featuring a variety of moon bounces, a climbing wall, a zip line, a giant slide, and a trampoline.
Children's entertainment includes TCL Clowns, a strolling act with balloon creations; Hooping with Dana; and Ryan Shiflet, a strolling juggler.
Live entertainment will include performances on the Matlack & Gay Street Stage by Reed Brothers Band (11 a.m.-1 p.m.) and Forward Motion (1:30-3:30 p.m.) and on the Darlington & Gay Street Stage by Mono Pop (12:45-2:30 p.m.) and Hot Bijouxx (3-4:45 p.m.)
Parking in all Borough of West Chester garages is $5 for all day.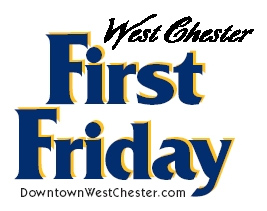 When the first Friday of the month comes around, it's a good time to spend an evening in the heart of West Chester — a time when the borough hosts its version of First Friday (downtown West Chester, http://www.downtownwestchester.com). The First Friday event for this month will be held all day on June 2.
First Friday activities, which are held on the inaugural Friday each month, feature great shopping opportunities and delicious food offerings. Stores are open late and many of them feature free refreshments and shopping specials.
As an added attraction, there will be free on-street parking after 5 p.m. The remaining First Fridays in West Chester are scheduled for July 7, August 4, September 1, October 6 and November 3.
Kennett Square will also celebrate First Friday with its "Expanded Art Stroll" (downtown Kennett Square, http://historickennettsquare.com) from 6-9 p.m. on June 2.
The event celebrates the local art scene with special activities in the galleries, shops and restaurants throughout town. Many of the town's businesses and galleries will stay open late for First Friday.
Live music will be performed by Good Vibes Inc. at the First Friday Art Stroll and Farmers' Market. The entertainment will run from 5-7 p.m.
Residents and visitors are encouraged to wander along the tree-lined streets and browse the many businesses that stay open late.
Participating venues will be designated with balloons.
On June 4, Victory Brewing is presenting its Second Annual Food Truck Festival from noon-5 p.m. at Kennett Square Brewpub (650 West Cypress Street, Kennett Square, http://www.victorybeer.com).
The Food Truck Festival will feature local food trucks, live music, a kids' zone and a Biergarten.
As an added highlight, there will be a performance by Longwood Performing Arts and Bavarian Motorsport will be hosting a car show.
Lancaster also has a lively First Friday celebration very month. This month's edition of First Friday Lancaster (http://www.firstfridaylancaster.com) will run from 5-9 p.m. on June 2 in downtown Lancaster.
The event will feature attractive exhibitions at art galleries, artisan studios and museums. There will also be live performances presented in a variety of genres — professional theater, symphony orchestra and performing groups.
Another interesting event in Lancaster — "Election Day Riot: 1857 Washington" — will take place on June 3 at Wheatland (1120 Marietta Avenue, Lancaster, 717-392-4633, http://lancasterhistory.org/visit/wheatland).
Occurring on the first Saturday of the month from March through October, the Living History at Wheatland program consists of a series of interactive and engaging glimpses into the life and times of President James Buchanan and his family.
Actors bring to life the people who lived here and the history of the site.  These historical figures interact with one another and with their audience. The theme changes from month to month.
Visitors to Wheatland on June 3 will be transported back in time to Buchanan's 1857 White House where they will have the opportunity to meet with President Buchanan and his cabinet as they discuss a multitude of topics — from political appoints to recent Democratic victories at the polls to their concerns about troubles in Kansas.
A sudden, panicked request from Washington Mayor William B. Magruder takes Buchanan by surprise. Guests at Wheatland Saturday will get to see how Buchanan responded, experience the debate and learn about Magruder's request.
Buchanan was born April 23, 1791 in Franklin County Pennsylvania and grew up in the Borough of Mercersburg. After graduating from Dickinson College he arrived in Lancaster at age 18 to pursue a career as an attorney at law.
Tour Guides in period clothing bring history to life as you walk through Wheatland, beloved home of our nation's 15th President. Wheatland is located on LancasterHistory.org's Campus of History which is located just west of the City of Lancaster at the intersection of Marietta and North President Avenues. There is ample off-street parking available.
Admission is $15 for adults, $13 for seniors, $8 for students (ages 11-17) and free for children (10 and under).
Other special events in Lancaster this weekend will be the "African-American Heritage Walking Tours" on June 4.
Tours, which depart from the Lancaster City Visitor Center (38 Penn Square, Lancaster), are available at 11 a.m. and 2 p.m. The tour is a safe and easy walk that takes between 60 and 90 minutes. Comfortable walking shoes recommended.
The walking tours visit sites such as black businesses on Penn Square; site of Elite Hotel; Thaddeus Stevens & Lydia Hamilton Smith Historic Site; Trinity Lutheran Church; Lancaster County Courthouse; Hamilton Club; Saint James Episcopal Church; site of the Lancaster Train Station; Shreiner-Concord Cemetery; Fulton Hall/Old Jail; and Central Market.
You still have a few days left to catch one of the area's top festival events — the Devon Horse Show (Lancaster Avenue, Devon, 610-688-2554,www.devonhorseshow.org).
This year's 121st Annual Devon Horse Show and Country Fair is running now through June 4.
The Devon show is more than just another annual equestrian event. It is a family event that spans generations and traditionally marks the start of summer.
More than 3,000 horses are entered in the Devon Horse Show in over 30 divisions and more than 200 classes with prize money totaling over a quarter of a million dollars. The equestrian competition reaches its peak the final few days with the Devon Grand Prix and the Idle Dice Open Jumper Stake.
The Country Fair has food concessions, a garden café, sales booths featuring antiques, toys, hand-crafted items, Devon Horse Show souvenirs and over 30 other shops with jewelry, art, clothes and equestrian-related items. And, there is the Midway with its huge ferris wheel, old-time carousel and wide array of amusement rides and games.
Admission is $15 for adults and $5 for children (under 12) and seniors (over 65).
On June 3, the Chesmont Astronomical Society will host a "Star Party" at French Creek State Park (843 Park Road, Elverson, 610-469-8646,http://www.chesmontastro.org). The public is welcome and the event, which offers activities for the entire family, is free.
Participants will meet in the park's Playground parking lot and the party will get underway at 8 p.m. and continue until 11:59 p.m. Members of the Society will have telescopes for guests to use to observe the night sky.
There will also be another Star Party at the same site on July 29. The society also holds similar events at March Creek State Park
The Marsh Creek parties are held near the first lunar quarter and focus on observing the moon, the planets and bright deep sky objects.
The Chesmont Astronomical Society will have stargazing events at Marsh Creek on July 1, September 30 and October 28.
Much of the world's tastiest cuisine comes from Mediterranean countries such as Italy, Turkey and especially Greece. Two of the area's top Greek festivals are on the schedule for the next week.
The Grecian Food Festival at St. Sophia Church Grecian Festival (900 South Trooper Road, Jeffersonville, 610-650-8960, www.stsophiachurch.org) is running now through June 4. Then, the 2017 Greek Festival at the Holy Trinity Greek Orthodox Church (808 North Broom Street, Wilmington, 302-654-4446,www.holytrinitywilmington.org) opens on June 6 and runs through June 10.
The free, family-oriented festivals both feature amusement rides and games but they are side attractions. Without question, the main attraction is the food.
The list of main dish items at St. Sofia's festival has a wide variety of meat and vegetable items. Chicken Oreganato is Grecian-style chicken roasted with a mixture of lemon, oil and oregano, while souvlaki is grilled pork tenderloin marinated with special herbs.
Gyros are pita sandwiches featuring a spice-infused ground beef-and-lamb mixture that is grilled, sliced fresh and served with tzatziki (cucumber and yogurt sauce), tomatoes, onions and olives.
Pastitsio is a macaroni dish with braised ground lamb and beef that is topped with béchamel sauce and baked. A similar entrée is mousaka, which features layers of eggplant, potato, ground lamb and beef, which is then baked and topped with a light béchamel sauce.
Saganaki is a dish with seared vlahotiri cheese that is flamed with brandy and lemon and served fresh. Greek Salad, which is always a favorite, includes lettuce, feta cheese, tomatoes, Greek olives, oregano, salt, onion, cucumbers tossed in a light olive oil dressing.
Other selections that can either be a main meal or a side dish are tyropita, which is a Greek-style cheese pie in a crispy phyllo crust; spanakopita, which is a tyropita that has spinach added; and Dolmades, which are rice and meat wrapped in grape leaves.
The menu at St. Sophia's also includes a fried calamari dish with fresh lemon, and patates tiganitres, which are deep-fried potatoes that have been lightly seasoned with Greek herbs and spices and topped with feta cheese.
For dessert, it's impossible to go wrong with any of the traditional Greek pastries. The most well-known Greek dessert is baklava, which is made with multiple layers of thin buttered phyllo dough cooked with walnuts, spices and honey syrup. Kataifi features shredded wheat with chopped nuts and honey syrup.
Loukoumades , the Greek version of doughnuts, are deep-fried and dipped in honey with a dash of cinnamon. Floyeres is a baked dessert prepared with thin layers of buttered pastry sheets, almonds, spices, and honey syrup. Galaktoboureko is a custard dessert baked between carefully placed pastry sheets and covered in syrup.
Karidopita is a moist walnut cake with spices and syrup. Kok, which is the Greek version of Boston cream pie, is a chocolate-covered cake that is filled with custard. Diples are crunchy treats featuring crisp folds of thin rolled pastry dough that are deep fried and topped with syrup, cinnamon and nuts.
Greek cuisine also includes a variety of mouth-watering cookies including melomakarona (oval cookie dipped in honey and rolled in nuts), kourabiedes (butter cookie served with confectioner's sugar), paximadia (zwieback-type cookie that is baked then sliced and toasted in the oven), koulourakia (butter cookie that is twisted, basted with egg yolk and baked.)
The menu for the festival in Wilmington also features mousaka, pastitsio, tyropita, gyros, Greek salad, souvlaki, spanakopita and dolmades along with arni (baked lamb), chicken and orzo, keftedes (meatballs in tomato sauce), Greek-style string beans, plaki (baked fish) and Greek rice pudding.
Greek Festivals also feature a lot of live music.
Greek-American groups from the Delaware Valley will play popular Greek songs and standards at both festivals. There also will be performances of traditional Greek folk dances. The festivals will also offer tavernas, which are bistro-style sites for dancing and drinking.
Other attractions at the free festivals are Greek grocery stores and sales booths with items such as Greek music, icons, custom-made jewelry, leather goods and fabric. There will also be a variety of children's activities.
From June 2-4, the Mid Atlantic Air Museum (11 Museum Drive, Reading, 610-372-7333, www.maam.org) is hosting its 27th Annual World War II Weekend.
The museum and its grounds will come alive with an event that features a huge air show with more than 80 vintage military aircraft, 200 restored military vehicles, 1,700 re-enactors and a wide array of artifacts. There will also be a variety of family-oriented activities.
The long list of special activities includes presentations by many of the event's special guests, ground displays, a two-hour, 30-vehicle "Liberation of Reading" convoy, a "Military Collectors' Flea Market."
There will also be battle reenactments and live entertainment featuring Theresa Eaman, dancers Heidi Rosenau and Joe McGlynn, America's Sweethearts, Frank Cubillo, Martin Sisters Band and Spirit of the Airwaves Players.
The World Famous GEICO Skytypers airshow team is a flight squadron of six vintage U.S. Navy SNJ trainers.
Each day of the show, the team will be performing a thrilling, low-altitude, precision-formation flying demonstration filling the sky and coming from all directions to provide spectators a unique viewing experience while showcasing the tactical maneuvers utilized in WWII and the Korean War.
Air shows will be presented between 1-4 p.m. on both Saturday and Sunday. There will be an amazing number of vintage military airplanes featured at this weekend's – both as static displays and as aerial attractions.
Video link for WWII Weekend — https://www.youtube.com/watch?feature=player_embedded&v=DY04yE2daJA.
Tickets are $26 for adults and $10 for children (ages 6-12).
The Marshall Steam Museum at Auburn Heights Preserve (3000 Creek Road, Yorklyn, Delaware, 302-239-2385, http://auburnheights.org) is presenting Yorklyn Day.
The event includes activities at Yorklyn Bridge Trail (1157 Yorklyn Road, Yorklyn), Center for the Creative Arts (410 Upper Snuff Mill Row and Route 82, Yorklyn) and "Steamin' Day at Auburn Heights."
The site, which features the Marshall Steam Museum and the Auburn Heights Mansion, focuses on steam power when it presents "Steamin' Days," which run from 12:30-4:30 p.m.
Combo Tickets, which cover all rides and building tours, are $19 (13 and older) and $12 (age 12 and under). "Mansion Only" tickets are $12 and "Ride Only" tickets are $11.
Special attractions include a "Firing Up" demonstration using a Stanley steam car, tours of the antique-furnished Auburn Heights Mansion (which was built in 1897), rides on the Auburn Valley Railroad and in select antique automobiles from the Marshall Collection.
Also included is entry to the Marshall Steam Museum, which features the world's largest operating collection of Stanley steam cars along with a 1930s working Lionel electric train display, a hands-on engine display, kids' activities and exhibits.
Attractions at at Yorklyn Bridge Trail include a lively Kid Zone, pony rides, vendors, a sidewalk art contest and food trucks.
Jungle John will present his Dinosaur Show at 1 p.m. and his live Reptile Show at 2:30 p.m. and Conservation Connections will present a free-flighted bird program.
Activities at the Center for the Creative Arts include a children's art show, an artisan's market, an art activity suitable for all ages, live music on an outdoor stage and food trucks.
An interesting and educational look at America's past with a special focus can be found in downtown Philadelphia his weekend.
Visitors to the old, historical district in Philadelphia on June 3 will be able to enjoy Fete Day 2017 at Elfreth's Alley, which is located off Second Street (215-574-0560,http://www.elfrethsalley.org).
From 1-5 p.m., the oldest residential street in America will be hosting a traditional festival with colonial flavor.
The popular annual festival will feature Colonial crafts, music, storytelling, refreshments, scavenger hunts and a wide array of hands-on games.
Historic Tours of the 32 historic residences on Elfreth's Alley will be offered between noon and 5 p.m. Tickets are $25 for adults, $10 for students and $60 for families.
On June 4, the Great Plaza at Penn's Landing (201 South Columbus Boulevard, Philadelphia, www.delawareriverwaterfront.com) will be the site of the Irish American Festival.
The event, which is part of PECO's annual multicultural series at Penn's Landing, will feature all things Irish — tasty traditional Irish food offerings such as Shepherd's Pie, bangers and mash, and scones.
The festival will present an array of Irish entertainment including pipers, Celtic bands and traditional step dancers. There will also be a variety of outdoor shops featuring authentic and traditional Irish goods.
The Irish American Festival, which runs from 1-8 p.m., is free and open to the public.