Also, a celebration of ceramics along the Wine Trail
By Lele Galer, Columnist, The Times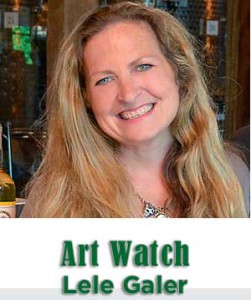 For this Halloween week, check out the fabulous "Show us Your Dark Side" exhibit opening reception at the Chester County Art Association this Thursday, October 29th from 5-8pm, showing through November 19th. The diversity of mediums and expression make for an astonishing show, all artfully curated and hung in the Chester County Art Association's recently remodeled main Bradford Gallery.
I was mesmerized by "Crow Song" by Siobhan Bedford, and delighted by the multi-media collage creations of Gregory Gans, Erica Brown, Joanne Mark and show-stopper Ray Lawler. Angela Meanix, CCAA Design and Communications Director, commented "It is so refreshing to see how the artists interpreted this theme, from somber palette to rich colored metaphor." A thriller of a show.
While you are at Chester County Art Association, make sure to check-out the last days of the "Unseated" show in their Huston Gallery with Ellie Byrom-Haley and Diane Cirafesi (through November 12). Their joint exhibition embraces a use of found objects and mixed media, which they write "reinterprets/unseats the familiar context. Chairs serve as both metaphor and canvases." Both Diane and Ellie are wonderfully talented local artists, and friends, who have pulled together a collaborative show that is thought-provoking and exploratory, and definitely worth a visit.
Also this Thursday, at 6:00pm, The Brandywine River Museum of Art will host another interesting discussion with Photographer James Welling regarding his landmark five-year project "Things Beyond Resemblance: James Welling Photographs" currently on view through November 15th. This talk will be with Alex Klein, artist and curator at the Institute of Contemporary Art at the University of Pennsylvania and a former student of Welling at UCLA. Go to the museum website for tickets to the discussion and reception, and do it now because the last one was packed.
The month of November celebrates "The Art of Ceramics" along many of the wineries of The Brandywine Artisan Wine Trail. There are so many talented, interesting ceramic artists in Chester County, this is a great way to highlight this art form, and enjoy some great wine along the way. Two exceptional ceramic artists, and friends, Rhoda Kahler and Emily Manko, will open their show at Galer Estate Vineyard and Winery with a sale and reception on Sunday November 22 from 3-7pm. Flickerwood Winery's location in Kennett Square will show the myth inspired clay work of Peggy Oltman, Wilson Vineyard will highlight the detailed work of Ki Crittenden and Ten Gallon Hat Winery will feature the ceramic work of Bob Deane all month long. Stargazer Winery shows the work of Suzanne Kent during their Dornfelder Day celebration at the winery on November 21 (I have many of her bowls!), and Paradocx Vineyard will showcase ceramics artists at their Ladies Shopping Event for Juvenile Diabetes on November 17th. For more information about these wineries and the wine trail, go to www.brandywineartisanwinetrail.com
While The Hunt Cup does not really fit into the theme of this column, I can't help mentioning that this incredible annual event is this Sunday, November 1st. The natural scenery, the horses, the excitement, all come together every year for a truly magical event that is a delight to the senses. Go to their website for more information on this beautiful event: www.pahuntcup.org.
Lele Galer is a local artist who has chaired numerous art shows, taught art history and studio art, public art and has chaired, written and taught the Art in Action Art Appreciation series for the UCFD schools for the past 12 years. She worked at the Metropolitan Museum of Art, and wrote for the Associated Press in Rome. She has been dedicated to Art History and art education for most of her adult life. Lele and her husband Brad own Galer Estate Winery in Kennett Square and she is on the Board of the Chester County Art Association and The Delaware Valley Art League.