By DENNY DYROFF, Staff Writer, The Times
When bands or musicians release a new album, it's usually news. When Stephen Kellogg's new album comes out in a few months, it will be N-E-W-S.
Kellogg, who will be performing on November 12 at the Ardmore Music Hall (23 East Lancaster Avenue, Ardmore, 610-649-8389, www.ardmoremusic.com), is releasing a double album with a very different concept. Kellogg's new album will have four parts — North, East, West and South.
"I just made a new record," said Kellogg, during a phone interview last week. "This one is interesting. I recorded it in four different regions with four different producers and four different sets of musicians.
"I did a Pledge Music campaign for it because I still need a studio to record in and that costs a bundle. You've got to roll with what is going on. I'm going to still produce vinyl and CDs but I also want to adapt. There is money to be generated by streaming. But, it's great to get something out there that we can own.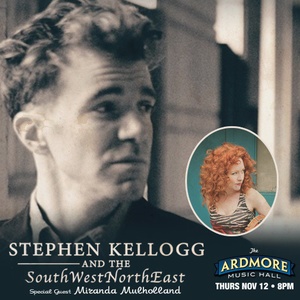 "The album comes out in February. It's a weird thing.  We're going to send it to the pledgers soon but it's not out on iTunes or Amazon yet. We sent it out a few weeks ago to a couple thousand fans who made it happen. They can handle a 20-song record.
"Then, we'll stream one track a month until it comes out in February. The recording is great. There are four parts — two CDs with four sides. The songs are all quite different. It's all me but each genre is different."
The Southern rock flavor of "South," which was recorded in Nashville and Atlanta and co-produced by Travis McNabb, is followed by the cowboy vibe of "West," which was recorded on a farm in Boulder, Colorado and co-produced by Gregory Alan Isakov. "North," which was recorded in a cabin in Woodstock, New York, is the third piece and the album ends with "East," which was recorded in Washington, DC).
"There really is a Southern rock feel to 'South'," said Kellogg. "We recorded that part last January. "In early February, we went to a cabin in Woodstock to record with Josh Kaufmann. We were there during an ice storm. The music is the closest thing I have to being an indie rock album.
"We did 'East' in Washington, D.C. It's the pop section. Things were a little less organized during that session. We did 'West' with Gregory in a studio in Boulder. You could describe it as cowboy songs.
"When I was thinking about making a new album, I thought about something concept-based with different sections — something I could do in different genres. Making this music helped me know where my heart is. I found a sense for the road I want to walk down. I don't care about a genres — I care about messages.
"Now, I'm touring with a great band — an awesome five piece. A third of the set will be songs from the new album, a third will be from my last album 'Blunderstone' and a third will be greatest hits."
Video link for Stephen Kellogg — https://www.youtube.com/watch?feature=player_embedded&v=6SFOP0Z-3_I.
The show at Ardmore, which features Miranda Mulholland (of Great Lake Swimmers) and Brooks Hubbard as the opening acts, will begin at 8 p.m. Tickets are $30.
On November 13, the venue in Ardmore will host Toadies, who are out on an album release tour for their new disc "Heretics."
Toadies kicked off their Heretics headline tour with a run of historic Texas dancehalls and then set out on a cross-country headline tour. Classic tracks "Possum Kingdom," "Tyler," "Backslider" and others are reworked with new instrumentation and arrangements.
The band from Fort Worth, Texas features Vaden Todd Lewis on vocals and guitar, Mark Reznicek on drums, Doni Blair on bass and Clark Vogeler on lead guitar and backing vocals.
"Heretics," which is out now on Kirtland Records, is a collection of re-worked Toadies fan favorites and new tracks. The album also features two new songs and a cover of  Blondie's classic hit "Heart of Glass."
"This album is Toadies stripped-down and distilled — and also dressed up," said Vogeler, during a phone interview last week from his home in the Lone Star State. "We took songs to their basic elements to see if they still held up."
The idea to do a deconstructed record was born at the band's annual "Dia De Los Toadies Festival," which just celebrated its eighth year in the band's hometown of Fort Worth. The first night of the festival traditionally sees the Toadies playing a stripped-down chill set.
If you go back a dozen years, the thought of Toadies performing on the road in 2015 would be an alien notion. They got their start in Fort Worth in 1989 and released their "Rubberneck" album in 1994 and their "Hell Below/Stars Above" album in 2001. In the middle of 2001, the band broke up.
"We were all very exhausted," said Vogeler. "We were signed to Interscope Records. We spent five years making 'Hell Below/Stars Above' and, a few weeks after it was released, we realized Interscope didn't give a shit about the album or about us. It capped it off when our original bass player quit."
In 2006, toadies sprung back to life.
"When Toadies broke up, the singer started another band with his friends but he got frustrated with that band," said Vogekler. "He started writing songs that sounded like Toadies songs. He called me and the drummer to play. When we started playing, it was fun. Strangely, there were people who still wanted to see the band.
"Before we officially decided to get back full-time, we got invited to play a gig in Dallas — the St. Patrick's Day concert — and 13,000 people showed up to hear us play. In Texas, it's different. They treat us royally here. They make us feel like rock stars."
Video link for Toadies — https://www.youtube.com/watch?feature=player_embedded&v=Odt8frMsLTk.
The Toadies show, which also features In the Whale, Alright Junior, will start at 8 p.m. Tickets are $30 in advance and $35 day of show.
Other upcoming shows at the Ardmore Music Hall (23 East Lancaster Avenue, Ardmore, 610-649-8389, www.ardmoremusic.com) are Hezekiah Jones on November 14 and Broken Arrow –Neil Young Tribute and Big Jangle — Tom Petty tribute on November 15.
On November 12, Burlap & Bean Coffeehouse (204 South Newtown Street Road, Newtown Square, 484-427-4547, www.burlapandbean.com) will host the area debut of Emilie & Ogden.
Odgen doesn't speak but is far from a silent partner.  Emilie Kahn, a Montreal native, sings and plays harp. Ogden is her harp. Together, the two are on a mini-tour of the Northeast in support of the debut record "10,000."
"I released the album in October," said Kahn, during a phone interview Wednesday as she awaited her show at Boot and Saddle in Philly. "I had a little EP out before that but all those songs are on the album.
"I recorded the album just outside of Montreal. I spent an intensive week in the studio and then came back and worked on it in Montreal. Finally, I did the vocal takes in another country location outside of Montreal. I spent six months altogether in making the album."
A big break came for Kahn when she did a video of her cover of Taylor Swift's song "Style."
"I play that cover in my live show," said Kahn. "When I put the video of the song online, it did really well. It went viral almost immediately. Taylor Swift even re-tweeted it."
Kahn is new as a recording artist but she has been making music for awhile.
"I was into songwriting when I was young," said Kahn. "I was a music major at Vanier College in Montreal with flute as my instrument. That was my childhood instrument so I was searching for a new instrument. When I was at Vanier, I discovered the harp. That was five years ago.
"I think harp is the greatest instrument. I love the way it looks and the way it sounds. I can play a lot of strings sympathetically. And, it wasn't much harder than learning to play piano.
"When I do shows in Quebec, it's mostly with my band — guitar, bass and drums — and me on harp and vocals. For this mini-tour, it's just me solo. It's fun to play solo. Right now, it's just me and Ogden travelling around in my little car."
Video link for Emilie & Ogden — https://www.youtube.com/watch?feature=player_detailpage&v=9sSOoMu_MWI.
The show at B&B will start at 8 p.m. with Luray as the opening act. Tickets are $10.
Banjo-infused indie rock outfit Luray, which is led by singer-songwriter Shannon Carey, just released its debut album "The Wilder."
"I grew up in Wisconsin," said Carey, during a phone interview Tuesdsay. "My dad is a music teacher and a musician in a country band. There was always a lot of singing in our house — and a lot of instruments around. My mom and I studied with a guitar teacher when I was six.
"I mostly listened to folk and pop when I was young — music of the 70s. I also listened to some country music. I think that had a lot of influence on me. Pedal steel and banjo were used sparingly. So, when I heard them, my ears perked up.
"I stared to learn banjo when I was in my late 20s. I was working as a social worker in California and noticed this sense of boredom in my life. I had a feeling that I should be doing something different."
That something different was music.
"I looked for a banjo teacher," said Carey. "Then, I found a community of bluegrass music. I rented a banjo and took lessons. Five years later, my husband and I moved to D.C. I decided — no more social work. I focused on writing music and practicing. My first gig with the band was in spring 2011.
Luray, which is based in Virgina, features Sarah Gilberg on keyboard and backing vocals, Gabriel Wisniewski on electric guitar, C.J. Wolfe on drums, Brian Cruse on bass and Carey on banjo and vocals.
The band's most recent album was "The Wilder," which was released in 2013. A new album is in the works.
"The new album will have 11 tracks and hopefully will be out in the spring," said Carey. "With the new material, I think some of the melodies and themes are the same as before.
"The biggest difference is the instrumentation because the band has been together for three years already. There are a little more influences of pop, jazz and world. We even have an mbira onstage. The new music is more percussive and upbeat."
Video link for Luray — https://www.youtube.com/watch?feature=player_detailpage&v=INZVnzwxEtM.
Other Burlap and Bean shows coming this weekend are Caleb Spaulding and Bill O'Meara on November 13 and Sparkle Pony and The Deer Run Drifter on November 14.
Also on November 12, veteran singer-songwriter Jay Nash will be in town for a show at the Tin Angel (20 South Second Street, Philadelphia, 215-928-0770, http://www.tinangel.com).
Nash is a singer-songwriter from New England who is touring his "Meet the Contenders" album and introducing a brand -new single co-written with Erin McKeown called "Where to Start."
Philly fans will have the rare opportunity to hear Nash perform his songs in a stripped-down style.
"I'm playing a 1946 Gibson guitar," said Nash, during a phone interview last week. "I use a single microphone and I'm not plugging the guitar in. So, I'll have a real connection with the audience.
"I've been in music for awhile. I tried not to be a musician. I went to the University of Vermont for engineering. Then, I was over it. I didn't want to send my life at a desk. A career in engineering wasn't exciting. It was boring.
"So, I scraped some money together, made an EP, shoved all my belongings into my Honda Civic and moved to New York. Since then, I've released seven solo albums, four EPs and six collaborative projects."
Nash has been able to stay busy consistently
"I've toured the United States many times and recently did my 10th tour of Europe. I occasionally produce records for other artists and I compose music for TV shows and films. I just did the music for the film 'Coming Through The Rye.'
"I've done an album-a-year since 2008. I released a three-song single with Garrison Starr and I have another single coming out next week. Garrison has been a friend for years and we've done a lot of tours together.
"Things have changed so much that it's less about albums anymore. With the new single, Erin and I got together last year and wrote the song. Erin and I had a conversation that was stream of consciousness and it turned into a song. She came up to my place in Vermont and we recorded a few songs in my home studio.
"'Where to Start' was such a good song, I couldn't stand to let it sit in the vault any longer. BaebelMusic is going to premiere on November 9. Hopefully, by the time I start the tour in Philly, it will have some resonance with people.
"I'm doing this tour with Josh Day. For the last year or so, most of my live recordings and shows have been done with Josh Day. We have a real musical rapport. Our voices work well together. We toured last year as The Contenders and people enjoyed it. It filled a void that was there when I played solo acoustic."
Video link for Jay Nash — https://www.youtube.com/watch?feature=player_detailpage&v=6MnBiImaQLI.
The show at the Tin Angel will start at 8 p.m. with tickets priced at $12.
Other Tin Angel shows in the upcoming week are Giovanni Vitacolonna on November 13, Kasim Sulton on November 14 and Steve Davidson & Ken Bonfield on November 18.
There will be nothing unlucky about Friday the 13th for music fans who attend the concert that evening at Union Transfer (1026 Spring Garden Street, Philadelphia, 215-232-2100, www.utphilly.com).
The venue is hosting talented singer-songwriter Rachel Yamagata.
Rachel Yamagata released her first album "Happenstance" in 2004. The singer, who hails from Fairfax, Virginia, has been working on a new album which should see the light of day early next year.
"We're working on two mixes for the album," said Yamagata, during a phone interview while she was travelling to a tour stop in Nashville. "It's so close. It's like — get it finished already.
"I'm releasing it myself. It was mostly recorded at my home in Woodstock, New York and we did some at Village Recorders. A lot of it was done in an organic set-up in my living room or outside. I live on 12 acres with a lot of nature that is conducive to being creative.
"I worked in a really comfortable environment. I recorded a lot at home — whenever I felt the inspiration. There were a lot of advantages in doing it at home. Unlike in a recording studio, you don't have to look up at a clock. I wanted complete freedom without pressure from a studio.
"I have a complete studio set up in my home and my boyfriend is a recording engineer. This is the first record where I took on more of a producer role. I did a lot of trial-and-error with the arrangements and musicians. Producing it myself, I was able to work on instincts.
"Some of the production ideas I used are ones I wouldn't have arrived at with another person adding input. I didn't have to record songs in parts. I worked hard on 15 songs doing a lot of revisions, re-recording and re-tracking — revising them until they felt really interesting to me. I used banjos, mandolins, sax and drums. I even sampled patterns of rain on a stool."
The new album is organic — and diverse.
"The songs are all very different," said Yamagata. "It's like a new sound for me. They are very big and there are edgy, angular arrangements. It's not as traditional as some of my earlier albums –it's riskier. It's more of a positive record."
Video link for Rachel Yamagata — https://www.youtube.com/watch?feature=player_detailpage&v=y_0GbrmMxXI.
The show at Union Transfer, which has Tony Lucca as the opener, will start at 8:30 p.m. Tickets are $18.
Other shows at Union Transfer over the next week are Wild Child and Elliott Moss on November 14 (early show), Grimes and Nicole Dollenganger on November 14 (late show), Neon Indian on November 15, Dave Rawlings Machine on November 17 and Jeezy on November 18.
The Flash (102 Sycamore Alley, Kennett Square, 484-732-8295, http://www.kennettflash.org) will present Rust (Nov 13), The Melton Brothers and WILD NORTH (Nov 14), Sam Kwietniak (Nov 15), and Stand Up Comedy Night at The Kennett Flash with Rob DeSantis, Christian Alsis, Garrett Smith, Marc Staudenmaier, and Mike Brooks (Nov 18).
The Steel City Coffee House (203 Bridge Street, Phoenixville, 610-933-4043, www.steelcitycoffeehouse.com) will host Cliff Hillis, Kyf Brewer and Frank Brown (Nov 12), the Fred Eaglesmith Traveling Steam Show (Nov 13) and Time Gap, Alyssa Garcia and Ciera Crespo (Nov 14).
Chaplin's (66 North Main Street, Spring City, 610-792-4110, http://chaplinslive.com) will have Stu and the Gurus and nxt2normal on November 14.
Melodies Café (2 East Ardmore Avenue, Ardmore, 610-645-5269, www.melodiescafe.com) will host Nick McKean and Ben Kessler (Nov 13) and Rob Robinson (Nov 14).
World Café Live at the Queen (500 North Market Street, Wilmington, 302- 994-1400, www.queen.worldcafelive.com) will have David Mayfield and Sean McConnell (Nov 12), Amy Black and Sarah Borges (Nov 13), and The Core: The Eric Clapton Tribute Band (Nov 14).
The Grand Opera House (818 North Market Street, Wilmington, Delaware, 302-652-5577, www.thegrandwilmington.org) will host Scott Bradlee (Nov 13), Delbert McClinton (Nov 14) , Joe Papa (Nov 14 in Baby Grand) and former Genesis guitarist Steve Hackett and his band (Nov 18).
The Keswick Theater (291 N. Keswick Avenue, Glenside, 215-572-7650, www.keswicktheatre.com) will host Ry Cooder (Nov 12), Joe Papa (Nov 13), and Colin Hay (Nov 14).
The Scottish Rites Theatre (315 White Horse Pike, Collingswood, N.J., http://www.collingswood.com/entertainment/theater-and-ballroom) will present Buddy Guy on November 12.
The Sellersville Theater (24 West Temple Avenue, Sellersville, 215-257-5808, www.st94.com) will have California Guitar Trio (Nov 12), BeauSoleil avec Michael Doucet and April Mae & The June Bugs (Nov 13), Joe Conklin with Sudsy and Mike Donovan (Nov 14), Paul Thorn Band and Gary Douglas (Nov 15), and Le Vent Du Nord (Nov 18).
The World Café Live (3025 Walnut Street, Philadelphia, 215-222-1400, philly.worldcafelive.com) will host
Edwin McCain with Jenn Grinels (Nov 12), The Oh Hellos (Nov 14), Morgan James with Boh Doran (Nov 15), and The Philadelphia Moth Story Slam (Nov17).
The Trocadero (10th and Arch streets, Philadelphia, 215-922-6888, www.thetroc.com) will have Carly Rae Jepsen, and K.FLAY (Nov 13); and Onyx, Fredro Starr & Sticky Fingaz, Yikes The Zero, 30 and Over League, Reef The Lost Cauze (Nov 14).
Fillmore Philadelphia (1100 Canal Street, Philadelphia, 215-309-0150, www.thefillmorephilly.com) will have Papadosio, Quantic DJ, Thriftworks  (Nov 12),  James Bay (Nov 13),  Futurebirds  (Nov 13 — Foundry), GTA, K Camp, Sweater Beats, Hermitude (Nov 14), Puscifer (Nov 15), Parkway Drive, Miss May I, Thy Art Is Murder, In Hearts Wake (Nov 17) and Laura Stevenson (Nov 18 — Foundry).
The American Music Theatre (2425 Lincoln Highway East, Lancaster, 800-0 648-4102, www.AMTshows.com) is presenting its annual holiday show — "2015 Christmas Show: Deck the Halls." The festival annual show will run through December 30 at the comfortable theater.
With a brand-new setting  — a lavish Christmas-themed hotel as the backdrop — the show features an all-new program with spectacular singing, dancing and live music presented by the AMT's talented cast and veteran orchestra.
Video link for "2015 Christmas Show: Deck the Halls" — https://www.youtube.com/watch?feature=player_embedded&v=Xruo1J2cbf8.
The show will have both matinee and evening performances each week with the addition of 10:30 a.m. performances on Sundays throughout December. Show length is two hours and 15 minutes with a short intermission. Tickets are $42 for adults and $21 for children.
The Academy of Music (Broad and Locust streets, Philadelphia, 215-731-3333, www.kimmelcenter.org) will host a show by Don Henley with Shawn Colvin on November 12.
The Theatre of the Living Arts (334 South Street, Philadelphia, 215-222-1011, http://www.lnphilly.com) has a line-up featuring Allen Stone (Nov 12), Yonder Mountain String Band with Henhouse Prowlers. (Nov 13), Heaven's Edge (Nov 14), Knuckle Puck with Seaway, Sorority Noise, and Head North (Nov 15), and Hudson Mohawke with The-Dream (Nov 17).
Kung Fu Necktie (1250 N Front St, Philadelphia, 215-291-4919, www.kungfunecktie.com) will host Bul Bey, Torito, iAlive, Xfctr, Johann Sebastian (Nov 12); Dilly Dally, A Victim Of Good Times (Nov 13); Gringo Motel, Brian Carpenter & The Confessions, F.Woods (Nov 14), Hoser, Bruiser Queen, CaveWomen, Mercury Milk (Nov 14); Scott Kelly and Bruce Lamont (Nov 16); Diane Coffee and Pine Barons (Nov 17); Extra Dark (Nov 17); and Bombadil (Nov 18).
Fire (412 West Girard Avenue, Philadelphia, 267-671-9298, thefirephilly.com) will present The Big Time, The Stolen, We Are Forever and Final Showcase (Nov 12); The Murderburgers, City Mouse, Honah Lee, Andysocial and The Antidotes and The Slotcars (Nov 13), Theresa Pettignano, Wicked and Weathered, Anna Ladd, E-dubble and Waxx (Nov 14); Moto Surf, daisychain, On Your Marks and Along The Way (Nov 15); and Community Center, Charlotte Berg and Straight White Teeth (Nov 18).