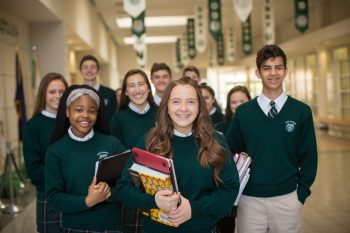 Bishop Shanahan High School will be hosting its Fall Open House on Sunday, November 11th from 12 noon to 3:00 PM. All are welcome to attend and can RSVP at shanahan.org. Open House guests will have the opportunity to learn about the academic program at 1:30 PM; meet with faculty, coaches and current students; and tour the campus and experience classroom demonstrations. 
Throughout its more than 60 years of rich history, Bishop Shanahan High School has expanded to include a premier fine arts department, accomplished athletic program and competitive course offerings focused on real world skills, including S.T.E.M. and entrepreneurship. The academic program promotes critical thinking, innovation and collaboration. Shanahan graduates are prepared to be confident scholars and able leaders of a rapidly evolving global world. The Class of 2018 had a 100% college acceptance rate and received more than $36.4 million in college scholarships.
There is something for everyone at Bishop Shanahan High School. Shanahan students are encouraged to explore a wide variety of interests and extra-curricular activities to give them a well-rounded high school experience. Athletics, fine arts, robotics, forensics, and student government are just a few of the opportunities available.
At the heart of BSHS is a community that nurtures young adults to be "People of God; People for Others." Shanahan students are socially responsive, ethical Christian people, who embrace a commitment to serving others. Christ-centered values unify the school community and empower Shanahan students to confidently meet the challenges of a world not yet realized. Innovative faith-based programs that focus on the interconnectedness of people all over the world foster students' spiritual life. This allows the young adults of BSHS to deepen their personal relationship with God and to continuously reflect on their role as global citizens.
Come and see for yourself what Bishop Shanahan High School is all about. Visit shanahan.org/whybshs to learn more about when to visit and to check out Shanahan's academic program, extracurricular opportunities and faith community.