By Mike McGann, Editor, The Times @mikemcgannpa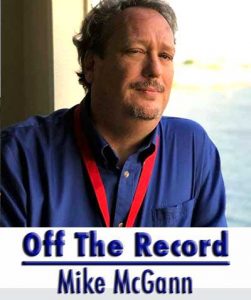 The great thing about a road trip is seeing how amazing America can be.
In a pandemic, though, one also sees how foolish, ignorant and careless some Americans can be. A few thoughts from voluntary quarantine (beyond the fact that sleeping on the couch in my home office/detention cell is not super comfortable).
My daughter is a sophomore (and a half — she becomes a junior in January, due to taking an aggressive academic schedule) and needed a car to begin student teaching (she's a music education major at U. Nevada Reno). Not wanting to cross the Rockies in January, we decided to make the trip now.
It was informative and what I learned was this: we're screwed as a nation when it comes to COVID-19 because our safety comes down to whether we have a united front to battle this virus.
We don't.
In Pennsylvania and Ohio, masks were just about everywhere. The only place in either state where we saw folks in public without masks was at Lake Erie in Cleveland — understandable with people swimming at the beach. There was really good compliance everywhere else and people were taking the pandemic seriously.
Then there was Indiana. Not so much. We saw a lot of people not wearing masks and even a few who gave us the stink eye for wearing our masks. It won't shock me if we see a major breakout in the Hoosier State in September.
Illinois was more like Pennsylvania and Ohio — people were wearing their masks and taking things seriously — at least in the northern portion of the state. I suspect things in southern Illinois might be more like Indiana, though.
Which brings us to Iowa. In fairness, when we were there, much of the state had been devastated by a derecho — but a lot of people were not wearing masks. Even at our hotel — with signs saying masks were required — people were not wearing masks. This was also where we saw the first returnees from Sturgis Motorcycle Rally in South Dakota — most of whom refused to wear masks. The most recent numbers suggest that Iowa is now one of the nation's new hot spots for COVID-19.
I'm hopeful Sturgis doesn't turn into a superspreader event, but I think some concern is warranted. We saw folks returning from Sturgis in four states and it safe to assume that they spread all over the midwest and northwest.
Nebraska — just removed from Pennsylvania's quarantine list – didn't seem much interested in masks and doesn't seem to require them. Wyoming, Montana and Idaho fall into the same category. Granted, all those states have an advantage of low population density, but it seems like the failure to take the pandemic seriously will have an impact in the coming weeks.
I finished up in Nevada — which is a bit like two states. The north, Washoe County, where I was, and down south in Clark County. The former contains Reno, which is taking the masking thing seriously and is an area with fairly low case numbers (with slightly less population than Chester County, it has slightly more cases — but far less deaths). The latter contains Las Vegas where things are decidedly not going as well since the Strip reopened. Much of the rest of the state is desert and brush with little population. The rush to reopen the Strip in Vegas — a major revenue source for state government — has led to a spike in cases in the state.
Most of what I saw concerns me as we head into the fall. There are too many areas in the U.S. not taking this pandemic seriously.
It seems likely that this fall will bring us tough times.
***
This past week, Chester County Health recommended that schools not reopen for in-person until Oct. 9. And it looks like some schools that had planned at least some in-person education are reconsidering that. As an example, Unionville-Chadds Ford won't have any in-person instruction as originally planned before Oct. 9. Other districts in the county are having school board meetings this week to address this.
We will probably see most districts adhere to CCH's recommendation, as there are serious liability issues for any school district failing to do so.
And yes, for students and for many parents, this is tough.
And while some are decrying this recommendation, it makes sense to protect school district staff as well as parents and other older relatives. Without doubt, kids' education will be negatively impacted, but how much worse would it be if a child brought home COVID-19 and made a family member critically ill — or killed them?
There's no good answer, here. If we as a nation had a national testing and contact tracing plan, we likely could have gotten COVID-19 better under control by now — making school reopening a lot safer.
So, while it is easier to blame local officials — or even governors — the failings come from the federal government's failure to respond to this crisis.
In a related matter, the Pennsylvania Interscholastic Athletic Association (PIAA) voted this past week to allow fall scholastic sports — disagreeing with Gov. Tom Wolf's "strong recommendation" that all youth sports be put on hold until 2021.
I understand Wolf's position — there is some risk from having students from neighboring counties interacting on a playing field. But it seems like outdoor sports is a much lower risk than indoor sports and if properly managed could be played fairly safely. I'll note neighboring New Jersey is allowing outdoor scholastic sports (granted, NJ is generally in better shape in terms of COVID-19 than Pennsylvania is).
I think the PIAA allowing districts (and I presume conferences) to opt to play fall sports in the spring is a good decision, creating an off ramp for schools and districts that don't think they can run sports safely right now.
The conditions on the ground are different in different parts of the state — while holding off in Philadelphia or Allegheny counties might be prudent, other counties have very low numbers and low population density.
It would have been helpful had the state issued guidelines based on infection rates in a given county (or counties in less densely populated areas) rather than suggest a blanket ban.
For so many kids, sports is crucial outlet, one that keeps them in school and in class. Others need sports to get college education opportunities that their families cannot afford. We can't ignore that.
I get the need to be careful and vigilant in fighting the virus. But this is a case where some nuance would be have been wiser.