By Mike McGann, Editor, The Times @mikemcgannpa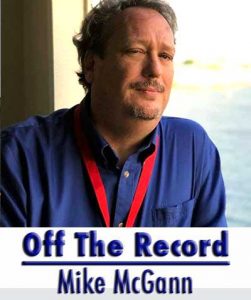 With apologies to Charles Dickens, it is a tale of two political parties.
In one party, a long-serving U.S. Senator is under attack for voting his conscience — the party rejecting the idea that said senator can hold a former President responsible for sparking an insurrection at the U.S. Capitol. The local county committee draws up a resolution condemning the senator, all while repeating "The Big Lie" about to 2020 election and seeking to again, delegitimize the votes of millions of fellow Pennsylvanians. 
In another party, a young county leader is taking his state government to task — a government led by a governor of his own party — for its widespread failures in distribution of COVID-19 vaccine. Within his local party, the young leader is lauded for fighting for the people of his county and doing his job — and the state responds by retargeting vaccine distribution to better serve the county.
This isn't some mid-19th century work of fiction, it is the reality of politics in Chester County in 2021.
U.S. Sen. Pat Toomey, a very conservative Republican, was one of seven Republican Senators to vote to convict former President Donald Trump for his actions before, during and after the Jan. 6 insurrection at the U.S. Capitol. He explained it this way:
"President Donald Trump's defense team made several accurate observations at the impeachment trial. Many elected Democrats did want to impeach President Trump from the moment he won the 2016 election. The mainstream media was unrelentingly biased and hostile to the president. Both often overlooked violent riots when perpetrated in favor of causes they found sympathetic last summer.
"However, these facts do not make President Trump's conduct in response to losing the 2020 election acceptable. He began with dishonest, systematic attempts to convince supporters that he had won. His lawful, but unsuccessful, legal challenges failed due to lack of evidence. Then, he applied intense pressure on state and local officials to reverse the election outcomes in their states.
"When these efforts failed, President Trump summoned thousands to Washington, D.C. and inflamed their passions by repeating disproven allegations about widespread fraud. He urged the mob to march on the Capitol for the explicit purpose of preventing Congress and the Vice President from formally certifying the results of the presidential election. All of this to hold on to power despite having legitimately lost.
"As a result of President Trump's actions, for the first time in American history, the transfer of presidential power was not peaceful. A lawless attempt to retain power by a president was one of the founders' greatest fears motivating the inclusion of the impeachment authorities in the U.S. Constitution.
"I was one of the 74 million Americans who voted for President Trump, in part because of the many accomplishments of his administration. Unfortunately, his behavior after the election betrayed the confidence millions of us placed in him.
"His betrayal of the Constitution and his oath of office required conviction."
Sounds reasonable, yes? Even if you disagree, he makes clear his logic and decision process.
But the mistake was criticizing the Dear Leader — no matter what you do, if you are a rank-and-file Republican, you may not criticize Trump. Ever. For anything. All of the other Republicans who supported Trump's conviction have been trashed by their own state party (except in Utah, which seems to remember how democracy works).
And while it isn't a surprise that parts of the state that have many residents displaying the intellectual prowess of a groundhog are calling for Toomey's head, it was kind of surprising that a strong segment of the Republican Committee of Chester County wanted to go down the same pathetic road. It only only paused when cooler heads pointed out how deeply stupid it would be. Left unsaid, Trump pretty much single-handedly sped the conversion of the Chester County GOP from majority party to a fringe, rump party abandoned by thousands of voters.
Toomey wasn't willing to embrace the lie that Trump didn't encourage the insurrection, before, during and after — he spent weeks pushing his "Army" to come to DC and then applied the coup d'grace by instructing the mob to head to capitol.
And yet, the resolution made it out into the public domain and it is a doozy. Everything from continuing the Big Lie (suggesting millions of Pennsylvania votes shouldn't have counted), claiming the reason the party is losing voters is Toomey's fault — not because it has become a clown car full of nut birds and other choice points of fiction. I'd quote in detail, but it is literally so stupid, so deceptive it might cause a spontaneous black hole if widely distributed.
And yet, allegedly, in its latest Wile E. Coyote move, the committee might still take up this clueless diatribe against Toomey.
Meanwhile, in that other political party, the Democrats, local elected leaders were calling out the state government — run by the theoretical leader of the state Democratic Party — for its lousy rollout and distribution of COVID-19 vaccine.
Commissioner Josh Maxwell called out the state health department and by extension, Gov. Tom Wolf, this week on social media for failing to get the job done for his constituents. 
PA is towards the bottom in vaccines received per capita#ChesCo has received the 22nd most vaccinations per capita-despite the 6th largest population in PA

We need comprehensive changes to the vaccine distribution in PA & with a 100k shortage of 2nd doses, we need it to soon pic.twitter.com/qanK8BmVZH

— Josh Maxwell (@maxwelljosh) February 17, 2021
So was Maxwell shunned, called out by the Democratic County Committee for daring to criticize the leader of the state party, the state's chief executive?
Nope, rather, it appears his agitation led to some 1,500 extra vaccinations being given Saturday, helping to slightly ease the backlog of those who have signed up for their shots. Additionally, the state Department of Health has agreed to change how it distributes vaccine, boosting numbers to those, like the Chester County Department of Health, who have been most effective at getting shots into arms. That should help even more with the backlog and get thousands more county residents vaccinated.
Accordingly, Maxwell is rightly being praised for standing up for his constituents — Democratic, Republican and independent — and calling out state elected officials of his own party.
You know, doing the right thing, regardless of party and being applauded for doing so. Confusing, right?
Right now, there is a clear difference between the parties — one is now a cult of personality, the other — imperfect to be sure — is at least mostly trying to support democratic institutions and working on behalf of all constituents.
Something to think about.