By Mike McGann, Editor, the Times @mikemcgannpa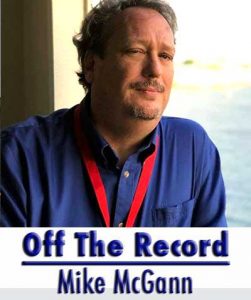 Happy Labor Day! (Well, tomorrow, actually).
As we political junkies know, Labor Day is the traditional start of the political season, so it is always with some excitement when the first ridiculous claim of the campaign season is thrown out.
Back in May and April, when it looked like the sky was falling on Democrats and President Joe Biden, I suggested that it would be prudent to wait and see until, well, this weekend before hitting the panic button. Now, of course, emboldened Democrats are just on the verge of getting out over their skis with enthusiasm, even if things are a lot better now and appear better for November.
There's no doubt the Supreme Court decision on abortion, Biden's wins in Congress and moderating inflation have all helped Democrats. Can it be enough to buck the usual off-year trend for parties that hold the White House? Maybe.
Donald Trump won't go away quietly and it seems every day voters are reminded of the chaos, cruelty and stupidity that marked his time in office. It's a reminder most GOP candidates don't want to hear about but are afraid to distance themselves from because of how wacky their base has become.
So where do things stand? In Pennsylvania, Democrats are in pretty good shape, with polling showing both John Fetterman and Josh Shapiro with fairly stable and large leads.
Barring a some sort of bizarre event, Chrissy Houlahan will win reelection to Congress, likely by more than 10 points.
The state house races are more interesting, even if it seems unlikely that Democrats have any chance to control the state senate.
If Democrats are to take the lower house with the new fairer (but still slightly GOP lean) districts, it will be because they won races in the southeast. The obvious flip is in Chester County's 26th where Democrat Paul Friel looks to unseat long-time incumbent Tim Hennessey. Hennessey, frankly, should have retired years ago and this rematch, in a more blue 26th, should spell the end of Hennessy's elective career.
Another seat to watch: the 160th. Freshman Republican Craig Williams may face a serious challenge from Cathy Spahr — look at this district as being one whether the abortion issue could prove definitive.
If Democrats can add those two seats — which would leave the county represented by just one Republican in the state legislature, John Lawrence — they'd still need pickups elsewhere. But even the idea that this is possible in 2022, not 2024, tells you how much the political environment has changed.
Every day that the conversation is about abortion and Trump, Republicans lose. I don't see the changing much in the next few weeks.
***
While there's a million policy issues to argue, and I likely will as we creep closer to election day, right now I'd like to reflect on the actual political skills of the relative campaigns.
Shockingly to me, there's no comparison when it comes to statewide and local races. The Democrats — decidedly not in disarray — have become organized, well-funded and professional. Meanwhile, Republicans are underfunded and their campaigns range from somewhat disorganized and incompetent to kind of crazy or literally malevolent.
It's a bit mind boggling. Flash back a decade and Republicans — whether you agreed with them or not — ran tight, disciplined campaigns, raised tons of money and generally made it happen without drama. Democrats were typically underfunded, a bit chaotic and lacked real unity.
While the worst campaign is probably that of U.S. Senate candidate Mehmet Oz — a campaign so badly run that many are asking whether his staff is actively working to sabotage him — we're seeing a surprisingly large amount of poor trade craft among GOP candidates candidates.
Whether it is getting pummeled on social media — when it happens on Facebook, which tends to have a more conservative reader base, it is especially bad — arguing with voters, often getting shut down, juvenile statements to the media (or, as apparently is the case with the  Doug Mastriano for governor campaign, declining to speak with any normal media outlets), it's been a historically bad summer in terms of campaign operation for Pennsylvania Republicans.
It is hard to believe what was once a slick, well-managed machine has devolved into little more than an underfunded mob in just a decade. Democrats are far from perfect — Josh Shapiro kind of made a foolish decision to entice anti-mask and anti vaccine voters this past week (wildly disappointing to most of his supporters and a real tactical head scratcher) — but on the whole they've been more focused and better managed.
Yes, John Fetterman needs to do a better job of explaining his current physical limitations (granted by the end of last week, his campaign was putting out better information), but his campaign has actually been among the best run in the country this cycle.
Good campaigns are usually reflective of good candidates — and the converse.
But clearly, with too many of the inmates running the asylum in the GOP, many of the party's most experienced operatives are sitting this cycle out, leaving many of the races to be run by amateurs.
It does not bode well for November.