By Rich Heiland, Columnist, The Times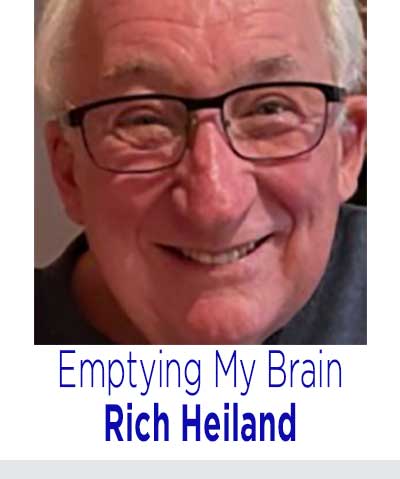 SOME QUICK REFLECTIONS…..on our recent primary elections…
Schools…The billionaires who poured money into area school board races to try to turn public education into a straight, white Christian Nationalist brain-washing experience ought to be a bit disappointed. Granted, this was only a primary and the real test will come in November, but Tuesday's results could not have been causes for joy.
Candidates, running under a variety of misleading banners, who got megabucks from the far-right donors as a part of a national campaign to dumb down public education, generally ran behind those who support an inclusive education that prepares students for an ever-more complex and diverse world.
Adding to confusion over who was who in cross-filed primaries (see below for more on that) the far-right candidates scrubbed most of their social media prior to the elections and ran vanilla ads that did not repeat any of the things they had said earlier that reflected bigotry and homophobia. Fortunately, they could not scrub minutes of school boards, borough councils and various county public meetings so those opposing them were able to get the word out about what they really stood for.
With a few exceptions it was good news for those who believe in providing a quality education for students as opposed to creating a reincarnation of Third Reich schools in 1930s Germany. The November election will be a rerun of the primary so a lot of hard and serious work remains; in other words, it could be, and most likely will be, ugly with a lot of outside money coming into local school board races.
Primarily, a primary mess…..Pennsylvania has a well-intended, but misguided, approach for primary elections when it comes to the judiciary and school boards. Candidates run without party identification, and they can cross-file into both party primaries. The intent was to make these races non-partisan, but that hasn't come close to happening. What it has created is a confusing mess for voters in each party, who naturally want to support their candidates. But, in the Chester County races for five open seats on the Common Pleas Court voters were treated to about a dozen names on the ballot in each primary. So, voters were required to either memorize the names of their candidates or take a cheat sheet into the polling place.
Why cross-file? If you are a candidate and you win both party primaries, then you are unopposed in the general election. This did not even come close to happening in either the judicial or school board races.
The primary did some winnowing down so five Republicans will face five Democrats for the open seats.
And, the primary leads to back-room politics…
In Chester County, this past winter, a group of party leaders gathered behind closed doors to determine which candidates seeking the five open court seats would get the formal blessing and endorsement of the power structure. The leadership presented a list of five candidates to the precinct leaders around the county who then voted on the final endorsements.
In the backroom process current Sheriff Fredda Maddox failed to get an endorsement. Kevin Dykes, her chief of staff and a candidate for sheriff, also failed to get an endorsement. Comments passed on to me indicate that a lot of the reasoning for not endorsing the duo was just flat wrong. Rumors the lack of endorsement was some sort of political payback abounded. I wrote about it on my blog and was branded by party leadership as a "negative force" for doing so.
But Maddox and Dykes and their supporters went to work and were endorsed by the county at-large. On Tuesday Maddox finished a strong third out of five endorsed candidates, just within a few votes of coming in second.
Alas, the party leadership continued to make it known that any challenging of its authority would not be tolerated. One candidate, current sitting magistrate Paige Simmons, decided to stay in the race after being shunned both behind closed doors and at the county-wide caucus. That drew the wrath of leadership who said she assured them she would not run if she did not get an endorsement.
On Monday a story broke that a group of voters, apparently with the blessing of the party leadership, was filing an election complaint against Simmons alleging she had more than one "paid by…." committee doing work on her behalf. It also alleges she mis-filed reports, filing reports with Chester County Voter Services that should have been filed in Harrisburg.
The local party put out a statement supporting the challenge, under the name of Party Chairperson Charlotte Valyo, that was a subtle slam on Simmons. That it was released the day before the election and the story appeared in The Daily Local the morning of the election looks, well, politically nasty.
If Simmons did fail to file properly then she should be admonished. But, this is not high level campaign fraud or mis-doing. It's a "slap on the wrist" sort of offense. Did party leaders not know of this in time to take action earlier so Simmons could respond and voters could digest the information? Given their actions back at the original closed-door endorsement sessions it's hard to give them a benefit of the doubt.
The message seems to be that if you want to participate in the local Democratic party, you'd best walk into the room, head properly down, kneel and do some ring-kissing. Not a good look.
Meanwhile, in Philly…..Philadelphia most likely elected its first black, female mayor. I say "most likely" because historically Republicans barely show up in general elections in the city. Cherelle Parker won the Democratic primary going away even though late polls had shown a right race. With a crowded field Parker only got 32 percent of the total vote but it's likely most of her former opponents will close ranks behind her for the November general election.
With the Philly mayor's race ending, at least for now, local TV viewers can breathe a deep sigh of relief. A broad tri-state area, and more really, is subject to all the Philly political ads and for this race they were never-ending and, for the most part, bad. No doubt many viewers wore out the mute buttons in their remotes.
And in Delaware County….Heather Boyd won a special election to fill a Pennsylvania House seat left vacant when Democratic Rep. Mike Zabel quit in march after a lobbyist accused him of sexual harassment. Boyd, a Democrat, defeated Republican Katie Ford handily, with strong and public support from Gov. Josh Shapiro. The race was critical because Democrats gained control of the House by one vote. Control means not just having the votes to pass legislation out of the House but to control whether bills actually get to a vote. Republicans in the House also were planning to introduce a bill stripping Shapiro of his veto power. So, this race was huge.
Rich Heiland is a retired reporter, editor and publisher. He has been a part of a Pulitzer Prize-winning reporting team, National Columnist of the Year and a journalism instructor. He lives in West Chester.