Annual American Dental Association Meeting highlight tech, learning
By Dr. Stephanie McGann, DMD FAGD, Columnist, The Times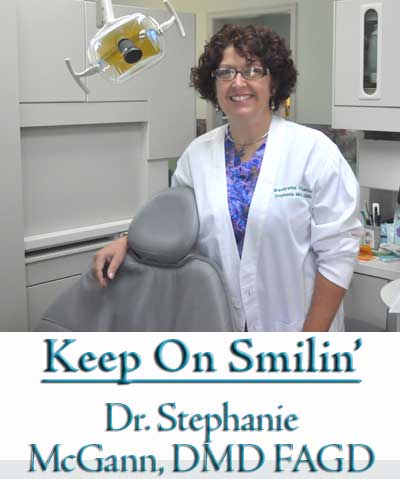 Just last week more than 24 thousand dental professionals gathered in New Orleans for the Annual meeting of the American Dental Association.  That's a lot of dental people in one place.  What makes these meetings so important?
As a private practice dentist, I believe it is important to regularly update my skills and evaluate the level of service I am able to provide to my patients.  Meetings like this one are a great place to learn what is new in the profession.  During the course of a meeting quality continuing education is available to all attendees.  While it might not make good sense to travel across the country to hear a single expert in a particular subject, it makes great sense to travel to hear two or three presentations during the course of the meeting.
The world marketplace of dentistry has exhibitors who can demonstrate the latest in equipment, materials and supplies.  The dental industry changes every year.  Each year research by the materials engineering teams allow us to place stronger and more life-like dental restorations. Gone are the days of the silver (black) fillings and all gold crowns as the most reliable option.  Today modern materials such as zirconia and hybrid composite materials are norm.
I could spend hours droning on about the new equipment and technology.  The future of dentistry is coming. Some equipment on display looks more like it belongs on a space station instead of a private practice.  Today's equipment makes dental care a faster and more comfortable experience.   My patients have come to expect a level of technology and innovation in my practice. I keep current on the trends in dental care by paying attention to what is on the horizon.
The biggest part of the dental expo is the consumer companies.  Each day my patients ask me for to recommend toothpaste, mouthwash or other dental product available on the market.  At the meeting we get to meet with representatives from the major consumer dental companies and learn what is new, what new ingredients are being placed in their products and how that may affect my patients. For example, I spent time with representatives from Colgate, Crest, Sensodyne, Philips (sonicare), OralB, Butler, and more.  These meetings did not improve my practice or increase my bottom line.  What it did was allow me to understand what new products are being launched, how these will interact with other dental procedures and whether or not I feel comfortable recommending these products to my patients.  Once upon a time these companies always sent representatives to dental practices to meet with the dentist and their staff and show their new products. Now these visits are few and far between so it's up the dentist to remain informed.
What else happens at these meetings?  During the course of this meeting many dentists got "volunteer temporary" Louisiana dental licenses and provided services during a "Mission of Mercy" event. Much like the one I participated in Philadelphia this summer.  More than 1000 local New Orleans residents who had a defined need were able to get treatment by dentists attending this meeting.
Of course during any meeting of organization the size of the American Dental Association, there were business sessions and receptions.  The Keynote address by former president Bill Clinton was moving. I was also pleased to attend an evening that honored the volunteers for the American Dental Association "Give Kids a Smile" program. I have been a volunteer with GKAS for many years and was thrilled to attend this special event.
This week those dental practices who attended the ADA meeting, are back, they are working and they are using information and new skills that they brought back from New Orleans.
Dr. Stephanie McGann, who has more than two decades of dental practice experience, is a resident of the Unionville area and is opening a new practice in Valley Township this fall, Rainbow Valley Dental. She is a Fellow of the Academy of General Dentistry.