Coatesville High School will be well represented at the Pennsylvania state track and field championships
By Dave Conard Sports Editor, CoatesvilleTimes.com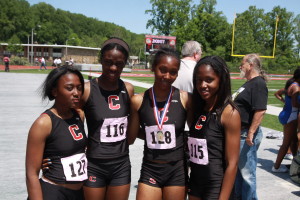 COATESVILLE—It's always great running a track meet in front of your home fans, Coatesville took fan support to a new level as the Red Raiders as a group set records, won event and will be sending a busload of athletes to the states.
When the PIAA state championships get underway on Friday at Shippensburg University, Coatesville will be represented in 13 events.
On Saturday, the ladies finished second overall to Pennridge with the boys laying claim to eighth place overall in the PIAA District One team standings.
Aaron Willet, who won the semi finals in the 110-meter hurdles, claimed third overall in the finals and will be leaping his way into the fray with the keystone's best hurdlers, as he competes in both the 110 and 300 high hurdles.
Kevin Smith II with a time of 21.68 snagged a bronze medal at districts and will battle in the 200-meter dash in Friday's prelims at the state level.
Coatesville's boy's and girl's 4 x 400-meter relay teams (fifth and first respectively in district one) will both take to the track to compete as well in the 4 x 400, with the number one ranked 4 x 100-meter relay in district one, the Red Raiders girls team will lead the way.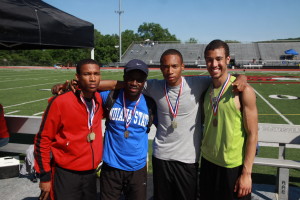 "It's definitely going to be great to have a bunch of us going to states," said Kenya Woodall. "It's important that we support each other, I am looking forward to running the 400 there, most of the best girls are right here in the district, so it really helps get ready."
For complete schedule of the Pennsylvania State championship meet in Shippensburg click on the following link.
http://www.piaa.org/assets/web/documents/2012_PIAA_TF_Schedule.pdf
for photos from the District One meet paste and click the following link:
http://www.photostockplus.com/home.php?tmpl=125&user_id=63742&event=1098062&album=1099984
 
 Event 702  Boys 110 Meter Hurdles AAA
Semi-Finals
  1 Willett, Aaron            12 Coatesville              14.19QSQS     0.4  2 
  2 Zaza, Wellington          11 Strath Haven             14.37QSQS     1.0  1
  3 Hairston, Maxmilian       12 Wissahickon              14.32QSQS     0.4  2
Event 702  Boys 110 Meter Hurdles AAA
Finals
  1 Williams, Chris           12 Strath Haven             13.82 SQS     1.1
  2 Zaza, Wellington          11 Strath Haven             13.86 SQS     1.1
  3 Willett, Aaron            12 Coatesville              13.94 SQS     1.1 
  4 Hairston, Maxmilian       12 Wissahickon              14.25 SQS     1.1
Event 706  Boys 4x100 Meter Relay AAA
Preliminaries
  1 Neshaminy                                             41.91QSQS               4
  2 Cheltenham                                            42.03QSQS               1
  3 Central Bucks South                                   42.04QSQS               2
  4 Strath Haven                                          42.45QSQS               3
  5 Pennsbury                                             42.53qSQS               1
  12 Coatesville                                           43.29 SQS               2 
 15 Kennett                                               43.61                   3
21 Unionville                                            43.96                   2
Event 707  Boys 300 Meter Hurdles AAA
Preliminaries
  1 Hynes, Ryan               12 CB South               * 37.23QSQS               2
  2 Futch, Eric               12 Penn Wood                37.78QSQS               3
  3 Zaza, Wellington          11 Strath Haven             38.01QSQS               1
  4 Willett, Aaron            12 Coatesville              37.86QSQS               2 
Event 707  Boys 300 Meter Hurdles AAA
Finals
  1 Futch, Eric               12 Penn Wood                37.08*SQS
  2 Wahlman, Paul             12 CR North                 37.43 SQS
  3 Zaza, Wellington          11 Strath Haven             37.60 SQS
  4 Hairston, Maxmilian       12 Wissahickon              38.21 SQS
  5 Hynes, Ryan               12 CB South                 38.42 SQS
  6 Willett, Aaron            12 Coatesville              38.54 SQS              
Event 709  Boys 200 Meter Dash AAA
Finals
  1 Futch, Eric               12 Penn Wood                21.23*SQS     1.8
  2 Gillespie, Ronnie         12 Upper Perk               21.24*SQS     1.8
  3 Smith II, Kevin           12 Coatesville              21.68 SQS     1.8 
  4 Thompson, Mark            11 Cheltenham               21.84 SQS     1.8
 


Event 711  Boys 4x400 Meter Relay AAA
Finals
  1 Bensalem                                            3:17.67 SQS
  2 Penn Wood                                           3:17.76 SQS
  3 Pennridge                                           3:18.08 SQS
  4 Pennsbury                                           3:20.53 SQS
  5 Coatesville                                         3:20.83 SQS              
Event 712  Boys High Jump AAA
  1 Brandt, Andrew            12 Marple Newtown         6-08.00 SQS
  2 Ramsey, Jalen             12 Norristown             6-05.00 SQS
  3 Dawson, Derek             12 Ridley                J6-05.00 SQS
  11 Kimbrough, Detrick        11 Coatesville           J6-01.00                  
Event 713  Boys Pole Vault AAA
  1 Smith, Corey              12 CB West               15-00.00 SQS
  2 Williams, Chris           12 Strath Haven         J15-00.00 SQS
  3 Larson, Derek             12 Unionville            14-00.00
  4 Harcher, James            12 Quakertown            13-06.00
  5 Esposito, Vincent         11 North Penn           J13-06.00
   -- Pedrick, Tyler            12 Coatesville                 NH                  
Event 714  Boys Long Jump AAA
  1 LaCroix, Harley           12 Cheltenham            23-05.25 SQS     NWI
  2 Hynes, Ryan               12 CB South              22-03.00 SQS     NWI
  3 Andrews, Travis           12 Phoenixville          22-01.25 SQS     NWI
  11 Royal, William            11 Coatesville           20-09.00         NWI 
 19 Thomas, Shaquille         11 Coatesville           20-02.25         NWI 
Event 715  Boys Triple Jump AAA
  1 Zaza, Wellington          11 Strath Haven          49-08.00 SQS     NWI
  2 LaCroix, Harley           12 Cheltenham            47-02.00 SQS     NWI
  3 Dawson, Derek             12 Ridley                45-07.50 SQS     NWI
  22 Stocker, Jay               9 Coatesville           41-07.00         NWI 
 23 Thompson, Steve           10 WC Henderson          41-06.50         NWI
 23 Rochester, Melik          10 Kennett               41-06.50         NWI
  29 Anderson, Jebiz           12 Coatesville           40-05.50         NWI 
Event 716  Boys Shot Put AAA
15 Morgan, Dylan             11 Coatesville           47-01.50                  
 16 Manigault, Marcus         12 WC Rustin             45-02.00
Event 717  Boys Discus Throw AAA
  1 Hart, Ryan                12 D-Town East          183-07.00*SQS
  2 Kpassagnon, Tanoh         12 Wissahickon          151-07.00
  3 Muroski, Darrik           10 Coatesville          149-08.00                  
  4 Mao, Evan                 12 Upper Dublin         148-03.00
  5 Herbster, Dan             11 Garnet Valley        147-10.00
  9 Morgan, Dylan             11 Coatesville          141-01.00                  
 10 Swanick, Jimmy            11 Springfield Delc     139-01.00
 -- Hopkins, Perry            12 Unionville                FOUL
Event 718  Boys Javelin Throw AAA
  1 Hopkins, Perry            12 Unionville           195-00.00 SQS
  2 Gribb, Jacob              12 Pope John Paul       190-00.00 SQS
  3 Shalaway, Ethan           11 Boyertown            187-02.00 SQS
  4 Waller, Brandon           11 Haverford            184-07.00 SQS
  5 John, Jason               11 Upper Darby          174-06.00
  15 Pancoast, Tom             11 Unionville           162-03.00                  
 15 Fox, Tyler                11 Upper Dublin         162-03.00
 17 Hodgkiss, Greg            12 Phoenixville         155-04.00
 18 Miles, Rahjeir            11 Coatesville          155-01.00                  
                  Men - AAA - Team Rankings - 18 Events Scored
    1) Strath Haven                71        2) Bensalem                   48
    3) Penn Wood                   42        4) Hatboro Horsham            34
    5) Central Bucks South         30.83     6) Wissahickon                28
    6) Cheltenham                  28        8) Coatesville                26
    8) Unionville                  26       10) Council Rock North         25
Event 302  Girls 100 Meter Hurdles AAA
15 Canavaro, Natasha         11 Penncrest                16.06q       -1.4  1
 16 Knauer, Kelly             12 CB East                  16.11q       -1.4  1
 17 King, Jamie               11 Neshaminy                16.13        -2.8  2
 18 Shadle, Lizzy             12 Methacton                16.16        -2.0  5
 19 Weston, Jill              10 O J Roberts              16.20        -2.8  2
 20 Boulware, Jolesha          9 Coatesville              16.30        -2.5  4 
Event 303  Girls 100 Meter Dash AAA
Preliminaries
  1 Evans, Jody-Ann           11 Quakertown               11.91QSQS    -2.8  4
  2 Woodall, Kenya            12 Coatesville              12.01QSQS    -1.5  1 
  3 Richardson, Zakiyyah      12 Pennsbury                12.17QSQS    -2.5  2
  4 Pinkney, Natalia          11 Pennridge                12.26QSQS    -1.1  3
  5 Tramel, Jamie             10 Truman                   12.29QSQS    -1.1  3
  6 Milligan, Zayna           11 Norristown               12.32QSQS    -2.8  4
  7 Adams, Helen              12 Coatesville              12.33QSQS    -2.5  2  
16 Austin, Layanna           12 Coatesville              12.69q       -2.8  4 
Event 303  Girls 100 Meter Dash AAA
Semi-Finals
  1 Woodall, Kenya            12 Coatesville              12.04QSQS     1.0  1 
  2 Evans, Jody-Ann           11 Quakertown               12.08QSQS     1.5  2
  3 Milligan, Zayna           11 Norristown               12.21QSQS     1.0  1
  4 Pinkney, Natalia          11 Pennridge                12.43QSQS     1.5  2
  5 Richardson, Zakiyyah      12 Pennsbury                12.22QSQS     1.0  1
  6 Watson, Rowanna           11 Norristown               12.48QSQS     1.5  2
  7 Leace, Daniele            11 Plym Whitemarsh          12.45qSQS     1.0  1
  8 Bell, Alexis              11 Norristown               12.46qSQS     1.0  1
  9 Adams, Helen              12 Coatesville              12.48 SQS     1.0  1 
   16 Austin, Layanna           12 Coatesville              12.80         1.5  2
Event 303  Girls 100 Meter Dash AAA
Finals
  1 Evans, Jody-Ann           11 Quakertown               11.86 SQS     1.0
  2 Richardson, Zakiyyah      12 Pennsbury                12.03 SQS     1.0
  3 Woodall, Kenya            12 Coatesville              12.03 SQS     1.0 
 Event 305  Girls 400 Meter Dash AAA
Preliminaries
  1 Woodall, Kenya            12 Coatesville            * 54.68QSQS               3 
  2 Matthews, Jordan          12 Abington                 56.62QSQS               1
  3 Williams, Caela           11 Penn Wood                56.96QSQS               2
  4 Branch, Jamila            10 CB West                  56.86QSQS               1
  5 Bertino, Jillian          10 Boyertown                57.02QSQS               2
Event 305  Girls 400 Meter Dash AAA
Finals
  1 Woodall, Kenya            12 Coatesville              54.06*SQS              
  2 Williams, Caela           11 Penn Wood                55.81 SQS
  3 Matthews, Jordan          12 Abington                 55.91 SQS
Event 306  Girls 4x100 Meter Relay AAA
Preliminaries
  1 Coatesville                                           47.62QSQS               5 
  2 Norristown                                            47.63QSQS               4
  3 Pennridge                                             47.89QSQS               3
Event 306  Girls 4x100 Meter Relay AAA
Finals
  1 Norristown                                            47.68 SQS
  2 Pennridge                                             47.84 SQS
  3 Coatesville                                           47.96 SQS              
Event 309  Girls 200 Meter Dash AAA
Preliminaries
  1 Evans, Jody-Ann           11 Quakertown               24.56QSQS    -3.2  2
  2 Richardson, Zakiyyah      12 Pennsbury                24.94QSQS    -0.1  1
  3 Milligan, Zayna           11 Norristown               25.08QSQS    -1.5  3
   -- Williams, Zhane           10 Coatesville                 DQ        -0.1  1 
Event 310  Girls 3200 Meter Run AAA
  1 Gerlach, Tori             12 Pennridge             10:24.19*SQS
  2 McGovern, Meghan          12 North Penn            10:31.77*SQS
  3 Steinke, Kara             10 Methacton             10:43.99 SQS
  4 Eder, Veronica            11 CB East               10:47.64 SQS
  5 Boulger, Kelly            10 Coatesville           10:49.53 SQS              
Event 311  Girls 4x400 Meter Relay AAA
Preliminaries
  1 Coatesville                                         3:52.13QSQS               2 
  2 Central Bucks West                                  3:52.84QSQS               3
  3 Penn Wood                                           3:54.07QSQS               1
  4 Pennsbury                                           3:55.04QSQS               4
Event 311  Girls 4x400 Meter Relay AAA
Finals
  1 Central Bucks West                                  3:49.73 SQS
  2 Coatesville                                         3:50.14 SQS              
  3 Pennsbury                                           3:51.07 SQS
  4 Strath Haven                                        3:51.79 SQS
Event 313  Girls Pole Vault AAA
    Name                    Year School                  Finals
 1 Benninghoff, Amanda       11 CR South              12-04.00 SQS
  2 Giampetro, Grace          12 Villa Maria           11-06.00 SQS
  3 Nagele, Stacey            12 Quakertown           J11-06.00 SQS
  4 Finfrock, Sara            10 Kennett               10-06.00
 16 McQuiston, Katie          10 Kennett               J9-06.00
 16 Liss, Dara                10 Cheltenham            J9-06.00
 18 DiFrancesco, Mia          10 Kennett                9-00.00
 Event 316  Girls Shot Put AAA
  1 Forcellini, Elizabeth     11 Gwynedd-Mercy         39-10.00 SQS
  2 Roberts, Tyra             11 Bensalem              39-06.50 SQS
  3 Wethey, Allison           12 WC Rustin             38-10.75 SQS
   27 Carey, Devon              11 Coatesville           32-04.50                  
Event 317  Girls Discus Throw AAA
  1 Hojnacki, Taylor          10 CB South             137-05.00 SQS
  2 Wethey, Allison           12 WC Rustin            122-06.00 SQS
  3 Ross, Megan               12 Haverford            118-09.00 SQS
 14 Carey, Devon              11 Coatesville          101-05.00                  
 Event 318  Girls Javelin Throw AAA
  1 Nagy, Gabby               12 Coatesville          129-00.00 SQS              
  2 Mautz, Cait               11 CB West              128-08.00 SQS
3 Player, Devon             10 Pope John Paul       127-05.00 SQS