Police said he slammed woman to ground while she was holding child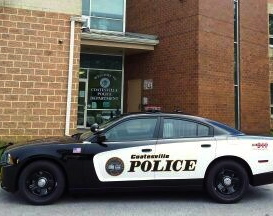 Coatesville Police received a complaint on Wednesday at 6:30 p.m. regarding an assault that occurred at Ash Park, Officer Guy Bruchstein reported. The victim said that a verbal altercation turned physical and that while she was holding a child, Eric Brown, 32, of Coatesville, grabbed her by the throat and slammed her to the ground, police said. Brown faces charges that include simple assault, recklessly endangering another person and related offenses, police said.
On Tuesday at 4:29 p.m., police responded to the 300 block of West Lincoln Highway for a possible burglary in progress, Officer Sylvester Earle reported. Officers made contact with Linwood Hardy, 56, who had been previously evicted from the property, and was in possession of an open container of an alcoholic beverage, police said. Hardy was taken into custody without incident and charged him with simple trespass and an open container violation, police said.
Officer Kirt Guyer responded on Wednesday at 4:05 p.m. to the unit block of South Fifth Avenue for a retail-theft complaint, police said. Police said two suspects stole a half-gallon of Turkey Hill Iced Tea from the refrigerator. The suspects are under investigation, police said.
On Wednesday at 4:45 p.m., police were dispatched to the 600 block of Merchant Street in reference to a domestic dispute, Officer Kirt Guyer reported. Upon arrival, officers determined that an argument had escalated into violence as Walter Loper, 30, of Coatesville, choked and punched the victim, police said. Loper was taken into custody, arraigned on charges that included simple assault, harassment, and disorderly conduct, and released on $5,000 unsecured bail, police said.
Coatesville police responded to a harassment complaint on Wednesday at 6 p.m., Officer Guy Bruchstein reported. The victim said James R. Smith, 27, of Coatesville, had continued to call and send text messages to her after she asked him to stop, police said, adding that the unwanted communication continued even after she changed her cell phone number. A non-traffic citation was filed against Smith for harassment, police said.