Coatesville's ninth inning rally has Ziegler and company in "elite eight" of state playoffs
By Dave Conard Sports Editor, CoatesvilleTimes.com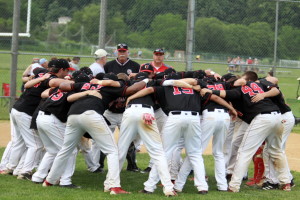 FREDERICKSBURG—They say "timing is everything".
No phrase could better describe the post season ride thus far for the Red Raiders, who defeated District Three champion Cedar Crest on Monday afternoon in a nine inning thriller by a count of 5-1 to advanced to Pennsylvania State class AAAA quarterfinals.
Coatesville (16-11) got another sensational pitching effort from sophomore Brian Brown as he struck out 16 Falcons en rout to his third post season win against no losses and dropped his playoff E.R.A to 2.43 while recording 33 strike outs.
The Red Raiders. also as a team, could not have picked a better time to be playing the best baseball they have all year, as the bats continue to provide offensive support for a pitching staff that carried the brunt of the load during the regular season.
After chasing Cedar Crest starter Logan Fulmer in the top of the seventh when the Red Raiders scored one run to knot the game, having trailed 1-0 going into their final at bat, Coatesville posted four runs in the top of the ninth to stun the District Three Champs and keep the ride going for C-Mac's boys.
"We have pledged this whole season to Colin (McElroy)," said catcher Jake Kennedy, following their win over Downingtown West. "We are trying to make him proud of us, and hope to celebrate C-Mac time in the state championship game."
On Thursday, at 1:00pm, Coatesville will travel to Royersford Pa to battle District One runner-up Council Rock at Spring-Ford's Rams Stadium, with a chance to avenge their lone blemish on their post season record thus far, a 10-0 loss at the hands of the Golden Hawks.
Coatesville            0  0  0  0  0  0  1  0  4  -5
Cedar Crest            0  0  0  1  0  0  0  0  0  -1
Pitching  stats     IP   R  H  BB  SO
Brown (W 3-0)   9    1  4     2   16
Fullmer              7.3  1  4     2     7
Mathis, (L 1-1)  1.6  4  3     1     1
Offensive leaders
Coatesville- Carras 1-for-5, RBI:  O'Hagan 1-for-3, Run, RBI; Stumm 1-for-3, Run, RBI.
Cedar Crest-Hostetter 1-for-3, Run; Ritter 2-for-3.
For updated Pennsylvania State tournament bracket click the following link-
http://www.piaa.org/assets/web/documents/2012_AAAA_Baseball_Brax.pdf