By Mike McGann, Editor, The Times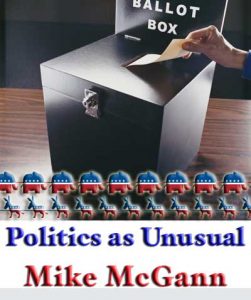 PORT ARANSAS, Texas — Hello from the Coastal Bend of Southeast Texas — which hopefully will be the home of the new Times' Texas bureau — where folks are bit more concerned about real life and less about politics and the political silliness that comes from places such as Washington or Harrisburg or Austin.
Here, folks are about one thing: recovery. When Hurricane Harvey blew through here last year — the coastal area southeast of Corpus Christi where the full effect of the storm's winds hit — it left a wake of destruction that will literally take years to recover from. The good news, though, and a sign of the grit and character of the folks here, is that the recovery is happening, maybe not as fast as everyone would like, but you can't drive 100 yards without seeing something getting fixed, repaired or renewed.
The beach town of about 4,000 — a combination of hotels, condos, homes and small businesses — is the kind of laid back place that makes you think of a Jimmy Buffet song. Before the storm, life was slow for most residents — coping with the tourists here to enjoy the amazing Gulf shore, either for the beach or for the exceptional fishing — but now folks seem to have a purpose, a drive to get their town back. The signs — literally — are everywhere: Port Aransas Strong.
The challenges here are different than in the Houston area, where flooding devastated a wide area, it was 140 to 150 MPH winds that slammed this small town (technically a city, but one with the population of Pocopson). Rarely do you see a building with no damage and still, months after, there are piles of debris — the removal is constant as folks clean out, tear down and rebuild.
Interestingly, though, it's not the recovery that has most folks worried down here — Port Aransas is on its way back to be sure. It is the likely explosion of growth that will happen in the wake of the rebuilding and renewal. Unlike so many shore towns, Port Aransas has managed to avoid the overdone, cliche of shore town tourist traps. You won't see the chain stores/restaurants — beyond the CVS, currently operating out of a trailer in front of the store as it is repaired from storm damage — but locally owned shops and eateries (many of which remain closed, as insurance claims have been slow to pay out).
That gives Port A its own special charm and feel.
The fear is that developers will descend on the city (30 minutes from Corpus Christi, two hours from San Antonio, four hours from Houston by car) and turn it into another bustling, overbuilt shore town.
Like we see in Pennsylvania, folks here are wrestling with the issue of property rights versus the greater community good — here's hoping that folks in both places are able to win the fight.
***
The whole Pat Meehan saga is kind of sad — and the interviews he has given to some media outlets have actually made it worse for him.
His decision Thursday not to run in 2018 for his 7th District Congressional seat was inevitable.
Meehan, a former prosecutor, appeared to admit in interviews that he felt his former staffer was his "soul mate" and treated her poorly after she became romantically involved. This is first-person evidence of sexual harassment — even if there was no formal romantic relationship. And then, he used taxpayer money to settle a claim with the victim.
That he blamed constituent  "harassment" over his Obamacare vote for his actions is, well, pathetic.
With all of the claim of liberals being "snowflakes" it appears that some of our local "conservative" elected representatives are just a little too fragile for public life. If the pressure of the job is too tough, move on.
Somehow, I don't see Ronald Reagan, FDR, Eisenhower and so on, saying criticism was too mean. Two of those three literally were shot at — FDR in Miami and Reagan in Washington — and neither shrunk from public life afterward.
Imagine if  — and obviously this didn't happen, quite the opposite — Eagles' QB Nick Foles, having to replace star QB Carson Wentz, said it was too stressful and any interceptions he threw were because of that terrible pressure by the fans (and yes, the Eagles' fan base is one of the toughest in sports).
Obviously, Foles coolly stepped behind center and led the Eagles to the Super Bowl, so without doubt he is up to the job. He's a pro and deserving of the wide praise he's gotten.
On the other hand, when elected officials blame us and our scrutiny for their misbehavior, it is time for them to hit the road. Or as Harry S Truman put it: "If you can't stand the heat, get out of the kitchen."
In Meehan's case, he's done. Without him in the race — and his big cash pile — prospects for Republicans to hang onto this seat look dim. With the high likelihood that the 7th gets a new — and more balanced — look before November, Republicans may have to write off two seats in Chester County.
***
The bombshell of the state Supreme Court redistricting ruling is still being felt — and will likely redraw massively the lines of the 7th (America's Most Gerrymandered District ™) and the 6th, radically changing the outlines of the race. We won't know for a few weeks which current candidates live in the district that they're running in — although candidates for Congress don't actually have to live in the district they wish to represent.
Will the ruling stand? I think so. While it is possible that the Third District Court of Appeals will take up the case on the federal level, the problem is that the ruling is based on the Pennsylvania Constitution, not the U.S. Constitution.
For the federal court to intervene, it would have to hold that either the state constitution's requirement that Congressional districts be "compact" the basis for the state ruling, or that some other part of the process violated the U.S. Constitution. That seems unlikely based on the legal discussions I've had.
The lone exception: Bush v. Gore. The U.S. Supreme Court overruled the Florida Supreme Court's recount ruling in 2000 without any true federal basis for the ruling. That ruling specifically notes that it should not be considered a precedent, which mean the basis cannot be used in this case.
One caveat: the court could rule that the timing is a problem and order a later primary on a Due Process argument — or delay the implementation until 2020.
The most likely outcome: the state legislature and Gov. Tom Wolf are unable to agree on a new map and the court ends up drawing the final lines.
In other words: chaos, as candidates in each party scramble to adjust to the new districts.
Still, it could lead to a net pickup of some five seats for Democrats in Pennsylvania — in a year where it looked that they were already going to do very well.
***
Reading our JP Phillips' account of State Rep. Eric Roe's (R-158) Town Hall meeting this week — amazingly his ninth since taking office a little over a year ago — it is clear any doubts we had, and we clearly had them, about whether his youth and inexperience would be a problem have been all but eliminated.
While I certainly don't agree with the youthful (yes, I have ties older than he is, a sad commentary on my fashion sense) first-term representative on every issue, his willingness to lead the fight against Gerrymandering, his opposition to silly ideas to end local property taxes to pay for our schools (there are better answers to solve the property tax problem), opposition to the gambling expansion, and support for privatization of the state liquor stores are reasonable and solid stances.
He seems unwilling to follow the easy path, instead wanting to fight for what he actually thinks is right — especially impressive for a freshman legislator. Again, while we don't agree with him on every issue, his honestly and bravery is a refreshing change of pace in Harrisburg.
Add in the fact that he clearly isn't afraid to face his constituents and listen — something becoming all too rare these days — and you have to be impressed.
He is someone who has a very bright future in front of him if he stays the course.